Black Men Should Care About Survivors, No Matter How Many White Men Are Accused
The "white men rape too" response to Surviving R. Kelly fails to recognize that allegations exist across communities—and it's all a problem.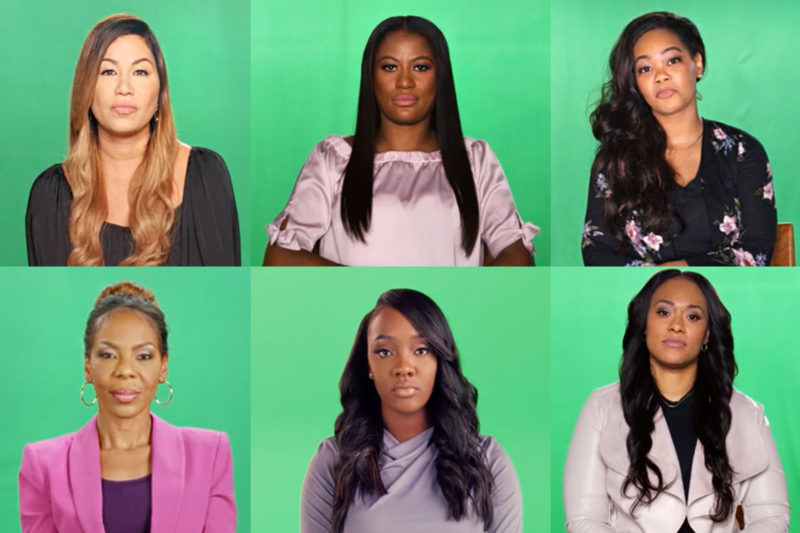 When people raise concerns that it is unfair to "target" Black men for violent acts until white men are penalized, they are overlooking the fact that all of those acts are devastating to the survivors. Lifetime
It's now been a week since Lifetime aired the Surviving R. Kelly docuseries. As a survivor, seeing the first two hours was enough for me to conclude: The allegations against R. Kelly are too numerous and widespread not to believe.
The three-day special featured numerous women who described being controlled or physically, mentally, or emotionally abused by the singer, often when they were teenagers. And former associates and managers admitted to the interviewers they had assisted or ignored Kelly's actions.
The docuseries also highlighted accusations, first reported by BuzzFeed in 2017, that Kelly has been keeping women in a so-called sex cult in recent years.
Over the past few days, people from across the country have set social media ablaze with mostly two responses to the special: They denigrated Kelly for the predatory, abusive acts he'd been accused of committing against underaged Black girls—or defended him because they could not get enough of "stepping in the name of love" at the family reunion, possibly even with the creepy uncle who has experienced similar allegations as Kelly. The latter argument—deeply troubling in a country led by a president accused of rape himself—has often been voiced by other Black men who justify it with one reason: because white men rape too.
The "white men rape too" crowd has become more vocal over the past several years among heterosexual Black men. Instead of critiquing the pervasive rape culture that we as Black men have perpetuated and the acts of violence some of us commit against women and girls, we minimize (or simply fail to acknowledge) those actions by implying if white men can get away with a crime, then so can Black men. Though this derailment isn't surprising, it does force me to question what we are failing to reckon with.
When people raise concerns that it is unfair to "target" Black men for violent acts until white men are penalized, they are overlooking the fact that all of those acts are devastating to the survivors. Then again, maybe they do know those acts are harmful, but they are willing to overlook that because of their claims that R. Kelly is being singled out when white men are not given the same treatment.
The "white men rape too" crowd fails to recognize that multiple things can exist—white men have raped Black women; Black men have raped Black women and girls; Black men have raped Black boys; and Black women have raped Black boys and women. It's all a problem.
None of this takes away from the claims levied against R. Kelly, just like it didn't change those against Bill Cosby, Chris Brown, or other Black men who have been accused of sexually assaulting or physically abusing people, namely women and girls. One can include Kevin Spacey, Harvey Weinstein, and Woody Allen. This still does not change the fact that some Black men are guilty of abuse.
What's more, this argument raises questions about institutional and systematic oppression. "Justice" does not equal Black men getting away with the crimes because white men do. That kind of false "justice" just means Black men want to have similar power as white men and the ability to assert their bodily autonomy over others. But white men are not the standard for equitable practices. If anything, it just shows how Black women and girls are set up to be unduly harmed and to see the least amount of justice in this country, with minimal safety nets or support.
Cyntoia Brown's case makes this clear. A judge commuted Brown's life sentence on Monday after she had served 14 years behind bars for killing a man who bought her for sex when she was 16 years old. A Black woman from Tennessee, who had been a girl when she was essentially trafficked, can be incarcerated for killing the man who picked her up for sex while men like R. Kelly can live a successful life even after multiple sexual assault allegations.
Unfortunately, this is far too common an experience for survivors and those from whom they must survive.
Although many of us are still attempting to move on from the traumatic and critically important six-hour docuseries, Surviving R. Kelly reportedly has spurred criminal investigations. CNN reported Atlanta-Fulton County District Attorney Paul Howard Jr. has started investigating R. Kelly and interviewing some of the women in the documentary. Meanwhile, WGN9 reported that Cook County State's Attorney Kim Foxx gave a press conference Tuesday, during which she stated that families from around the Chicago area have called her looking for loved ones they believe may be in the company of the singer, who has been accused of imprisoning women in a sex cult of his own design.
Foxx said her department is not announcing any new criminal charges against Kelly at this time, but she encouraged anyone who may be a victim to come forward.
As men, and Black men in particular, we need to take a good look at our transgressions and the negative impact they have on our communities. While it is true that many white men have sexually assaulted people, it is also true that many Black men are doing the same in our communities. We must be able to hold those two things at the same time.
If you have experienced sexual assault, please consider contacting any one of the organizations available to survivors: Black Women's Blueprint, Girls for Gender Equity, and Know Your IX, among others. You can also call the National Sexual Assault Telephone Hotline at 800.656.HOPE (4673).