The Rape of a Disabled Arizona Woman Is Not an Isolated Incident
It is another example of the pervasive issue of sexual assault against people with disabilities and Native women.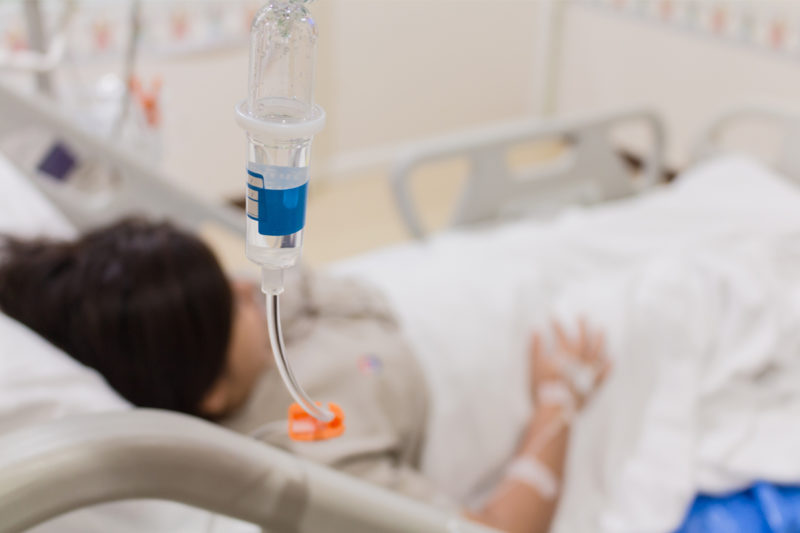 "Both women with disabilities and American Indian/Alaska Native women experience the highest rates of sexual assault than any other groups." Shutterstock
UPDATE, January 30, 2019: Although preliminary reports described the woman as being in a coma or a vegetative state, her family told the Associated Press last week that she has some ability to move and make facial gestures.
Late last month, a Native woman who has been in a coma for years gave birth while residing at Hacienda HealthCare, a long-term care facility in Phoenix, Arizona, for people younger than 45 with disabilities and complex medical needs. Disability rights advocates say that this tragic story illustrates a largely ignored issue with the potential to worsen under the Trump administration: sexual assaults of people with disabilities, particularly those living in institutional care facilities.
The woman, whose identity has not been made public, has been in a coma for at least ten years following a near-drowning experience, according to KPHO-TV, the CBS News affiliate that was the first news outlet to report the incident. (The outlet has since reported that the women has lived at the care facility for 27 years.) Even though the woman received around-the-clock care, no one claims to have known she was pregnant until she gave birth on December 29, 2018.
"From what I've been told she was moaning," an unidentified source told KPHO-TV. "And they didn't know what was wrong with her."
The Phoenix police department has launched an investigation into the case, and the facility has reportedly implemented a new policy of not allowing male staff to enter a female patient's room unless accompanied by a female employee, according to KPHO-TV. The CEO of Hacienda HealthCare resigned earlier this week.
Although many of the details of this horrifying incident remain unknown, news of the case has conjured up significant outrage, especially among sexual assault and disability rights advocates who want to know how this could have happened and what actions will be taken to stop similar tragedies in the future.
Chief among their concerns is the troubling treatment of this story, particularly among the media who have been reporting this incident as a "possible sexual assault."
"It is unacceptable that the media isn't covering this for what it is—rape. She wasn't 'allegedly assaulted,' she was raped," Rebecca Cokley, director of the Disability Justice Initiative at the Center for American Progress, told Rewire.News in an email.
"I think it continues to indicate a media that is still largely uncomfortable seeing disabled people, as well, people. It's further emphasized by the journalists covering the issues neglecting to interview disabled women who work on these issues, forcing it to be perceived through a nondisabled lens," Cokley continued.
Of course, this heartbreaking incident is not surprising to many people with disabilities. As Imani Barbarin aptly pointed out on Twitter, "83% of disabled women are sexually assaulted in their lifetime."
Because the woman was Native American, she was also at higher risk of being sexually assaulted: Strikingly, research indicates that one in three Native women experience sexual assault. "The Native woman violated in Arizona is the most vulnerable of all our people and should have been protected from the violence and neglect she is experiencing," Cinda Hughes, co-founder of the National Center for American Indians with Disabilities, told Rewire.News in an email.
"Both women with disabilities and American Indian/Alaska Native women experience the highest rates of sexual assault than any other groups," Hughes said.
"Unfortunately, any hard data on Native women with disabilities is severely lacking. What we do know must be extrapolated from larger data reports. We all need to do more to protect our most vulnerable citizens," Hughes continued.
People with disabilities, especially intellectual disabilities, are often seen as "easy targets" because they may be more vulnerable to manipulation and have difficulty reporting the abuse. As NPR noted in an eye-opening series last January, "These crimes go mostly unrecognized, unprosecuted and unpunished. And the abuser is free to abuse again."
It is equally essential that everyone understands issues concerning consent and people with disabilities. Merely having a disability, even an intellectual or psychiatric disability, does not make someone unable to consent to engage in sexual relations. This is also true for people who are nonverbal and communicate through other media.
At the same time, there are situations where some will lack the capacity to provide consent. Discussing the incident in Arizona, Cokley told Rewire.News she believes that the woman was "targeted as a result of her disability and lack of ability to consent."
People with all disabilities must be supported in engaging in healthy sexual relationships to the greatest extent possible. Notably, this must include ensuring that people with disabilities receive comprehensive sexual education. Indeed, providing information on sexuality to people with disabilities can lead to a better understanding of issues related to sexual assault, thereby increasing the likelihood that they will report attacks.
Preventing future sexual assaults among people who live in institutional settings, however, requires far greater oversight. "I think it's important to remember that early on in the Trump administration there was a push to rollback oversight of nursing homes and care facilities," Cokley says. "We are going to continue to see more cases like this with an administration who behaves as if it's allergic to enforcement."
Cokley is referring to the administration's 2017 decision to roll back Obama-era policies that imposed fines on nursing homes—including long-term care facilities for non-elderly disabled people—for actions that endangered their residents. "The change in policy aligns with Mr. Trump's promise to reduce bureaucracy, regulation and government intervention in business," reported the New York Times.
Certainly, the tragedy that occurred in Arizona may have been avoided if the facility had been better regulated. In fact, this was not the first issue to arise there: A 2013 complaint alleges that an employee made sexually explicit comments about patients. The employee was eventually fired, and Hacienda HealthCare promised the state that it would implement measures to prevent abuse. Clearly, those measures were not sufficient.
What happened to this woman in Arizona is not an isolated incident. Instead, it is another example of the pervasive issue of sexual assault against people with disabilities as well as Native women. As we continue as a society to address the issues surrounding sexual assault—whether through activism, legislation, journalism, or professional regulations—these efforts must be inclusive of the most at risk and the most often overlooked.