2018 Brought These Historic Election Victories
Join Rewire.News for a look back at some of the history-making wins made during the 2018 election cycle.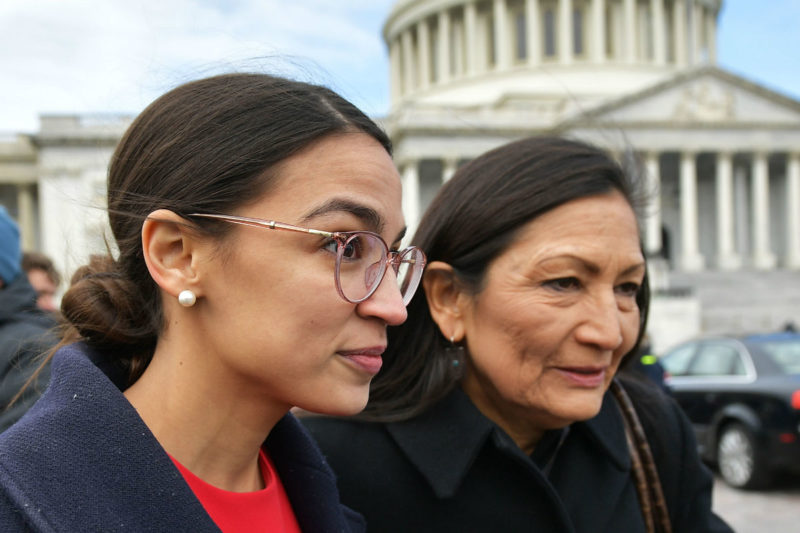 Women of color will hold a record number of House seats this January. MANDEL NGAN/ Getty Images
Women, Native American, Muslim, and LGBTQ candidates broke ground this year when they declared victory in November's midterm elections.
Join Rewire.News for a look back at some of the history-making wins during the 2018 election cycle.
The Year of the Woman: Historic Gains in the U.S. Congress and Governorships
A record number of women were elected to the U.S. Congress, according to the Center for American Women and Politics. Next year, 25 women will serve in the Senate (17 Democrats and eight Republicans) and 102 in the House (89 Democrats and 13 Republicans). That's a total of 126 women, "increasing the percentage of women in Congress from 20 percent to 23.6 percent," according to the organization.
Women of color will hold a record number of House seats this January. While the previous record number of women of color who served in the chamber at one time was 34, there will now be 43 women of color. That includes 22 Black women, 12 Latinas, six Asian/Pacific Islander women, two Native American women, and one Middle Eastern/North African woman.
Among those women is Rep.-elect Ayanna Pressley (D-MA), who will be the first Black woman to represent Massachusetts in the House. Pressley won her seat after scoring a major upset in Massachusetts' 7th Congressional District Democratic primary, unseating Rep. Mike Capuano (D). In an email to Rewire.News just before her election, Pressley vowed to "lead a movement and build a coalition to fight to repeal [the Hyde] amendment" if elected.
Since she won, she's made headlines for her reported criticism of the Democratic Party. Presley, addressing donors at a Democratic National Committee fundraising meeting, "spoke about the unprecedented number of women this year who pushed, organized, and put in the work to be at the seat of power. But it was no celebratory remark. 'Now we must push ourselves to ask the tough questions about whether or not we provided them with the institutional support so we can break through more glass and concrete ceilings as rapidly as possible,'" she said, according to BuzzFeed News.
Democrat Jahana Hayes won a history-making race to represent Connecticut's 5th Congressional District. She will be the first Black woman to represent the state in Congress.
In the Senate, Republican Rep. Marsha Blackburn made history when she won her closely-watched race against Democratic former-Gov. Phil Bredesen in Tennesee, becoming the first woman senator from the state. Though on the campaign trail this year Blackburn didn't often emphasize her anti-choice bona fides, during her time in the House, she sunk $1.59 million into a congressional "witch hunt" into a discredited anti-choice campaign that falsely alleged Planned Parenthood profited from legal fetal tissue donations.
Arizona elected its first woman to the Senate when Democratic Rep. Kyrsten Sinema won a tight race against Republican Rep. Martha McSally. Her win makes her the first openly bisexual person and the second openly-LGBTQ person ever elected to the Senate.
The number of women governors after this year's elections is tied at the 2004 high of nine. Democrat Janet Mills will be Maine's first woman governor, and Republican Kristi Noem will be South Dakota's first woman governor.
Native Women Landed Historic Victories in State and Federal Office
The midterm elections brought victories for Native women across the United States who won state and federal office in historic firsts. According to Indian Country Today's Mark Trahant, this last election cycle saw "more than a hundred Native American candidates—including 54 Native women—running for office," and at least 28 of those women won.
Reps.-elect Deb Haaland (D-NM) and Sharice Davids (D-KS) became the first two Native women elected to the U.S. Congress. Speaking to Rewire.News before she won, Haaland noted her family history gave her unique insight into federal policies such as President Trump's family separation policy. As a member of the Laguna Pueblo tribe, her family experienced family separation as a result of the United States' forced assimilation policies. Haaland has already been vocal about addressing the issues Native communities face, such the crisis of missing and murdered Native American women in the United States.
Ruth Buffalo of the Mandan, Hidatsa, and Arikara Nation became the first Democratic Native American woman elected to North Dakota's state legislature when she won her race against Republican state Rep. Randy Boehning. As the New York Times reported, the state—home to Standing Rock Reservation—saw record-breaking voter turnout this year "unprecedented even for a presidential election, much less a midterm."
The result: Boehning, who had been "the primary sponsor of the very voter ID law Native Americans had feared would disenfranchise them," according to the Times, was ousted.
Buffalo donned the traditional outfits of her ancestors when she was sworn into office in early November. "It's part of my identity and who I am," Buffalo told HuffPost of her outfit. "It was to honor my ancestors, those that have gone before me, and the future generation."
Peggy Flanagan, a member of the White Earth Band of Ojibwe, became the highest-ranking Native American woman ever elected to executive office when she won her race for lieutenant governor of Minnesota. "[E]very time I hear that phrase, I kind of catch my breath a little bit. I think it is incredibly humbling and exciting," Flanagan told Teen Vogue after winning office. "I'm excited to be part of a sisterhood of Native women who stepped up to run."
As Trahant reported, the wins for Native women didn't stop there. "Arizona tripled the number of Native representation in its state Senate. Senators Jamescita Peshlakai, Navajo; Victoria Steele, Seneca; and Mary Ann Gonzales, Pascua Yaqui, and enough members to caucus. All three are Democrats," he wrote.
The First Two Muslim Women Will Join the U.S. Congress
Muslim women also saw a slate of historic firsts on election night when Rashida Tlaib (D-MI) and Ilhan Omar (D-MN) became the first two Muslim women elected to Congress.
Omar became the first Somali American legislator in the United States after first winning a seat in Minnesota's state legislature in 2016 as a member of the Democratic-Farmer-Labor Party. Her progressive platform in her 2018 race for the U.S. House of Representatives included support for Medicare for All, raising the federal minimum wage to $15 an hour, supporting workers' rights, and eliminating the anti-choice Hyde Amendment's ban on federal funding for abortion care. Rep.-elect Omar has already co-authored a proposal to reverse a rule banning members of the House from wearing hats on the floor in order to accommodate religious headwear. The proposal, written with Reps. Nancy Pelosi (D-CA) and Jim McGovern (D-MA), will be part of the slate of changes House Democrats' hope to enact next year.
Tlaib will be the first Palestinian American woman in Congress. Her progressive platform included calls to abolish the office of Immigration and Customs Enforcement (ICE), protecting unions, and proposing a "New Civil Rights Act" that would, according to her campaign website, "drastically expand U.S. civil rights protections to cover discriminatory impacts, in addition to discriminatory intent." After taking office, Tlaib reportedly plans to lead a Congressional delegation to Palestine.
The "Rainbow Wave": LGBTQ Candidates Made Historic Gains in Local, State, and Federal Offices
Historic wins for the LGBTQ community extended beyond Sinema's Senate victory. This election cycle saw more than 432 openly LGBTQ candidates run for office up and down the ballot; 244 of them ultimately won, according to analysis from the Victory Institute, which works to increase the number of openly LGBTQ elected officials.
"Never in our nation's history have so many openly LGBTQ people decided to run for office and be the change they demand to see in the world—and we are determined to ensure this energy does not fade," former Houston Mayor Annise Parker, president and CEO of LGBTQ Victory Fund, said in a statement. "While the Rainbow Wave of LGBTQ candidates who ran this year was the most diverse ever, there is still a long way to go before equitable representation for our entire community is achieved. It is vital we recruit and train more LGBTQ people of color, women, and trans candidates because America needs their voices in the halls of power."
State legislatures saw an increase in LGBTQ candidates elected, with 85 openly LGBTQ individuals endorsed by the Victory Fund winning office. Doing so cut the number of states that had never elected an openly-LGBTQ person to its state legislature from seven to four, according to the organization. Alaska, Louisiana, Mississippi, and Tennessee remain.
Those wins included tripling the number of transgender state legislators, with a total of six trans candidates winning office across every level of government this election. There are only 15 openly trans serving in elected office in the country, according to the Victory Fund.