'Green Book,' Oscar Hype, and Black Folks' Heavy Lifting in Interracial Relationships
The Academy craves films that thrive on Black characters' emotional labor in pursuit of white friendship. Driving Miss Daisy, The Help ... IJS.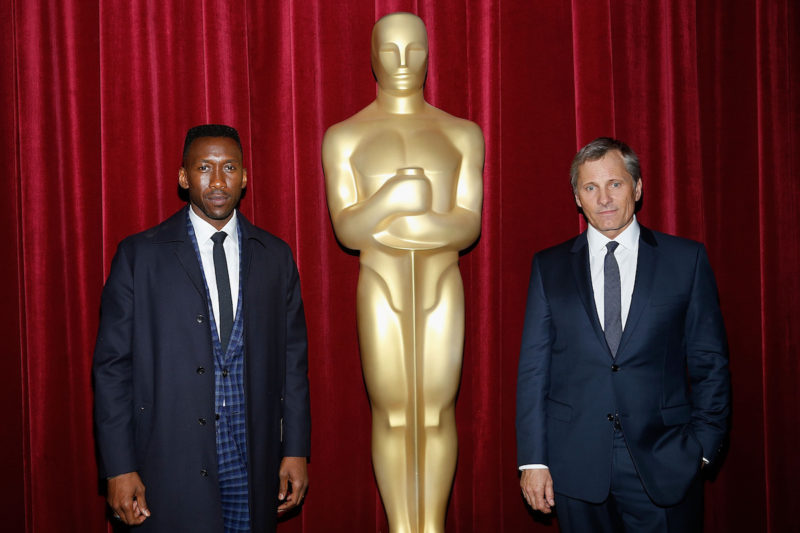 Actors Mahershala Ali (left) and Viggo Mortensen stand beside a giant version of the coveted Oscar statue. Early predictions suggest that their film, Green Book, is a frontrunner in this Academy Award season. Lars Niki/Getty Image
America and the Academy of Motion Picture Arts and Sciences so love an improbable interracial friendship film.
So, if Hollywood's pattern holds, Peter Farrelly's Green Book is destined for Oscar nominations and possibly a Best Picture win.
There's the usual industry indications. It won the coveted audience award at the Toronto International Film Festival and, earlier this week, the National Board of Review picked it as the year's best film, accolades that often precede the big honor. Not to mention, I haven't seen the kind of rapturous response from middle-aged white viewers at a Los Angeles screening since I previewed The Help in 2011. The Help and Driving Miss Daisy (1989)—both set in the 1960s, both with Black star power cast as servants, both written and directed by white people—got Best Picture nominations. Driving Miss Daisy took home the prize.
What it is that we love, I think, is the inordinate amount of emotional labor that Black characters must do to sustain a friendship with racist but ultimately good-at-heart white people.
So much so that Driving Miss Daisy, not exactly well regarded among Best Picture winners, and The Help could be celebrated for simplistic views of race relations and racism (even if time has allowed for more clear-eyed appraisals of these films, with The Help star Viola Davis recently stating that she has issues with how white women were centered in the film, not the titular Black women domestics).
Now in 2018, the Academy seems poised to fall into the same trap with Green Book, an awards season frontrunner.
Green Book purports to tell the "true story" of Italian American bouncer Tony "Lip" Vallelonga (Academy Award nominee Viggo Mortensen) and Dr. Don Shirley, a Black concert pianist (Academy Award winner Mahershala Ali).
In late 1962, Vallelonga is hired as Shirley's chauffeur for a concert tour that includes a leg through the Jim Crow South (the title refers to a real historical travel guide that listed what hotels, eateries, attractions, and businesses would respectfully serve Black people traveling by car during segregation).
For all the ways Green Book presents this unlikely friendship as an encouraging beacon of hope, let's not lose sight of the fact that Tony Vallelonga is a bigot who displays unambiguous racism.
An early scene depicts him at home speaking in Italian to visiting friends and family about the two Black repairmen his wife Dolores (Linda Cardellini) has doing work in the kitchen. After Dolores serves lemonade to the Black workers, Tony throws the drinking glasses they used in the trash. Dolores is a polite, almost saintly woman, free of any real prejudice and quietly disapproving of her husband's racism. If she loves Tony, he must have redeeming qualities. It's a brief but crucial characterization that underscores the film's commitment to portraying white racists as misguided, but ultimately decent.
It should be noted that the film's team has an investment in this narrative that goes beyond the general investment in believing in whiteness. It was co-written by Tony and Dolores' son, Nick. It should be also noted, however, that Shirley's family remembers the relationship quite differently. Says one close relative: "My brother never considered Tony to be his 'friend'; he was an employee" and one who balked at wearing his uniform.
But one could argue that this early snapshot of Tony's racism is part of his arc, before he accepts the job as Dr. Shirley's driver and the two eventually become friends.
But does he truly grow to unlearn his racial biases? The argument that he does falls apart given the characterization of Dr. Shirley. He's such an upright, polished, educated aberration from Tony's preconceived, racist notions of Blackness. It takes a Black man with multiple doctorates and an unparalleled musical gift to break Tony free of his bigotry. That amounts to a toxic nod to Black exceptionalism and respectability politics.
Even worse, the film tacitly suggests that Dr. Shirley's understandable anxiety and refusal to unbend around Tony is just as big a problem as Tony's racism. Green Book implies that the exchange is even in terms of what each of them must negotiate in order to find common ground. Dr. Shirley "teaching" Tony, through their time together, that not all Black people are the same is given equal weight to Tony "teaching" Dr. Shirley to loosen up and how to enjoy Black popular music Tony loves (like Aretha Franklin). Tony is better able to understand this element of Black culture than Dr. Shirley, while Dr. Shirley knows enough Italian to understand the racial slurs Tony's friends use to describe him when he's in earshot.
The message: If we just appreciate something about each other's culture, there's hope for individual change and collective reconciliation. But Tony and Dr. Shirley can't meet halfway if Dr. Shirley has to ignore Tony's biases and his failure to correct his friends. Despite the fact Dr. Shirley has reason to be leery, he's got to perform forgiveness to prop up this friendship—which he literally needs to perform his job and stay safe.
In the film's final act, Tony accuses Dr. Shirley of being too standoffish and not "Black enough." To its small credit, Green Book gives Dr. Shirley a monologue in which he reminds Tony that he's always Black and treated as such, regardless of wealth or his education. However, the film doesn't really shut down Tony's point of view for the privileged bit of ignorance that it is. It sticks to its guns, right to the end, that it is Dr. Shirley who needs to loosen up and learn to love this problematic, racist white protagonist.
As the film continues its march into Oscar season, one can't help but notice how these patterns repeat with the Academy. It isn't just its validation of pat portrayals of racism, comfortably set in the past.
It often nominates or rewards milquetoast outings over more hard-edged films about race, often by filmmakers of color. While Driving Miss Daisy won Best Picture, the Academy famously failed to even nominate Do the Right Thing, Spike Lee's now-classic 1989 film about a long simmering racially motivated riot in New York in that year. Though 2017's Best Picture winner The Shape of Water is not explicitly about race, it's also set in the 1960s and features a similarly superficial interracial friendship storyline between its white lead and her Black co-worker (Octavia Spencer), an underexplored character given little motivation. It beat out Jordan Peele's racial horror satire Get Out.
This year offered two films set in the present, both critically acclaimed films that depict racism and interracial friendship with greater success than Green Book does: The Hate U Give and Blindspotting. The former is directed by a Black director (George Tillman Jr.) and based on a novel by a Black woman (Angie Thomas). The latter is co-written by its Black lead (Daveed Diggs).
The Hate U Give centers a Black teenage girl (Amandla Stenberg) who attends a predominantly white private school where she has a white boyfriend (KJ Apa). She witnesses the police shooting death of her childhood friend in her Black neighborhood, sparking grief and a social awakening. Blindspotting, set in working-class Oakland, examines a lifelong interracial friendship between a Black man and his white friend (Rafael Casal) and their disparate, racially-informed responses to their environment. The film also deals with police racism and misconduct, and it tries to employ the comedy-drama tone to which Green Book aspires, but also mismanages.
It's telling that Green Book is garnering major awards buzz, and these two films are not. The Academy would sacrifice nuance for an undercooked mess of half-explored ideas about race and racism, designed for easy white consumption and enjoyment. And speaking of consumption, the less said about the scene where Tony makes Dr. Shirley eat Kentucky Fried Chicken, the better.