Playing Gay and Playing It Safe: 'Bohemian Rhapsody's' Straightwashing
The new biopic of Queen's audacious Freddie Mercury skirts around his sexuality—while straight actors think it's their right to take on LGBTQ roles.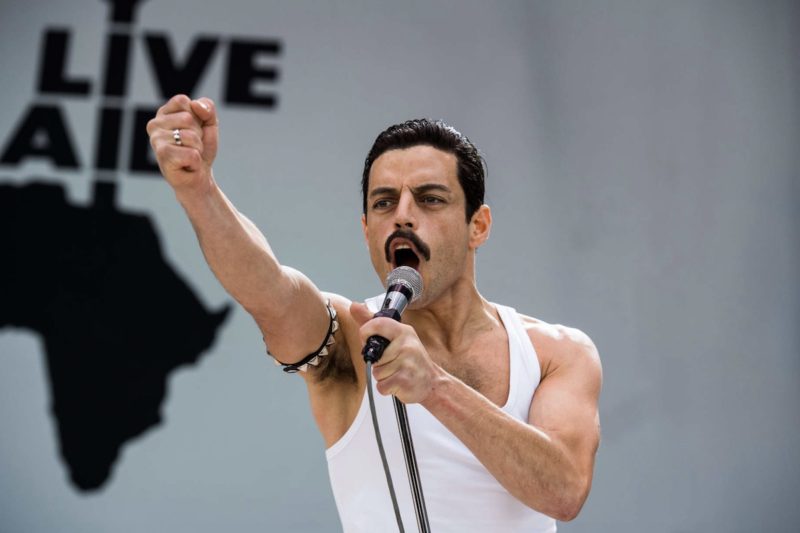 Rami Malek (pictured) plays the dynamic music legend Freddie Mercury, but ultimately delivers a pale version of the icon. 20th Century Fox
There's a moment in Bohemian Rhapsody, director Bryan Singer's biopic of late Queen frontman Freddie Mercury, where Mercury is wordlessly approached by a man at a truck stop. Fresh off a pay phone call with his wife, Mercury (Rami Malek) and the man exchange a meaningful glance before the man enters a nearby bathroom, closing the door behind him. The scene fades out.
This visual representation of Mercury's sexuality is emblematic of how the film tackles the subject overall: furtive glances; strategic cutaways; a morning-after shot of a man splayed out on a hotel sofa; and two chaste, male-on-male kisses. This is how far Bohemian Rhapsody is willing to go in delving into Mercury's life as a bisexual man and his legacy as a queer icon. And that's not very far. This mealy-mouthed approach opts for hints, rather than a three-dimensional portrayal of this very important part of Mercury's life.
But we are, unfortunately, used to such selective cinematic storytelling. Straightwashing is alive and well, and not just in the film itself.
In late October, during an interview with the LGBTQ publication Into, Malek was asked directly about whether he believed Mercury was a gay icon. Stammering and struggling to answer the question, Malek—who is straight—concluded with the nonsensical "if he's an icon to one, there's no reason that it requires another adjective, as far as I see." You would have thought he'd have anticipated this question and planned a better pat answer.
Days later, pre-release criticism charged that the movie bungled Mercury's queerness, the timing of his disclosure of his HIV/AIDS diagnosis to bandmates, and his ethnic heritage (his parents were Indian Parsis); other writers have argued that Mercury himself concealed his sexuality, felt disconnected from his parents' religion, and reinvented himself over and over again.
That's all well and good, but Malek's remarks came on the heels of actress Cate Blanchett stating a few days earlier that she would "fight to the death" for the right of straight actors to play LGBTQ roles and, generally, for actors to be cast in roles "beyond [their] experience." Notably, Blanchett received critical raves and an Oscar nomination for Todd Haynes' 2015 film Carol, in which Blanchett plays a 1950s divorcing housewife engaged in a lesbian affair with a younger woman (Rooney Mara, also Oscar-nominated).
Perhaps Malek, who's earning Oscar buzz for his energetic (if somewhat facile) portrayal of Mercury, and Blanchett believe that actors shouldn't be burdened by identity politics. But such a world doesn't exist.
Blanchett's assertion that she would fight to the death for the right of straight actors to play LGBTQ roles feels especially galling because such a fight is hardly necessary. Implicit bias against openly gay actors remains in Hollywood, even in the casting of straight roles.
Very few gay performers have taken home a competitive award in the four acting categories at the Academy Awards. John Gielgud won in 1982 for his supporting role in Arthur. Even in Gielgud's case, it's not entirely clear that he was "out" in the strictest sense. While it was widely known in Hollywood that Gielgud was gay and he was arrested in 1953 by an undercover police officer for lewd behavior in a public restroom, Gielgud never officially disclosed his sexuality and remained fiercely private. And though two-time Best Actress winner Jodie Foster reportedly came out during a Golden Globes speech in 2013, her remarks left much room for ambiguity and was decades after her Oscar wins. Joel Grey also came out many years after winning his Oscar for Cabaret. In fact, only one openly gay actor or actress has ever won an Academy Award—Linda Hunt in 1983 for The Year of Living Dangerously. That's one actor or actress in the Academy's 90-year history. And no openly gay actor has ever won for playing a gay role.
Veteran actor Sir Ian McKellen, who is gay, has been nominated twice, his first nomination in 1998 for Gods and Monsters, in which he played an openly gay character. "My speech has been in two jackets. 'I'm proud to be the first openly gay man to win the Oscar.' I've had to put it back in my pocket twice," McKellen told the Guardian in 2016.
Compare this to Tom Hanks (Philadelphia), Charlize Theron (Monster), Sean Penn (Milk), Philip Seymour Hoffman (Capote) and Nicole Kidman (The Hours)—straight actors, all of whom have won lead actor or actress Academy Awards for playing LGBTQ characters or those who have had same-sex relationships. In all but one of these instances (Hanks who, like Malek, suffers from a sanitized, desexualized portrayal of queerness), these actors won for playing real people. In a stark, one-to-one comparison, we have the openly gay Rupert Everett, who received several critical prizes and a Golden Globe nomination for his performance in My Best Friend's Wedding (1997). He was eventually passed over for an Oscar nomination in the Supporting Actor category the same year that Greg Kinnear, a straight actor, was nominated for playing a tortured, put-upon gay artist in As Good As it Gets.
Bias against openly gay actors and actresses isn't confined to award prospects. It extends to hiring. Blanchett may be willing to "fight to the death" for straight actors to get cast in queer roles, but the same fluidity of casting is not afforded to her queer colleagues. In an interview with IndieWire earlier this year, an anonymous top-level entertainment manager laid the issue out in rather bare terms. "It's all about perception," said the source. Because so much hinges on the possibility of romance in today's films, "They want to believe that the lead guy is fucking the lead woman …. Sadly, if we know that in real life that the lead guy is screwing around with another guy, the fear is that it may hurt ticket sales."
Crossover opportunities for known LGBTQ actors to "play straight" are few and far between. Straight actors are afforded that freedom and are, in fact, praised when they take on queer roles. These performances often opt for broad strokes and stereotypical portrayals of queerness, minus the actual sex. Queerness functions as a particularly difficult costume, an affliction, or a "hook," and the Academy rewards straight actors for their "bravery" in taking on these roles. This issue goes far beyond artistic freedom and expression as laid out by Blanchett or Malek's seemingly "orientation-neutral" approaches to real-life queer subjects.
In recent days, Rami Malek has acknowledged the straightwashing inherent in the characterization of Mercury in Bohemian Rhapsody. Malek stated that he would have loved to have incorporated more of Mercury's bisexuality into the film and that he, in fact, pushed for it. However, despite these anecdotal reports that he tried to leverage his privilege for good, Malek still misses the point, which is this: The film's casting of him the first place contributes to the erasure of queerness both on and off screen.
Bohemian Rhapsody ultimately falls short in several respects, including manipulating facts for cinematic convenience and a suspicious commitment to portraying the other band members in a virtuous light (former Queen members Brian May and Roger Taylor serve as executive producers). The film closes with Queen's performance at Live Aid in 1985, where he has already told his bandmates he is dying of AIDS after their tumultuous breakup and reunion. This, even though Queen never really broke up in the first place and Mercury wasn't diagnosed with HIV until 1987. Director Bryan Singer (who also happens to be gay) and screenwriter Anthony McCarten (The Theory of Everything) are paying bare minimum lip service to Mercury's queerness, as if they know they can't get away with omitting it altogether.
And then there's the epilogue that details the openly queer life Mercury led after coming forward about having HIV. I can't help but wonder what could have been with more attention to queer authenticity and, yes, the casting of a queer actor who more personally could have internalized and fought for more explicit depictions of Mercury's sexuality. Maybe this film version of Bohemian Rhapsody would have been a true ode to living openly, freely, and bravely in the face of societal pushback to queerness—and a picture of the costs when you can't. As is, it's a cautionary tale of what happens when you pay it safe and allow straight actors to "play gay."