Deb Haaland Knows Why Her Policy Platform Matters: She Lived It.
Deb Haaland, a Democrat running for New Mexico's 1st Congressional District, could be the first Native American woman elected to the U.S. Congress.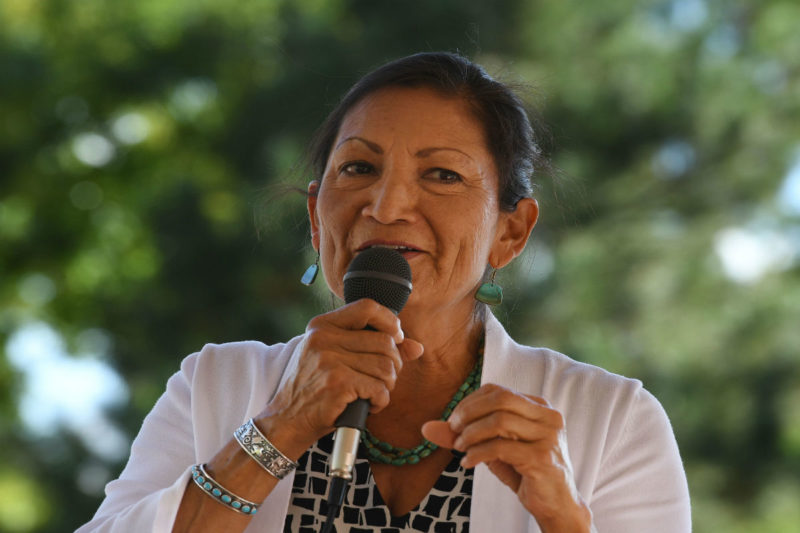 By 2008, Deb Haaland was a full-time volunteer for Barack Obama, and as a field organizer, she worked to get out the vote in Native American communities. MARK RALSTON/ Getty Images
When the Trump administration forcibly separated immigrant families at the border, New Mexico congressional candidate Deb Haaland knew all too well what that could mean for them.
As a member of the Laguna Pueblo tribe, Haaland's family experienced separation at the hands of the U.S. government when it forced families like hers to send their children to "assimilation" boarding schools. "My grandmother was actually taken away from her family and sent to boarding school. She was 8 years old, and she was not able to come home until she was 13," Haaland, a Democrat running to represent New Mexico's 1st Congressional District, told Rewire.News this summer in an interview.
"I talked to my grandmother about this, and she expressed that it was very difficult. Her dad was only able to visit her twice during that five years because the only mode of transportation he had was a horse and wagon," she said. "As soon as they laid the tracks through Laguna land, my great-grandfather was put on a train and sent to Pennsylvania, to Carlisle Indian boarding school. So [the government] had been practicing that for decades."
"I am grateful that my grandparents were able to keep our culture and traditions intact after all of those efforts to break them apart," Haaland said. "So I do feel that this is more of the same. It's more government policies working to separate families. And it didn't work then, and it's not working now."
Her family history is just one example of how the Democrat's lived experiences have influenced her platform, a common theme used throughout her campaign.
Haaland told Rewire.News that her position on reproductive health and rights is informed by her time as a patient at Planned Parenthood. "I got my health care at Planned Parenthood all through law school because it was affordable and accessible," she said.
"The clinic I went to had a sliding scale, so according to how much you made, that's how much you paid when you went in to get services," Haaland said. "They offer birth control, they offer check-ups, I mean they did a lot of things for women and you could always get an appointment there. It was very, very accessible. So that helped me when I didn't have a lot of money, when I was a student, as a single mom. And I just look at my own experiences as something I would advocate for young women as well."
Similarly, Haaland's support on her campaign website for a federal paid family leave program notes that she was a single mom and knows such policies are "especially important to single parents and working families without wealth across America."
Haaland has vowed to fight for nutrition assistance programs, which may be in jeopardy for many due to Republican efforts to institute work requirements. She told Rewire.News, "I know what it's like to have to rely on food stamps. I relied on them for a while, and they were super important for me. And then I was able to support myself."
When it comes to the federal minimum wage, Haaland backs raising it to $15 an hour—a position popular among progressive Democrats. She characterized it as something that "could help families immediately," noting that workers' pay has not risen to match the growing costs of living.
"When I think about it, in the 1980s, I was making what minimum wage is right now. That was 30 years ago. I was making $7.50 an hour, and at that time my rent was probably a fourth of what it is right now," said Haaland.
Haaland started getting more intensely involved with politics as a volunteer on John Kerry's 2004 presidential campaign, according to an interview with Rolling Stone. By 2008, she was a full-time volunteer for presidential candidate Barack Obama, and as a field organizer, she worked to get out the vote in Native American communities. In 2014, she launched a campaign for lieutenant governor of New Mexico. The next year, she took over as chair of the state's Democratic Party.
Republican state Rep. Janice E. Arnold-Jones is running against Haaland in the November 6 general election. Arnold-Jones' campaign website provides few details on her policy positions, but highlights jobs, health care, and immigration as priority issues. She has been endorsed by the anti-choice National Right to Life Committee PAC and the National Rifle Association Political Victory Fund. Arnold-Jones last month faced heavy criticism when she baselessly questioned the authenticity of Haaland's Native American background.
A Haaland victory would be historic. Both she and Kansas Democrat Sharice Davids hope to be the first Native American women elected to the U.S. Congress. "If I win my general election I'll be extremely proud to have that designation," said Haaland. "What I feel most proud about, aside from the fact that I will have an opportunity to represent my district and the state that I truly love, is that I almost feel like maybe more women of color might feel that it's a possibility for them to run and win as well."
For those who "looked at pictures or seen Congress on TV and have never seen themselves in that body of our government," Haaland said, her win could make them "feel that perhaps their issues, or … the things that they care about, will be represented, talked about, fought for."