Photos: The No Choice Travel Agency
"In a way, this is like a big fancy project to feature ten stories," Erika Christensen told Rewire.News. "That's really the central mission that we had: to introduce people to the patients who are actually accessing later abortion care for a variety of reasons, many of which aren't that different from the reasons people need abortions earlier in pregnancy." Rewire.News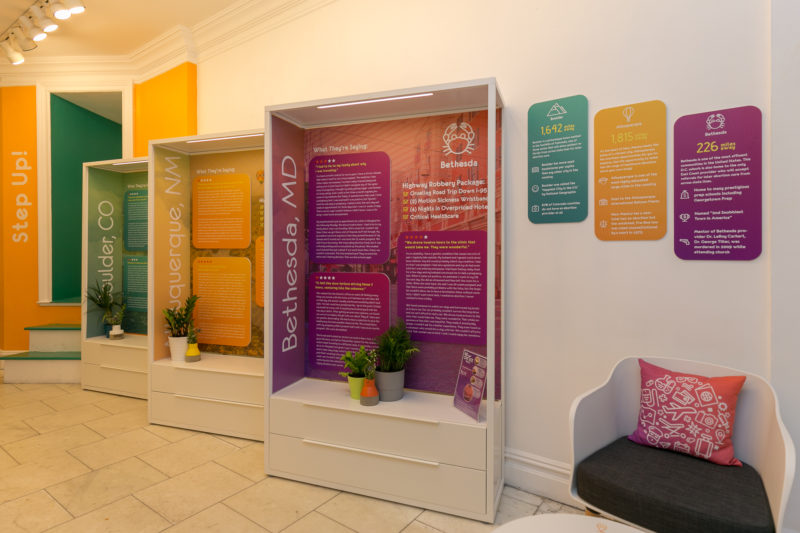 The travel agency offers three different packages: "Peak access" takes patients to Denver while the "high and dry" package goes to Albuquerque, New Mexico. Unlike the others, the third, "highway robbery" package includes "a grueling road trip down I-95, two motion sickness wristbands, four nights in an overpriced hotel, and critical health care." Rewire.News
An overview of the distances New York patients must travel to access later abortion care. Rewire.News
A welcoming seating area in the agency. Rewire.News
A lot of information packed into a small storefront. Rewire.News
A breakdown of the "highway robbery" package costs. Rewire.News
A placard in the agency that provided an overview of New York's abortion law. Rewire.News
After reading over the different travel packages, visitors to the agency could learn more about their state senator and what they can do to create change. Rewire.News
The reproductive rights advocacy project suggested visitors take action by contacting their state senator; reaching out to Gov. Andrew Cuomo (D); telling everyone they know about the law to help fight stigma; donating to the Brigid Alliance, which helps abortion patients cover travel costs; and voting on November 6. Rewire.News
The immersive pop-up was located at 230A Mulberry Street in Manhattan for four days last week. Although it resembled a high-end travel agency, fitting in at the epicenter of designer shops, it was far from a typical trip bureau. It offered travelers three destinations: to one of the few states where a New Yorker can access a later abortion in the United States due to the state's antiquated abortion law, which regulates abortion in the criminal code and restricts care after 24 weeks with no exceptions.
New York's abortion law is an urgent issue, Erika Christensen of Abort Mission—an advocacy project she created with her husband, Garin Marschall, aimed at disrupting traditional storytelling—told Rewire.News. "We can't just keep kicking this down the road. It's past time" to do something about it.
Read more about the No Choice Travel Agency here.