Private Prison Campaign Cash Still Welcomed by Some Democrats in the Trump Era
"The moment is one where you have to ask: If you are taking these contributions, does it mean you are in support of these policies the administration is enacting that enrich these companies?" said Bob Libal, executive director of Grassroots Leadership.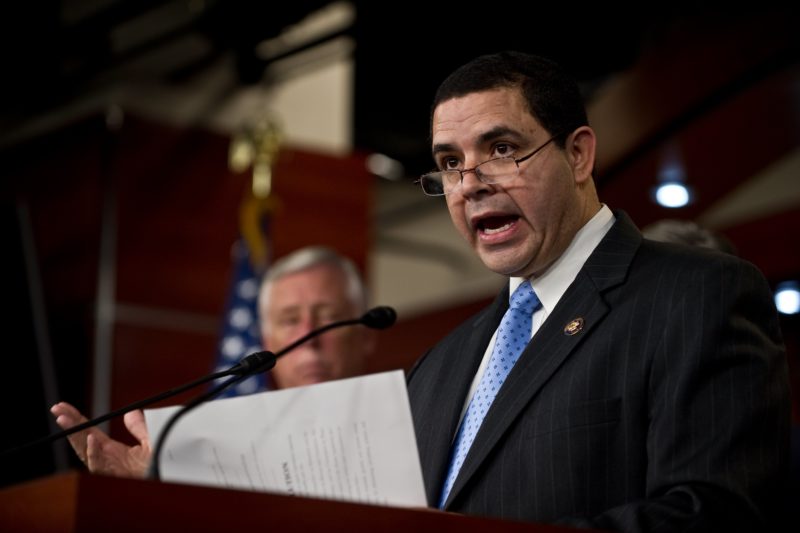 Rep. Henry Cuellar (D-TX) has received more campaign cash from GEO Group in 2018 than any congressional lawmaker but one Texas Republican. NICHOLAS KAMM/AFP/Getty Images
Private prison companies give around 90 percent of their congressional political contributions to Republicans, though a small cadre of Democrats continue to take private prison campaign cash.
Private prison companies were on the ropes in August 2016 when the Obama administration announced it would end the Justice Department's (DOJ) reliance on the troubled industry. Shares of CoreCivic and GEO Group plummeted. The decision was largely informed by a report from the DOJ's Office of the Inspector General that revealed private prisons' failure to save money and maintain the same level of safety and security as the Federal Bureau of Prisons. The Department of Homeland Security (DHS) announced it would consider following the DOJ's lead for immigrant detention centers, though officials ultimately decided against it.
Then President Trump was elected, and in February 2017, Attorney General Jeff Sessions revoked the Obama-era initiative to phase out the use of private prison companies. Some of these former prisons had already been recycled into immigrant detention centers, allowing CoreCivic and GEO Group to continuing to profit. These companies, with lengthy histories of human rights abuses, are key cogs in the Trump administration's anti-immigrant agenda.
GEO Group is ICE's largest contractor, with more than $400 million in federal contracts to run private prisons and detention centers, according to the Miami New Times. The company, which has been accused of denying food and water to inmates, faces a separate lawsuit alleging it made an illegal $225,000 donation to a pro-Trump political action committee in the 2016 election. GEO Group and CoreCivic, the nation's second largest private prison company, each donated $250,000 to Trump's inauguration fund. CoreCivic has allegedly broken human trafficking laws and forced detained immigrants to work for sub-minimum wages.
Some Democratic lawmakers have refused recent private prison contributions to distance themselves from an industry that has become politically toxic and synonymous with Trump's furious efforts to restrict immigration. But there remain congressional Democrats who accept campaign contributions from GEO Group and CoreCivic.
No congressional Democrat has received more financial backing from private prisons than Rep. Henry Cuellar (D-TX), who has taken $88,990 from GEO Group and CoreCivic America since 2012, according to Open Secrets. Cuellar, who has voted in line with the president 68.9 percent of the time, has received more campaign cash from GEO Group in 2018 than any congressional lawmaker but Rep. John Culberson (R-TX). Almost all of Cuellar's private prison campaign cash over the past six years has come from GEO Group, which has a history of in-custody deaths and other abuses. Cuellar's office didn't answer questions submitted by Rewire.News about the Democrat's acceptance of private prison campaign money.
Bob Libal, executive director of Grassroots Leadership, a Texas-based immigrant rights group that has been tracking private prison companies for years, said Cuellar's district includes "detention alley," which runs up I-35 from Laredo, Texas. Laredo has three detention centers, all run by private prison companies, and one of the nation's three family detention centers.
"The moment is one where you have to ask: If you are taking these contributions, does it mean you are in support of these policies the administration is enacting that enrich these companies?" Libal said. "Let's be clear, these companies don't give these contributions out of the goodness of their hearts. It's their way of ensuring their interests are met."
Nancy Cardenas-Pena, Texas director for policy and advocacy at the National Latina Institute for Reproductive Health, said there has been "very minimal interest in who is receiving private prison money," making it exceedingly difficult to bring attention to Democrats publicly advocating for immigrants while quietly accepting support from an industry that rakes in profits while committing a litany of human rights abuses.
"People refuse to hold Democrats accountable because they feel like they're the lesser of two evils—and that argument is garbage," Cardenas-Pena, who resides in Cuellar's district, told Rewire.News. "It's harmful because it means we're shielding certain people from being accountable for their actions. We're settling for something much less than ideal. The argument this behavior upholds is that it's OK to throw certain communities under the bus, and it's not OK."
Rep. Tim Ryan (D-OH) has taken the second most money from private prison companies among House Democrats since 2012, though he didn't accept a $2,500 contribution from CoreCivic this year. CoreCivic operates Northeast Ohio Correctional Center, located in Ohio's 13th Congressional District. "Congressman Ryan worked to maintain contracts with the Bureau of Prisons while such contracts were available and deemed necessary, and while federally determined standards of operation were met," Mark McDevitt, a spokesperson for Ryan's office, said in an email to Rewire.News.
McDevitt said Ryan backed the Obama administration's 2016 directive for the federal government to rely less on private prison companies.
"Congressman Tim Ryan believes that all prisons should to be owned and operated by the government, and accountable to the American people," he said. Ryan "opposes the current Administration's immigration policies, and shares concerns about the track record of private prisons at certain facilities. These concerns led the Congressman to forgo political donations from such entities and donate the money that he had received previously to criminal justice reform advocacy groups."
Two Senate Democrats accept contributions from the two private prison companies. Sen. Jon Tester (D-MT) has taken money from both CoreCivic and GEO Group in 2018, while Sen. Martin Heinrich (D-NM) received money from CoreCivic but donated it to a nonprofit. A Heinrich spokesperson told the Albuquerque Journal in June that the senator "does not support the private prison industry."
Tester's office didn't respond to questions sent by Rewire.News.
Sen. Ron Wyden (D-WA) took campaign contributions from private prisons as recently as 2016. Sen. Joe Manchin (D-WV) last received CoreCivic contributions in 2014. Sen. Sherrod Brown (D-OH) accepted CoreCivic donations during the 2012 and 2014 election cycles; he didn't receive contributions from private prisons in 2016 or 2018. Sens. Dianne Feinstein (D-CA) and Bill Nelson (D-FL) haven't accepted private prison contributions since the 2012 election cycle.
While major private prison companies give a sliver of their campaign contributions to Democratic candidates, they continue to pump funds into Republican House and Senate candidates: 23 GOP House members have accepted GEO Group cash in 2018, while 11 Senate Republicans received money from the company. Twelve House Republicans have received CoreCivic money in 2018 and eight Senate Republicans have taken CoreCivic contributions this year. Most of the 236 House Republican lawmakers and 51 GOP senators don't receive private prison contributions, but far more congressional Republicans take money from CoreCivic and GEO Group than Democrats.
In some instances, coordination between the GOP and private prisons goes beyond campaign funding. Rep. Greg Gianforte (R-MT), one of the richest members of Congress, bought up to $250,000 worth of CoreCivic stock in January, TYT Network reported. CoreCivic runs a private prison in Montana known as Crossroads Correctional Center, which faces legal action after imprisoned people there staged an uprising to protest inhumane conditions.
Some Republican candidates and lawmakers speak glowingly of the private prison industry and defend the GEO Group and CoreCivic against lawsuits alleging rampant misconduct. A group of 18 House Republicans in March urged Trump administration officials, including Sessions, to protect private prison companies against lawsuits from detained immigrants who are allegedly being forced to work in the facilities for $1 a day. Detainees say they have to use the paltry pay to purchase basics like water and food.
The House GOP lawmakers charged that paying immigrant detainees more than $1 per day would "drain the federal government of limited taxpayer resources." CoreCivic, meanwhile, reports that about half of its $1.77 billion in 2017 revenue came from federal contracts.
Participants in August's national prison strike called this practice "prison slavery." The strike lasted 19 days, and one week into it, detained immigrants launched a hunger strike in solidarity. Both groups are imprisoned in facilities run by GEO Group and CoreCivic.
Project South filed a lawsuit in April against CoreCivic on behalf of immigrants detained at the Stewart Detention Center in Lumpkin, Georgia. The lawsuit alleges that the company "violates human trafficking laws and employs a deprivation scheme to force immigrants detained at Stewart to work for sub-minimum wages, and then threatens to punish them for refusing to work through solitary confinement or loss of access to necessities." In 2014, the law firm Outten & Golden filed a lawsuit against GEO Group for engaging in similar practices at the Aurora Detention Center in Colorado.
Libal said a wide spectrum of lawmakers in both major parties have benefited from contributions from private prison companies because "they have largely been an industry that is bipartisan," pumping "money into campaigns and into particular elected officials who had the power to impact their bottom line."
This appears to be changing. GEO Group has aligned itself with the Trump administration, and the egregiousness of the Trump administration's immigration policies are forcing elected officials to take action, Libal said.
"Certainly both parties have been guilty in presiding over the expansion of mass incarceration and the expansion of immigrant detention," Libal said. "But [the Trump administration] has forced [elected officials] who were quiet or complicit about the injustices of previous administrations to take a stand, if for no other reason than not to be associated with it. There are obviously exceptions to this. I think Congressman Cuellar should be questioned about [this] explicitly. Is he in favor of the prolonged detention of children? Because he is accepting the funds that make that possible it looks really bad to be taking [money from a] private prison company. I think it's always looked bad. But now it looks especially bad."