Preventing Sexually Transmitted Infections May Not Be a Priority for Older Adults—But It Should Be
People 45 and over are experiencing some of the highest increases in rates of sexually transmitted illness of any age bracket in the United States.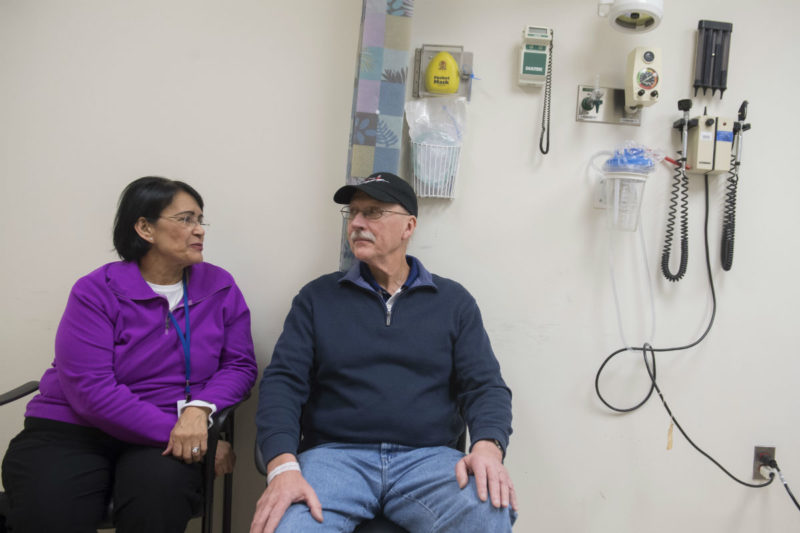 A patient and his wife wait to speak with a physician specializing in immunotherapy for HPV+ cancers. Saul Loeb / Getty
When Mark S. King got his test results for HIV in 1985, he said it was like choosing to open a letter telling him when he was going to die.
"There was nothing good that could come out of an HIV-positive test result," King said in a recent phone interview with Rewire.News. "The only thing you could be sure of is you would be fired from your job and kicked out by your roommate and you'd never get a manicure again."
His result was grim: He tested positive. But even as AIDS killed his friends throughout the following years, he somehow survived. Today, at 57, he's living a full life with his husband and advocating for HIV awareness.
Although King survived to see an era when an HIV diagnosis is no longer fatal, he's now part of a demographic, those 45 and over, who are experiencing some of the highest increases in rates of sexually transmitted illness of any age bracket in the United States. The trend stems from a combination of new diagnoses and people—particularly those with HIV—aging into the older adult category, says Dr. Janet Pregler, director of the Iris Cantor-UCLA Women's Health Center.
According to data from the Centers for Disease Control and Prevention, the prevalence of gonorrhea, syphilis, chlamydia, and HIV among older adults have all increased at rates higher than the national average over the past decade. In fact, STIs are making a resurgence throughout the United States writ large. Half of new infections are found in 15-to-24 year-olds, but older adults face distinct risks that reveal the need for stronger communication about sexual health—a topic that has often been overlooked or avoided by medical practitioners.
The common misconception that older people, particularly older women, aren't interested in sex is one factor that diverts attention away from sexual health among older adults, Pregler says.
In reality, almost three-quarters of people at least 45 years old have intercourse at least once a month, provided they have partners, research has found. Meanwhile, almost 30 percent of married men and women older than 80 have reported being sexually active.
Members of the baby boomer generation came into their sexual maturity during an unusual time. Women could take the birth control pill, and because HIV was not yet prevalent, contracting an STI usually meant simply taking antibiotics. People didn't have to worry as much about STIs or unplanned pregnancy, Pregler says.
"That may be why we see relatively less attention to things like condom use for people who have multiple sexual partners in that current older age group," Pregler said.
Such assumptions could be one explanation for the spread of STIs, says Laura Marie Didricksen. Didricksen, who's 55 and has been married two times, has become more comfortable in her own sexuality over the years. But she's also taken steps to ensure her partners don't have STIs—a mindset that shows conscientiousness about sexual health doesn't necessarily equate to a tolerance of sexually transmitted illnesses.
"Most men and women see STIs as only [going] to happen to younger generations and only if they have multiple sex partners, [which] I know is not the case," she said. "When I married both times I made sure that my first husband and now my second were STI-free. They had blood tests done, or marrying them would never happen."
Although Didricksen regularly talks with her doctor about her sexual health, other older adults don't always do the same. According to a 2018 poll by the University of Michigan Institute for Healthcare Policy and Innovation, only 17 percent of people older than 65 reported talking to their medical practitioner about sexual health in the past two years, and those who had said they initiated the discussion.
Part of the challenge is deciding which medical conditions to prioritize. In a primary care setting, an average patient visit is only 15 minutes, says Dr. Dori Russ, medical director and physician at the Russ Group LLC. Doctors are typically focused on managing chronic diseases and ordering preventive screenings—not including STI screenings—so they run out of time for sexual health questions.
Besides targeted outreach toward demographics specifically at risk for HIV, Pregler says the medical community has yet to develop good resources for teaching older adults about safer sex. These would range from age-specific difficulties like vaginal dryness and erectile dysfunction to educating patients on individualized ways to reduce their risk of contracting STIs. With health-care providers and systems being the natural place for these conversations to start, she says doctors need to ask all patients if they're sexually active. Medical practitioners, however, are susceptible to the same stigmas as the rest of the public, which can make talking about STIs difficult.
Loretta Baylos was abruptly diagnosed with cervical cancer when she was 47. It was three years after she learned she had the high-risk HPV strain 18 back in 2011, but it still came as a shock. Beyond telling Baylos to not miss her yearly checkups, she says her doctors didn't offer her any other information, including how her HPV increased her risk for cancer.
"I didn't even have time to emotionally get myself ready and my family ready for what was to possibly come," Baylos said, whose cancer is now in remission. "Nobody bothered to tell me [HPV can cause cancer] …. Some doctors don't seem to really want to tell their patients, or they're just maybe too busy, or they don't really want to talk about it."
King witnessed firsthand how attitudes surrounding STIs have evolved. Before HIV, he says a sexually transmitted illness was similar to any other common health problem: a medical concern that needed to be treated, but not a deadly issue.
King says back then he and every gay man he knew got tested with regularity. It was part of the game, and they did it responsibly. Getting tested—and treated—came with little shame.
"HIV of course changed all that," King said.
The epidemic brought on a generation of shame, guilt, and mortality, along with powerful messages about what it meant "to dare not behave right," King said, that seeped into people's beliefs about all STIs.
"The fear quotient went up exponentially, as did the judgment quotient," King said.
That judgment's effect on medical care can lead to serious consequences. Even though smaller numbers of older adults are diagnosed with STIs, their health may be more severely impacted, Pregler says, particularly if they have other medical conditions, are more frail, or if their STI isn't caught early. HIV exemplifies this: Older people are often diagnosed with HIV at very advanced stages because physicians don't typically consider it to be a possibility, Pregler says.
For Patti Murillo-Casa, it took extreme fatigue and bleeding between menstrual cycles to motivate the 45-year-old to see a gynecologist for the first time in three years. She'd been too busy—and because she'd been married for a decade, she wasn't worried about STIs.
That didn't make her immune to HPV, however. And in 2008, like Baylos, Murillo-Casa was diagnosed with cervical cancer. More than 40 radiation and chemotherapy treatments were eventually successful at treating her tumor, and now she talks about HPV and its related cancers to other Latina women, who have the highest rates of cervical cancer of any race or ethnicity in the United States because, she says, of a lack of education and screenings.
"When I was going through treatments, I was ashamed. I was ashamed not only that I had cancer, but the type of cancer I had because I was not well educated" about the risks, Murillo-Casa said. "My journey does not have to be theirs."
Changing public health practices always comes from multiple levels, meaning everything from the internet to the medical system needs to shift how they approach STIs, Pregler says. But she thinks the health community plays a pivotal role in normalizing sexual health as a routine topic for doctors.
"It's just another normalizing of, 'Yes, we ask about that,'" Pregler said. "That's a normal thing that older people are engaged in."