Even in Argento Allegations, the Whitewashing of #MeToo and More Erasure of Tarana Burke
Actress Asia Argento may be both a #MeToo survivor and a perpetrator. But claims that accusations against her will gut the movement don't give credit where credit is due.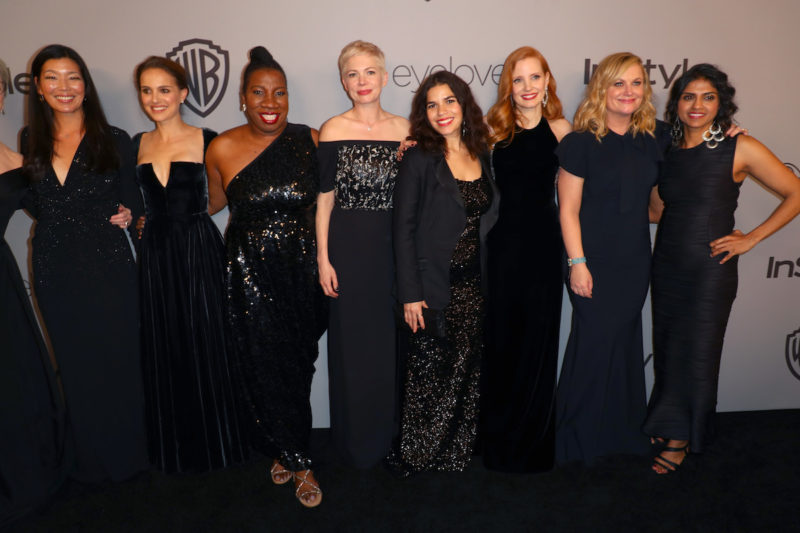 #MeToo founder Tarana Burke (third from left) poses with activist Ai-Jen Poo and actresses including Natalie Portman, Michelle Williams, America Ferrara, and Amy Poehler at a party after the 2017 Golden Globes awards. At the ceremony, some attendees wore black to raise awareness about sexual violence and harassment in Hollywood and beyond. Joe Scarnici/Getty Images
On Sunday evening, the New York Times reported that actress Asia Argento has been accused of sexually assaulting actor and musician Jimmy Bennett in 2013, when Argento was 37 years old and Bennett was 17.
Argento reportedly paid Bennett $380,000 in exchange for his silence.
She is one of more than 80 women who have publicly accused film producer Harvey Weinstein of sexual misconduct. After publicly accusing Weinstein, Argento gave an impassioned speech at the Cannes Film Festival in May, in which she talked of her own assault at the hands of Weinstein when she was 21. She concluded her address with these chilling words: "There are those who still need to be held accountable for their conduct against women, for behavior that does not belong in this industry, does not belong in any industry or workplace."
Questions about what the accusations mean for the credibility of the #MeToo movement came hard and fast. A Los Angeles Times tweet asked, "Do the claims against Asia Argento invalidate the #MeToo movement?"
While the tweeted article, published August 20, answered in the negative (as it should have), it was notable for a significant omission. It failed to mention Tarana Burke, a Black woman and civil rights activist who founded the #MeToo movement.
And that is indicative of a larger problem: how the history and framing of the #MeToo movement has been wildly distorted to center white women in Hollywood.
Several outlets, including the New York Times and the Los Angeles Times, named Argento as a "leader of the #MeToo movement" in their initial coverage of the story. While she's hardly a founding member of the #MeToo movement, the assertion is, to some degree, understandable.
But a bit of a history lesson here: Tarana Burke coined the phrase "Me Too" in 2006 to help address the pervasiveness of sexual violence, rape culture, and the silence it imposes on survivors. Burke's hashtag and activism skyrocketed into public consciousness in October 2017, after the New York Times and the New Yorker published in-depth investigations into Harvey Weinstein's extensive pattern of alleged sexual harassment and assault (Argento's accusations are detailed in the New Yorker article). At the end of 2017, Burke was included in Time magazine's collective Person of the Year as a "silence breaker" about endemic sexual abuse.
Despite that honor, she was not featured on a Time magazine cover which also included fellow silence breakers actress Ashley Judd (another one of Weinstein's accusers), singer Taylor Swift, lobbyist Adama Iwu, former Uber engineer Susan Fowler, and farmworker Isabel Pascual.
In January of this year, Burke attended the Golden Globe awards, where she and many of the other female attendees wore black in a statement of solidarity calling out sexual misconduct in Hollywood. January was the same month that the Time's Up movement was founded, specifically designed to address victims of sexual assault in Hollywood. It featured many prominent actresses such as Reese Witherspoon and Natalie Portman.
The #TimesUp and #MeToo hashtags are often used in conjunction with each other, and that's led to conflation. Dovetailing concerns aside, #TimesUp is not the same thing as #MeToo.
Actress Rose McGowan seemed to understand the difference—at first. After publicly discussing her own rape by Harvey Weinstein, McGowan (formerly of Charmed) became a fixture of the #MeToo movement, but not of Time's Up—which she criticized for what she perceives to be its problematic connections to the Hollywood establishment. Like Argento, McGowan has been called a leader of #MeToo movement, simply through her public sharing of her experience.
McGowan went off course when promoting her E! docuseries Citizen Rose. The series was, admittedly, about sexual abuse in Hollywood, but writers and Twitter users asked if Burke would be featured. To date, McGowan has not answered this question or addressed the criticism.
It's important to make the distinction between episodic story-sharing and sustained leadership. Women like Rose McGowan have raised awareness for the #MeToo movement. It's no small thing, but it's also not the same thing as building a grassroots movement. Tarana Burke herself said in a February Twitter thread: "While it's true that I have been widely recognized as the 'founder' of the movement, there is virtually no mention of my leadership. Like I just discovered something 12 years ago and in 2017 it suddenly gained value."
In addition to launching #MeToo, Burke is the senior director of Girls for Gender Equity in Brooklyn, New York. She also founded Just Be Inc., an organization dedicated to the wellness of young girls of color between the ages of 12 and 18. A talk with young Alabama girl who told Burke about being sexually abused inspired Just Be's founding, and Burke wished that she had told the girl "me too" at the time. For Burke, this goes beyond signal boosting, docuseries, and book deals. She's on the ground doing the important #MeToo work that often goes unnoticed.
No one's trying to diminish the stories of famous white women like Rose McGowan, and some, such as Michelle Williams (who invited Burke to be her Golden Globes guest), have proved their allyship.
Yet, it's so easy to slip into elevating their stories because celebrities come with built-in platforms and their whiteness carries with it a measure of increased believability, even in a rape culture built on disbelieving women and survivors. When culturally legitimizing people as leaders or spokespeople—as Asia Argento has been anointed a #MeToo representative—we often center whiteness. The resulting lack of inclusion erases the voices of those on the margins, specifically women of color—even women like Burke who are at the heart of these movements.
It's just one form of #MeToo whitewashing. Take this 2017 Variety article that credited actress Alyssa Milano with sparking the movement on social media. And when Black actress Aurora Perrineau accused Murray Miller (a writer on Lena Dunham's HBO series Girls) of raping her when she was 17, Dunham issued a public statement saying that she was confident Perrineau's story was "one of the 3 percent of assault cases that are misreported every year." In other words, it was a false claim. In other words, Perrineau was a liar. Dunham later apologized (sort of), but nowhere in her apology did she state that she believes Perrineau.
The irony was staggering. Months earlier, Lena Dunham had tweeted this: "Things women lie about: what they ate for lunch. Things women don't lie about: rape."
This even circles back to Argento and one of her most memorable moments in the #MeToo spotlight. Argento publicly claimed that Selma director Ava DuVernay, who stood next to her while she delivered her remarks in Cannes, gave "no response" to her words. DuVernay gently corrected Argento on Twitter, stating "My response was to put my arm around you and say, 'Well-done.' You looked me in my eyes and said 'Thank you.'"
DuVernay herself acknowledged in the same tweet that it's totally possible that Argento, in the midst of an emotional moment, simply misremembered the situation. To which, Argento replied, "Thank you, in that moment I was in shock."
The work, emotional labor, and experiences of women of color are constantly being diminished inside of the very legitimate, very necessary #MeToo movement. And this began ever so gradually when prominent famous white actresses came forward with their stories.
In the wake of the Argento allegations, Burke herself issued a statement reminding us that "there is no model survivor." It's something we would all do well to remember.