'Algo Hermoso': NY Nail Salon Workers Join Fight for a Fair Wage
Right now Basilisa Zafra works seven days a week, but with higher base pay she could spend more time with her children. It would be a beautiful thing, she said, echoing other workers interviewed by Rewire.News.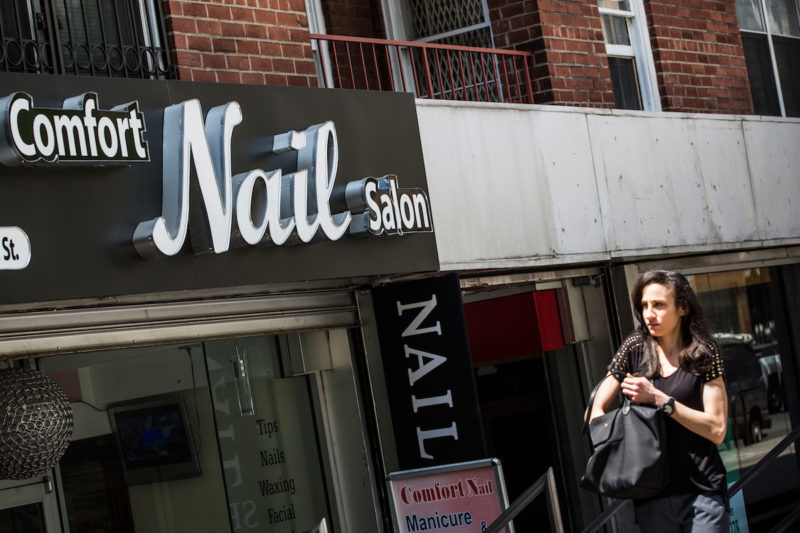 The spotlight of tipped wage debates is often on restaurant servers and bartenders. But nail salon workers must also rely on tips, often barely earning enough to survive. Andrew Burton / Getty Images
When Glenda Sefia started working in a New York City nail salon six years ago, she was paid just $30 a day, netting only about $10 in tips on top of that. Today she makes $9 an hour and can earn up to $60 in tips on a very busy day—although slow ones will get her just $3. "The majority of the time people don't leave tips," she said in Spanish, speaking to Rewire.News through a translator. "People have actually told me that tipping isn't an obligation." Other clients tell her she's already making enough through her base wages, so they don't need to tip.
"People … go into a salon and they see that it's all nice and beautiful," she said. "But then behind that you have the issues of the workers getting mistreated, workers not getting paid right."
Like other nail salon workers, Sefia is considered a tipped worker—and that means that she can be legally paid less than the minimum wage other workers are due. Right now, most employees in New York state have to be paid at least $13 an hour, an amount that will increase to $15 after the end of the year. But those in the city who make tips and work at small employers are only guaranteed $10 an hour. Most salon workers say they're paid even less than that.
That means tips play an outsized role in how much nail salon technicians make. "I don't think people realize that nail salon workers for the most part are getting paid a day rate," said Luis Gomez, organizing director at Workers United NY NJ, a union that started the Nail Salon Workers Association. "That day rate is usually well below the required minimum, and those tips are not making up for that amount."
It's a constant source of stress for Sefia and her coworkers. "Every single day we talk about the same thing," she said. "Are we going to make enough tips?"
Her base pay isn't enough to cover her needs, which include rent, food, transportation, and sending money to her family in her home country, not to mention the costs of educational courses to keep learning new skills. Even with tips it's not enough. "I can't just go and buy lunch somewhere without thinking about the exact dollar amount," she said through tears. "I can't take trips, I can't take vacation." It's "a very humiliating feeling."
Making the same minimum wage as non-tipped workers, on the other hand, "would mean to me that I'm being valued," she said. "Not only me, but also the rest of the workers in the industry." It would offer her a sense of security, knowing that she could pay her bills at the end of every week. "It would absolutely improve our salary, but also our health [given] the stress that we have to carry with us every single day."
Sefia and other members of the Nail Salon Workers Association have now joined a campaign, dubbed One Fair Wage, to ensure that tipped workers in New York have to be paid the same minimum wage as other employees. It's already the law of the land in eight states—Alaska, California, Hawaii, Minnesota, Montana, Nevada, Oregon, and Washington—and the same campaign notched a recent success in Washington, D.C., when voters approved a ballot measure to abolish the tipped minimum wage, although the city council might overturn it. The One Fair Wage campaign is also active in Michigan and Massachusetts.
The spotlight of tipped wage debates is often on restaurant servers and bartenders. But nail salon workers must also rely on tips, often barely earning enough to survive.
Piedad, who didn't want to share her last name out of fear of retaliation, has been working at her current salon for three years, yet she makes just $300 a week for three days that stretch from 10 in the morning until anywhere between 8:30 and 9:30 at night. "Es poco que yo gano," she said: I make little. Tips end up accounting for a bigger share of what she earns, but she can't count on them. On good days—sunny summer ones—she can earn $50 to $60. But those are also the days when she feels pressure from the owners to work quickly, moving rapidly from customer to customer, leaving her with pains in her arms.
Slow days can mean getting just $10 in tips. Some days when the owners aren't around to tell clients to leave tips, people don't give her anything.
Her earnings cover not just her bills, but also expenses for her child here in the United States who has special needs and a child that she supports back in her home country. "I don't think about myself," she said in Spanish. "I only think about my son and the basics."
Basilisa Zafra earns $8 an hour, and on a good day, she'll get $30-$40 in tips on top of that. On a bad day it's more like $8-$12. Out of every seven to eight customers, she said, it's common for four or five not to tip at all.
Things only got worse when her doctor recently found cancerous cells in her body. She had to have an operation that made her miss a month of work, but all the while the owner was threatening to fire her and replace her with someone else if she didn't return to work. She was able to keep her job with the help of the Nail Salon Workers Association, which also helps workers get licenses and defend their rights, but she didn't get a single day of paid sick leave.
Zafra's earnings aren't just going toward her own bills, but for caring for her two children given that she's a single mother. "There's no going out. There's no eating in the streets," she said in Spanish through a translator. "There's times that I have to sacrifice eating myself to make sure that both of my kids eat."
"This needs to change," she said. "I can't keep doing it." But if she were to make the same minimum wage as non-tipped workers, it would be "a breath of fresh air," she said. Right now she works seven days a week, but with higher base pay she could spend more time with her children. "Sería algo hermoso," she said. It would be a beautiful thing.
Araceli Alberto has notched 15 years in New York City's nail salon industry. In her first job she made $30 a day with about $30 in tips on top of that. Before she recently decided to take a break from the industry, she was making $105 a day and earning between $30 and $40 in tips. "It took me 15 years to be able to even ask or get anywhere near the $105 that I was earning per day," she noted in Spanish through a translator. "It's just a lot of work for people to get there."
But even after all those years, tips still varied "a lot." It depended on how customers felt toward her or whether they had a relationship with her. Weekdays only netted about $10 a day in tips, while she could make as much as $60 at Christmastime, when people felt generous. "You can definitely go days without earning a tip," she said. And sometimes she had to put up with customers insulting her or treating her badly to get them. "There's a lot of instances where you have to swallow your pride."
To make up for earning so little in tips, she had to work longer hours—from 9 in the morning until sometimes as late as 8 in the evening. "That's a blow to anybody's dignity," she said. Plus there's the toll that the long, hard work takes on her. "It's very tiring on the body because you're sitting down all day hunched over," she said through a translator. "Then mentally it's all the stress." A groundbreaking exposé in the New York Times in 2015 found that nail salon workers routinely work 12-hour days and six- or seven-day weeks, and the conditions take a toll on their health, especially since they handle potent chemicals.
Alberto is part of a worker committee at the Nail Salon Workers Association, and it was the committee that made the decision to join the One Fair Wage campaign to ensure that the minimum wage in New York state is the same for tipped and non-tipped workers alike. They joined a coalition that also includes unions, community groups, and worker centers that represent car wash workers and restaurant employees.
So far, Gov. Andrew Cuomo (D) has instructed the state labor department to look into the issue, and the department has held a series of hearings. One of them, in the Bronx, included Alberto and a number of other nail salon workers. "I was really happy that [the politicians and labor department officials] had to see us face-to-face," she said. "One thing is hearing about the conditions … another thing is [having] to see us—we were in front of them." She noted that the stories shared at the hearing were all similar: low wages and mistreatment throughout the industry. "Rent is going up, different costs of living are going up, why not our wages?" she said. "Why not value the work that we do?"
The hearings have now all concluded, and the department is expected to soon provide Cuomo with a recommendation. Advocates aren't waiting, though. "Part of the One Fair Wage work that we're doing right now is, how do we give the governor a friendly nudge to make it happen?" Gomez said. "This is an issue affecting people here and now." The coalition hopes that the governor will take action before the gubernatorial election in November or even before the primary in September.
"What we're hoping is that we can get support from elected officials to also provide an additional nudge [to] make it happen sooner rather than later." So far, Cuomo's Democratic primary challenger, Cynthia Nixon, came out in favor of getting rid of the tipped minimum wage and dinged Cuomo for stalling, while the Republican contender opposes it.
Piedad joined the campaign not just to increase her pay or that of her coworkers, but to increase pay for all tipped employees, including those who work in car washes and restaurants. "We should be earning a dignified wage for the work that we're doing, and a wage that we can foresee how much we'll be making for the week," she said in Spanish through a translator.
It would make a huge difference in her life to get a base wage on par with other workers. It would mean "tranquilidad," she said, or peace of mind, knowing what she would earn week to week and that it would be enough to cover her rent and bills.
Piedad is hopeful that politicians will listen to her and her fellow technicians. "They won't sit idly by knowing that these things are happening in our industry," she said. Sefia agreed. "For so many years, the owners have had the power of being the only voice that's heard in the industry," she said. Nail salon owners, for example, staged a lengthy and vocal campaign against the Times after its exposé. "I have faith and hope that they're listening to us because this is the first time that they're actually hearing from workers."
Alberto still wants to return to the nail salon industry, even after leaving to find a job that would give her more time to spend with her children. "It's an art that I do," she said. "It gives me satisfaction to see people feel good and happy after I do their nails." But only time will tell if the industry conditions change enough for her to be able to return.