A Child Is Among the Latest Migrants to Die Under Trump
Within the span of a few weeks, a child died after leaving a Texas detention center and a senior woman died in custody at a California facility.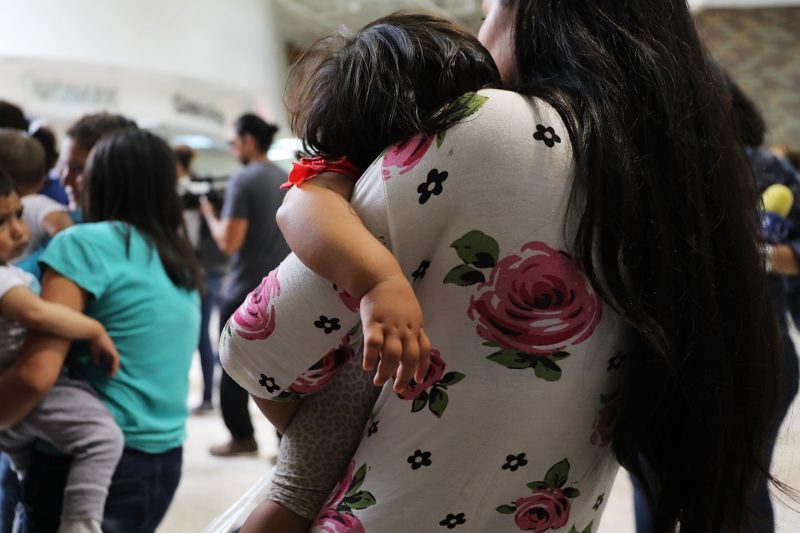 Responding to reports of the child's death, Immigration and Customs Enforcement (ICE) tweeted on Wednesday, "Reports that a child died in ICE custody at Dilley are false." Spencer Platt/Getty Images
Over the span of several weeks, a senior woman and a child have died after being detained in federal immigration custody. These represent the latest in a series of deaths that have occurred since the Trump administration launched its "zero-tolerance" policy.
The child's death was first reported on social media by Houston, Texas-based immigration attorney Mana Yegani, who tweeted that the child died after being released from the South Texas Family Residential Center in Dilley, Texas, which is run by the private prison company CoreCivic. Advocates and attorneys working in the state confirmed with Rewire.News that the child died after being released from the facility.
One Austin, Texas-based organizer told Rewire.News that the American Immigration Lawyers Association (AILA) "confirmed a death occurred a few weeks ago." 
Katy Murdza, an employee of the American Immigration Council and the advocacy coordinator for the Dilley Pro Bono Project, said she did not have "permission at this time to share who provided the information." But she did confirm the report. "We have heard that a child died after leaving the South Texas Family Residential Center (STFRC). We do not have information on the cause of death or information that confirms a connection between medical treatment at STFRC and this death," Murdza said in an email.
Rewire.News could not confirm the child's age; however, the Washington Post reported Wednesday she was a toddler.
Responding to reports of the child's death, Immigration and Customs Enforcement (ICE) tweeted on Wednesday, "Reports that a child died in ICE custody at Dilley are false." In an emailed statement to Rewire.News, the agency clarified that "ICE would not necessarily know what happens to individuals who have left ICE custody. That doesn't make an allegation true, just impossible to refute. Only a death in custody would be considered an in-custody death." 
A representative from CoreCivic echoed ICE's response, telling Rewire.News in an emailed statement that "there have been no deaths in custody at the South Texas Family Residential Center" and that "once the individuals in our care has left our facilities, we receive no further information about them."
Poor medical care has long been an issue in detention, including at family detention centers like Dilley. In 2015, AILA and other organizations assisted ten mothers in filing complaints with the Department of Homeland Security (DHS) Office for Civil Rights and Civil Liberties and the Office of Inspector General because of the "severe suffering families" endured, including "poor access to and quality of care" and "questionable medical ethics."
Mothers and their children waited up to 14 hours in the sun in order to be seen by medical staff, according to the complaint. Children were left in the care of guards, sometimes for days, if their mothers were transferred off-site for emergency care. One child who was vomiting blood was "told only to drink water," the complaint said, and was not referred to external medical care for three days.
As Rewire.News recently reported, it is common for detained people experiencing illness, no matter how serious, to be told by officials to simply drink water. The same applies to children detained alongside their parents, as one formerly detained person told Rewire.News.
The child who left Dilley died allegedly as a "result of possible negligent care and a respiratory illness she contracted from one of the other children," Yegani tweeted July 31.
CoreCivic told Rewire.News in a statement that the private prison company "does not provide medical or mental healthcare services or staffing at STFRC. The federal government's ICE Health Service Corps (IHSC) is solely responsible for contracting, staffing, and oversight of any medical and mental health services provided at STFRC. CoreCivic staff at STFRC do not make medical or mental health treatment determinations and are trained to refer all detainee health or medical concerns, whether routine or acute, to facility medical staff for evaluation, triage, and treatment."
News of the child's death comes on the heels of Commander Jonathan White of the U.S. Public Health Service Commissioned Corps testifying to Congress that he and the Office of Refugee Resettlement warned the Trump administration of the impact of its family separation policy at the border, raising concerns about "any policy which would result in family separation due to concerns we had about the best interest of the child as well about whether that would be operationally supportable with the bed capacity we had." White said the separation of children from their parents "entails significant harm to children."
"There's no question that separation of children from parents entails significant potential for traumatic psychological injury to the child," he said.
It is unclear how long after being released from Dilley the child died, but within a short period, there was an in-custody death at another CoreCivic-run detention center. ICE confirmed on Friday the death of a 62-year-old woman detained at California's Otay Mesa Detention Center. Augustina Ramirez-Arreola, an immigrant from Mexico, died on July 26 while awaiting deportation.
Ramirez-Arreola was pronounced dead by medical staff at the hospital at approximately 10:45 p.m., according to a press release from ICE. Hospital staff identified the preliminary cause of death as complications from surgery. She had been transferred to the hospital earlier in the day for scheduled surgery to treat a heart abnormality, ICE said in the release.
A 2016 report from Human Rights Watch (HRW) revealed that most in-custody deaths are preventable and the result of "substandard medical care and violations of applicable detention standards." The most dangerous ways ICE fails migrants in detention, according to HRW, are by not following up on symptoms that require assistance and not responding quickly to emergencies.
ICE previously told Rewire.News that when a person dies while in the agency's custody, their "death triggers an immediate internal inquiry into the circumstances." The summary document ICE eventually releases to the public is the result of a review conducted by ICE's Office of Detention Oversight, established in 2009 as a result of reforms by the Obama administration after reports of human rights abuses and deaths in detention centers. 
Ramirez-Arreola's is the ninth in-custody death in fiscal year 2018, which began October 1, 2017. What is unknown is how many people die after being released from ICE custody. 
In July 2016, Clara Long, the lead researcher on the HRW's report about in-custody deaths, told Rewire.News that researchers need more information regarding deaths that occur just after migrants are released from ICE custody, such as the recent death of the child who left Dilley. Another example is Teka Gulema, an Ethiopian migrant detained at Etowah County Detention Center in Gadsden, Alabama, who was released from ICE custody in November 2015 while in the hospital after becoming paralyzed from a bacterial infection acquired in detention. He died in January 2016.
"One concern we have, and it's a very big fear, is that there are multiple reports of folks who are released from ICE custody while in critical condition," Long said in July 2016. "When they die, they are no longer counted as in-custody deaths [by ICE]. We're worried that's a loophole being exploited—and for obvious reasons, we don't have a number in terms of how often this is happening."