North Dakota Attorney General Challenges Oil Company's Land Rights at Standing Rock (Updated)
The civil complaint could have a major effect on the 835 cases of demonstrators arrested at Standing Rock, where they protested the building of an oil pipeline.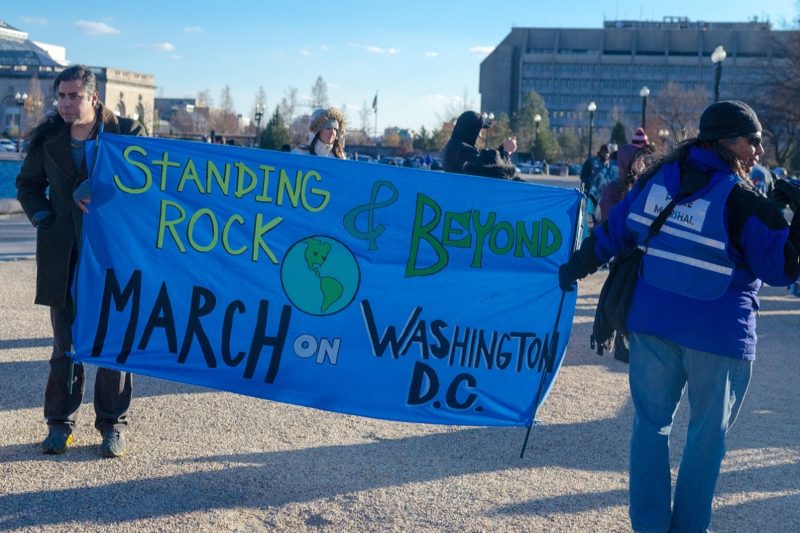 Activists march during a Stand with Standing Rock rally in D.C. on December 10, 2016. Lauryn Gutierrez / Rewire.News
UPDATE, August 22, 4:15 p.m.: North Dakota prosecutors on Monday dropped all serious charges against Chase Iron Eyes in what defense attorneys call a major victory for water protectors at Standing Rock, according to a press release from the Lakota People's Law Project.
Chase Iron Eyes was one of about 75 protesters arrested on a chilly February morning on land that belongs to his people, the Cheyenne River and Standing Rock Sioux tribes.
There was a group setting up seven tepees to perform a religious ceremony on top of a small hill when police officers showed up. "They said we are trespassing on Dakota Access Pipeline [DAPL] land and we need to get off of there or face arrest," Iron Eyes told Rewire.News. "They told me if I didn't get those people off the hill, they would hold me solely responsible for anything bad that happened."
A Native activist and attorney, Iron Eyes said he told the police he didn't have the authority to pull anyone off the short-lived encampment known as the Last Child Camp, but relayed the message and warned they could face arrest for criminal trespass.
"Then we all got arrested," he said. "We formed a circle and locked arms in prayer. Someone determined that that was an inappropriate way to show strength without instigating aggression or violence."
He reminded police that the Native people were on treaty land. "They told us that they believed that we were on Dakota Access Pipeline land that they had reportedly purchased a few months prior," he said.
A lawsuit filed July 3 by North Dakota Attorney General Wayne Stenehjem against Dakota Access LLC, the company formed by Energy Transfer Partners to build the $3.8 billion pipeline, brings that land ownership into question.
North Dakota law prohibits corporations from owning or leasing land used for farming or ranching, except in certain partnerships. In September 2016, the attorney general made a temporary deal with Dakota Access to allow the purchase of 6,000 acres of a private ranch in Morton County, where massive protests were being held to oppose the pipeline. He thought it necessary to create a safer environment for pipeline workers, according to the New York Times. The agreement was extended through June 2018; Stenehjem had agreed not to sue until then, said Lanny Sinkin, an attorney for the Lakota People's Law Project, of which Iron Eyes is lead counsel.
With that deadline past, Stenehjem writes in the civil complaint that Dakota Access' "continued ownership of the land constitutes a continuing violation of state law."
Stenehjem asks DAPL to divest from the land, pay $25,000 in civil penalties, and sell the land back within a year or face more fines, according to the complaint.
Spokespeople for Stenehjem and Energy Transfer Partners declined to comment.
"Our position is that DAPL has nothing to divest—they never had the title," Sinkin told Rewire.News. "The Last Child Camp, which is where Chase Iron Eyes was arrested, was part of the Cannonball ranch that DAPL did not have good title to. So there was no basis to those arrests and there was no basis for charging anyone with trespassing."
The case could have a major effect on the 835 cases of protester arrests at Standing Rock, 165 of which are ongoing. Sinkin said all those charges should be vacated.
"The implication, legally, is they never had good title to the land because it was forbidden for them to acquire the land in the first place," he said. "If they didn't have title to the land they couldn't complain about people coming on the land, calling them trespassers and convince law enforcement to go and arrest everybody—it wasn't their land."
Meanwhile, Iron Eyes, a former Congressional candidate, continues to fight the charges of trespassing and inciting a riot in Morton County. He believes he was targeted for being a prominent Standing Rock protester and for videos he posted on social media asking supporters to witness the protest at the Cannonball ranch, where most of the protests were taking place.
"As the Sioux nation, we have a prior and inherent authority to govern ourselves, to seek a liberated and self-determined destiny in our homelands, and we entered into treaties with the United States to protect those rights," he said. "That day, we were expressing that inherent authority in places where the United States to this day tries to prevent us from expressing our sovereignty. We had a prior right to be there under our own authorities but also certainly to conduct religious ceremonies on treaty land, our own land."
The DAPL fight is part of a history of U.S. state-sanctioned violence against Native tribes. Protests that started in 2016 fueled a Native American resistance worldwide. Despite protests and lawsuits citing Native environmental and treaty rights, the pipeline moving North Dakota oil to Illinois opened last June and has already leaked multiple times.
Iron Eyes is scheduled for trial on November 5. His lawyers are preparing for a filing on July 20 that will discuss necessity defenses. These include, said Sinkin, outlining that Iron Eyes' actions were minor compared to the greater harm he was trying to prevent—including violation of the tribe's treaty rights, contamination of the sole source of drinking water, moving the pipeline close to the reservation for racist reasons, attempting to profile the water protectors as 'terrorists,' and contributing to climate change.
The way the tribes see it, the conversation around land ownership happens from the view of the white settler, Sinkin said. Native tribal land was never ceded and the U.S. government had no right to pass it on to future buyers—yet it has happened time and time again.
The DAPL is "just one example about how the relationship between the U.S. government and the Native Americans has been one of exploitation, suppression, racism, and on and on," Sinkin said. "The genocide of the Native American people has been going on for 500 years, it's nothing new. This is just one chapter in that long history."