'Frustrating,' 'Confusing': Planned Parenthood Workers Grapple With Organization's Union Fight
A fight in Colorado over Planned Parenthood unionization has some wondering why the reproductive health-care champion would stand in the way.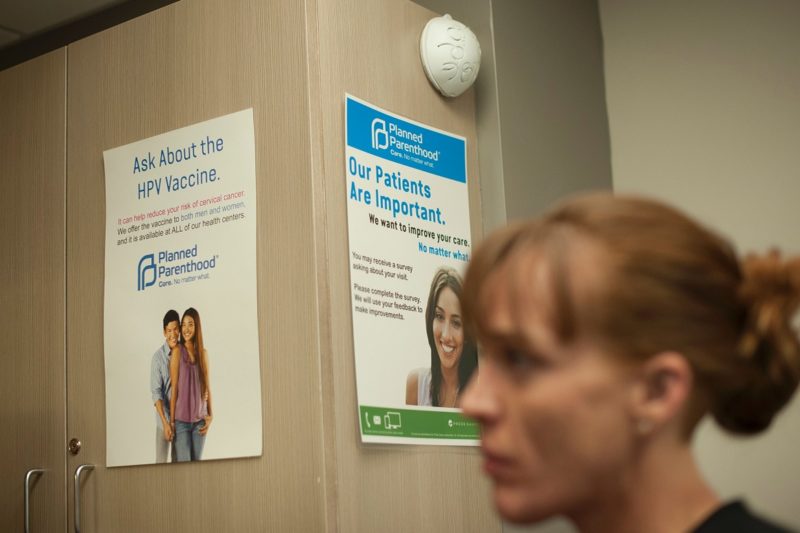 Colorado's Democratic candidates for governor spoke in support of Planned Parenthood of the Rocky Mountains (PPRM) unionization efforts at a forum on June 2, and on Tuesday three Colorado state senators delivered a letter signed by 37 state legislators to PPRM leadership, calling on them to stop preventing their health center workers from organizing. Laura Segall/AFP/Getty Images
Daisy Haws, a former Planned Parenthood worker turned union organizer, says the values of labor and reproductive rights are not just shared, they are intrinsically intertwined. You can't have one without the other.
"The only reason women have been able to make progress is because they have stood out and raised their voices and demanded their rights," Haws told Rewire.News. "And that's really the only reason why Planned Parenthood exists."
Haws, after Donald Trump took the White House in 2016, went looking for a career shift from teaching to the nonprofit sector. When she found an opening at Planned Parenthood Columbia Willamette (PPCW) in Portland, Oregon, for a case management assistant position, it seemed like a good fit.
But there was a catch—the wages were low and she would be taking a significant pay cut. The position, however was represented by a union, and that was a huge factor in her decision to apply.  She was part of a teacher's union in Illinois and knew the importance of union representation.
"Based on the pay, I was really hesitant to take the job because I was taking a huge pay cut and wasn't sure if I was going to survive, especially in Portland," Haws said. "But one of the reasons I wanted to do this is because the job description did say it was a represented position, and I know what that's about. I prefer something that is represented."
Haws worked for PPCW starting in 2017 and left in 2018 to work as an external organizer with the Service Employees International Union (SEIU). Haws became a leader within the union as part of the bargaining team. The experience made her feel empowered to negotiate for higher wages for herself and her coworkers.
"When I first started, I was making $15.31 an hour plus my bilingual differential of 50 cents, and it was not cutting it. I had student loans and a car payment. It was hard making it," Haws said. "We negotiated and bargained for wage increases and when I left, I was making $18.63. This is the power of the union."  
Planned Parenthood has a history of working alongside labor unions, and despite the overlapping goals of labor and reproductive rights, union representation among Planned Parenthood workers is exceedingly rare. Out of 56 Planned Parenthood affiliates across the United States, only five are unionized, according to the Planned Parenthood Federation of America (PPFA): Planned Parenthood of New York City, Planned Parenthood Metro D.C., Planned Parenthood of Central and Western New York, Planned Parenthood of the Great Northwest and Hawaiian Islands and Planned Parenthood Columbia Willamette.
Colorado workers with the Planned Parenthood Rocky Mountains affiliate (PPRM) have fought to unionize since 2016, working with the SEIU Local 105. PPRM management has pushed back against employees' efforts by distributing anti-union flyers, mailers and emails, as well as holding captive audience meetings in which PPRM leaders discussed negative impacts of unionizing, according to the SEIU.  
After PPRM workers voted to unionize in December 2017 by a vote of 72-57, PPRM management appealed the vote to President Trump's National Labor Relations Board (NLRB), which could have far-reaching impacts for workers' rights. In April, the NLRB accepted the case for review, and a three-member panel ruled in PPRM's favor, putting the union on hold. PPRM officials said they appealed the initial ruling that favored holding union elections because it wants workers at all 24 of its clinics in Colorado, Nevada, and New Mexico to be part of the bargaining unit. Officials at PPRM say they appealed SEIU's vote to unionize because only 40 percent of their workers voted for the union.
"It's been frustrating because we see our goals as in line with what Planned Parenthood is trying to do, and having that pushback is confusing because we are here, we are passionate about our jobs, and we want to work with you," PPRM worker Dominique Silverman told Rewire.News, noting that the workers are urging PPRM leadership to withdraw the appeal and continue negotiating with them.
Each affiliate operates independently, and thus unionization efforts, as well as wages and benefits, differ across affiliates. On a national level, two of the three PPFA offices are unionized—one in Washington, D.C. and one in Miami, Florida.
"We believe in the right of workers to unionize and Planned Parenthood and its affiliates have a long history of partnering with and working alongside unions in this country to achieve important victories. Some of our local affiliate employees have chosen to be part of a union, as have some staff at our national offices, while others have not," Dawn Laguens, executive vice president of Planned Parenthood Federation of America, said in a statement. "In all circumstances, Planned Parenthood's priority is creating a great environment for our employees and providing high quality care to our millions of patients across the country."
The PPRM case has created a buzz in the progressive community and resulted in politicians speaking out in support of the PPRM bargaining team. Colorado's Democratic candidates for governor spoke in support of PPRM unionization efforts at a forum on June 2, and on Tuesday three Colorado state senators delivered a letter signed by 37 state legislators to PPRM leadership, calling on them to stop preventing their health center workers from organizing.
Laguens said that negotiations between PPRM and the union are ongoing and in good faith. PPRM officials claim their opposition is due to the fact that the union would only include a portion of workers in central and northern Colorado, and would not extend to workers in New Mexico and Nevada.
"Planned Parenthood of the Rocky Mountains values the choice of every single employee impacted by the important decision to form a union," said PPRM spokesperson Whitney Phillips in a statement.  "Over the past year, SEIU Local 105 worked to organize only 14 of our 24 health centers.  During this time, we communicated repeatedly our belief that all workers should have their voices heard, urging SEIU to include all health center staff in any proposed bargaining unit."
Silverman says the centralization is for good reason, in that each state has different labor laws and organizing across three states would require resources and time of a much larger scale than the bargaining unit has capacity for. Once the unit representing 14 health centers is established, there's nothing stopping Planned Parenthood from extending those benefits to other locations, she said.  
Haws went to Denver in December 2017 while working at PPCW to assist workers at PPRM in their efforts to unionize. She made calls to workers and helped dispel anti-union myths touted by management, including that unionization would result in workers having less interaction with their bosses. Workers with the PPCW affiliate experienced similar challenges when they unionized in 2011, according to the SEIU. While PPCW eventually won their right to unionize, negotiations since have been difficult, Haws said, especially when it comes to pushing for better wages.
"It was always a struggle," Haws said. "You have Planned Parenthood employees who are asking for help and getting financial aid, and they find a way. They find a means. If employees can find a way to live, there's no reason why Planned Parenthood can not find a way to give their employees what they are asking for."
Bargaining lasted several months, Haws said, but PPCW ended up agreeing to a 2.5 percent pay raise during contract negotiations in 2017, after workers voted to strike.
Anne Udall, interim president and CEO of Planned Parenthood Columbia Willamette said in a statement, "PPCW worked closely with SEIU both before and during bargaining to negotiate a fair agreement that supports the mission of PPCW and our staff, who are the heart of our organization."
An agreement on raises would not have been possible without the power of collective bargaining, Haws said. Because of union representation, Haws was able to advocate for change and improve conditions for herself and her colleagues. Workers feeling valued is particularly important, she said, for an organization providing crucial health-care services to communities in need.
"Planned Parenthood advocates for low-income families, people of color and women, and from front desk staff to administration, those people need to feel like they can put in a full day of work, and the only way employees can do that is if they feel they are respected and listened to," Haws said. "And when you aren't getting paid, and you aren't getting the respect you deserve at work, that can really affect patient care."
The author worked for Planned Parenthood Great Plains from 2013-2016.