'In Newnan, We Love Each Other': Neo-Nazis Vastly Outnumbered at Their Own Rally in Georgia
"What happened today is a bunch of people filled with hate and anger, white nationalists ... got shown by the people of Newnan that we stand together."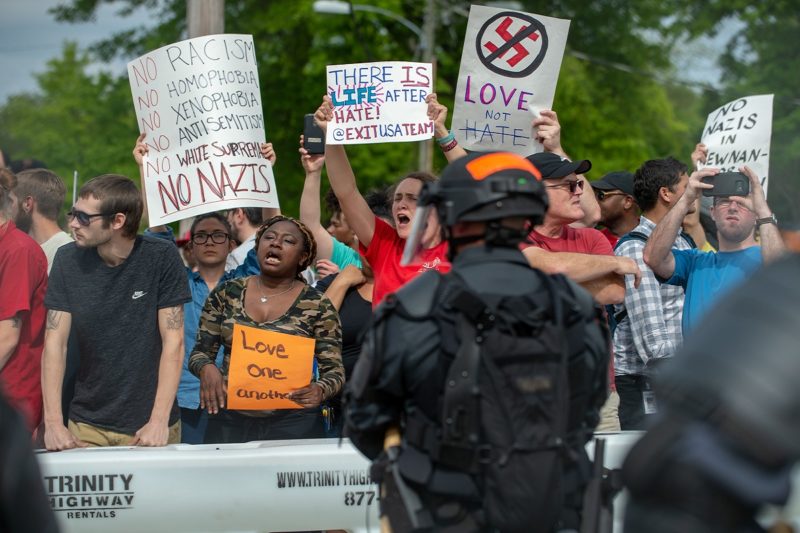 The protesters included Atlanta Antifa, regional Black Lives Matter groups, and a Jewish biker gang. But most of the people who turned out to oppose the Nazis were Newnan locals from across the political spectrum in this conservative-leaning town. Bita Honarvar/AFP/Getty Images
In the small city of Newnan, Georgia, a neo-Nazi rally on Saturday ended with at least 12 arrests but no violence. The neo-Nazis, numbering between 20 and 30, were outnumbered by several thousand protesters held back behind barricades and rows of police in riot gear.
The event, held the day after Adolf Hitler's 129th birthday, was the latest in a series of neo-Nazi rallies around the United States since President Trump took office, with gradually declining numbers of Nazis since the high-water mark of the infamous August 12 Unite the Right rally in Charlottesville, Virginia, with around 700 neo-Nazis and other white supremacist groups. A white supremacist allegedly killed a counter protester, Heather Heyer, at the Charlottesville rally.
Rewire.News was there when barricades were erected and hundreds of police officers from 20 law enforcement agencies descended on the center of town to prepare security for a permitted rally in Greenville Street Park in Newnan, mere blocks from the city's main square. When the neo-Nazis finally arrived, their effect was underwhelming.
A couple dozen members of the National Socialist Movement (NSM) (whose members wore swastika armbands until a revised uniform was introduced in 2004) and the League of the South entered the park with signs and shields. They stayed 100 yards back from the horde of protesters on the other side of a barricade and a row of police officers in riot gear. A public announcement system was plugged in, but the group had technical problems and their speeches could not be heard clearly by spectators. The white supremacists stood atop pavement that had been decorated by locals with rainbow-colored chalk drawings and messages of love and tolerance.
"I've been in Newnan all my life," said Larry Houston, a young Black man who helped lead and organize members of Newnan's black community. "I'm very upset to have to come out and do this. We shouldn't have to come out here and protest against stuff that's in the past and already behind us …. If these people show up and this community does stick together, we will weed out any racism that is left."
The event was promoted as a gathering of members of the Nationalist Front, an alliance of several white supremacist groups that includes NSM, the League of the South (LOTS) and the Traditionalist Workers Party (TWP). A few members of LOTS were present, but no TWP members were seen. The group had applied for a permit to demonstrate in the park for a fee of $50. Other than select media and law enforcement officers, only members of the Nationalist Front were allowed into the park during the event.
The protesters included Atlanta Antifa, regional Black Lives Matter groups, and a Jewish biker gang. But most of the people who turned out to oppose the Nazis were Newnan locals from across the political spectrum in this conservative-leaning town.
Teresa, whose asked that her last name be withheld for her safety, said she has lived in Newnan for three years since she and her husband retired and left Atlanta. She says her opinion of the Confederate statues in Newnan changed after watching the first episode of Katie Couric's new TV series, "America Inside Out," and saw the Ordinances of Secession that cited slavery as the reason for leaving the Union.
"I'm happy to see the crowd that has formed. I'm unhappy that the city decided that it was a good idea to give them the permit," Teresa said. "You have freedom of speech but you don't go into a theater and yell fire, but that's what this is."
Twelve arrests were made, including five protesters who allegedly wore bandannas as masks in violation of Georgia's law against wearing masks in public. The protesters were given warnings by police but refused to remove their face-coverings. Officers pointed rifles at them while giving them orders.
Other arrestees included people who found themselves allegedly standing in the street around the town square during gatherings that spilled onto the sidewalk. Streets along the town square, blocks from the rally in the park, were not closed to traffic.
Dawson from Hiram, Georgia, who also asked that her last name be withheld, described one of the arrests for leaving the sidewalk.
"He was in the road and the cops told him to get out," Dawson said. "So he started walking back to the sidewalk, and he was pretty close to the sidewalk, and they decided to grab him by the back of the collar back in to the street …. Everyone was telling them to let him go free."
A shirtless Black man with dreadlocks was repeatedly singled out by police. Early in the day, police attempted to arrest him for an unknown charge but were stymied when other protesters gathered around him.
"The guy who [had] no shirt was on around the church …. They were trying to arrest him," Dawson said. "Everyone in this line kinda got the cops cornered and chanted, 'Let him go!' until they let him go."
After the rally, an officer said he did not like "the look" the shirtless Black man was giving him. Following an argument, the man was tackled by around a dozen police officers who handcuffed him and took him into custody while this reporter observed.
A long list of prohibited items was distributed to media the day before the event. The list included common objects such as bottles of water, signs on sticks, and bags of any kind. But firearms were permitted. Guns were openly carried in and around the designated protest areas, including by anti-fascist protesters. Shields, poles, knives, and other potential weapons were all banned.
Although the list of prohibited items was posted at the rear entrance used by the white supremacists to enter the park, some of them were still carrying shields and flags on poles during their demonstration. Law enforcement officers did not respond to requests as to why the neo-Nazis were allowed shields and poles, but protesters were not.
While most protesters passed through security to enter the designated protest area, hundreds of others moved around the downtown area in small bands, searching out any stray white supremacists and chasing them off. No violent clashes between the groups were documented, but one protester decided to take a Blue Lives Matter flag from in front of a home. A man stormed out of the house pointing an assault rifle at the protester, ordering him to drop the flag.
"I watched a homeowner run out of his house with an AR-15 and point it at a kid because he snached a cop flag off the porch," wrote Twitter user @eeko_haus. (Rewire.News confirmed the description of events.)
"It was some shit," @eeko_haus wrote in a tweet. "Then all of a sudden like 50 pigs come running up on dude weapons drawn. He straight dropped that rifle and shit himself right there."
As the time on their permit ran out, the neo-Nazis marched out of the park and were escorted several blocks by police to their vehicles. Streets were temporarily blocked to prevent protesters from reaching the Nazis.
As the crowds melted away and police began to pack up, many on the streets of Newnan were joyful.
"What happened today is a bunch of people filled with hate and anger, white nationalists … got shown by the people of Newnan that we stand together," said Brian, a white local business owner. "Nothing got broken, nothing got messed up …. I saw groups of antifa walking down the street and they had a protest, didn't break any laws, wonderful."
Brian, who would not give his last name, described how the white owner of a bar worked with the Black owner of a car wash across the street to stay open during the hate rally and plan for their mutual safety.
"In Newnan, we love each other," Brian said, smiling and enthusiastically pumping his fist in the air. "You've got a little town in the deep South and everyone thinks the deep South is bad. Guess what? We love each other and we just showed the whole world how much we love each other …. I am so damn proud of the city I live in. God, I love living in Newnan."