Hard-Won Parole Board Reforms Under Attack in New York (Updated)
"The PBA is attempting to terrorize parole board members into submission, with threats to their careers. All sense of fairness and justice becomes a farce when you have a group like the PBA saying, essentially: If you anger the NYPD in any way, God help you."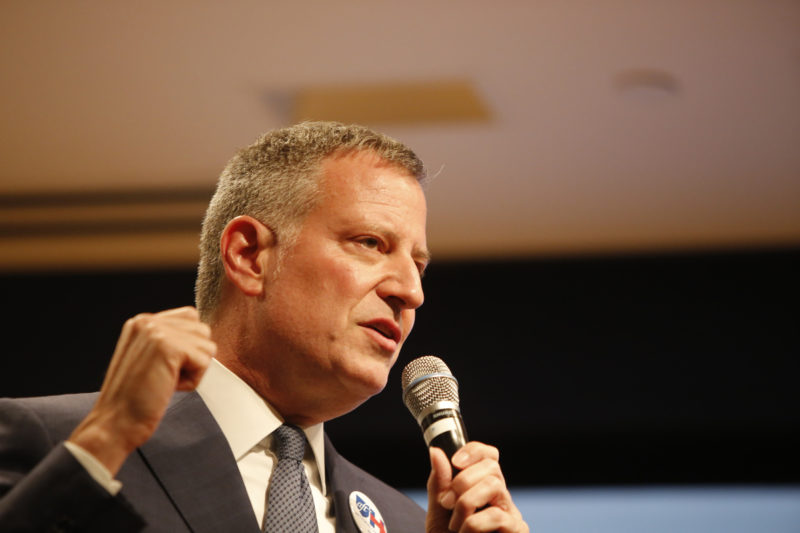 Far from condemning the PBA's actions, Mayor Bill de Blasio wrote a letter to the parole board urging it to suspend its decision, on the same day that lawyers, advocates, and city officials held a press conference in support of Bell at the Center for Constitutional Rights in New York City. a katz / Shutterstock.com
UPDATE, April 23, 2:55 p.m.: A New York judge on Friday dismissed the lawsuit seeking to prevent Herman Bell's release from prison. In his decision, state Supreme Court Justice Richard Koweek pointed out that the widow of one of Bell's victims was not in a position to challenge the New York State Parole Board, as she does not have legal standing. To overturn the parole board's decision, Koweek wrote, a court must find the board acted with "irrationality bordering on impropriety." But, as Koweek wrote, "Nothing that is supplied in this case persuades this Court that the actions of the Parole Board meet that standard."
When 70-year-old Herman Bell went up before the New York State Parole Board on March 1, he encountered a different group of people than the ones who'd denied him release on seven prior occasions.
Rather than focusing solely on the severity of his original crime, which earned him a 25-years-to-life sentence back in 1975, the three commissioners who sat on Bell's hearing weighed multiple factors, including his educational accomplishments behind bars, his mentorship of fellow prisoners, his age, and his low risk of recidivism. In a long-anticipated decision, the parole commissioners deemed Bell a reformed man, and set his release date for April 17.
Bell's supporters and prison justice advocates greeted the news as a rare victory in an arduous battle to win release for the tens of thousands of parole-eligible citizens in New York State's bulging prisons. Prior to Bell's hearing, they had fought tirelessly to see the appointment of six new commissioners—two of whom sat on Bell's case—as part of their efforts to reform and overhaul the board's punitive guidelines and archaic membership structure. "For the first time in the parole board's history, a majority of its commissioners are now people of color," said Dave George, associate director of the Release Aging People in Prison (RAPP) campaign.
But despite this progress, powerful political forces with a vested interest in keeping Bell locked up for life are incensed by the decision, and are heaping pressure on elected officials, including Gov. Andrew Cuomo (D) and Mayor Bill de Blasio (D), to intervene. Leading the charge is the Patrolmen's Benevolent Association (PBA), which was successful in delaying Bell's release this week. The New York Supreme Court on Thursday issued a temporary restraining order against his release until a new lawsuit, filed on Wednesday on behalf of one of Bell's victim's widows, can be heard.
The PBA, a 40,000-strong union representing police officers in New York City, claims that Bell's original crime, the murder of two New York City police officers, is an unforgivable offense. At the helm of the group is Patrick Lynch, the man who in 2015 blamed Eric Garner for his own death.
The lawsuit comes on the heels of a letter to the parole board's chairwoman, Tina Stanford, threatening legal notices. In that letter, the PBA urged the board to suspend Bell's release, citing its failure to consider minutes from Bell's 1975 sentencing hearing. The letter also made allegations that the board broke its own due process rules.
Bell's lawyers are confident that the board followed all its own stringent regulations in determining his eligibility for parole, including considering statements from both victims' families, one of which has called for Bell's release and one which staunchly opposes it. Still, advocates are on red alert for what the board's historic decision, and the PBA's backlash, could mean for those still in the pipeline. According to New York's Department of Corrections and Community Supervision, over 21,000 people, or 42 percent of the state's prisoners, are currently serving indeterminate sentences, meaning they are currently or will at some point in the future be eligible for parole.
Some were just starting to reap the benefits of parole reforms, including the adoption in 2011 of new "risk and needs assessment" guidelines, which shifted the parole board's focus toward a "more thorough evaluation of who a person is today," according to George. He told Rewire.News that these new guidelines, coupled with a grassroots push in 2017 that resulted in the appointment of six new commissioners to the 14-member parole board, have pushed overall release rates from 24 percent in 2016-2017 to 37 percent in 2017-2018.
This is no minor feat in New York's corrections system, which has repeatedly come under fire for racial inequalities in incarceration rates, disciplinary cases, and parole decisions, with Black prisoners faring consistently worse than white prisoners on all indicators, according to the numerous investigations by the New York Times.
One such investigation noted that, while Black people comprise just 14 percent of the state's population, they account for almost half of its prisoners. The Times also analyzed 59,354 disciplinary cases from 2015, and concluded that Black inmates across New York state prisons "were 30 percent more likely to get a disciplinary ticket than white inmates" and 65 percent more likely to be sent to solitary confinement, where they are isolated in a single cell for 23 hours a day.
In 2015, New York State prison guards handed out 1,144 disciplinary tickets to Black inmates that resulted in 180 or more days in solitary confinement, but only 226 such tickets to white inmates.
Lawyers and advocates have noted that racial bias in disciplinary cases has "ripple effects"—poor disciplinary records mean diminished access to jobs and rehabilitation programs, which in turn severely limits a person's chances of being paroled.
When the Times studied first-time hearings before the parole board for the three-year period ending in May 2016, it found that less than one in six black inmates gained release, compared to one in four white inmates. Each denial means two more years in prison, meaning that Black prisoners typically spend longer behind bars than their white counterparts.
For prisoners of all races serving long sentences, the denial of parole is more than a mere disappointment—both currently and formerly incarcerated people say that an unfavorable decision can be, at times, a fatally crushing experience. Nowhere was this clearer than in the case of John MacKenzie, a 70-year-old man who committed suicide at the Fishkill Correctional Facility in August 2016. A week before his death, he had been denied parole for the tenth time. Like Bell, MacKenzie had been convicted for the shooting of an NYPD officer.
As Rewire.News contributor Victoria Law reported for the Village Voice in 2016, the commissioners at MacKenzie's hearing failed to account for the fact that, during his 41 years of incarceration, "he earned three degrees, participated in various prison programs, and, in memory of his own victim, even secured $10,000 in funding to create a program that allowed victims the opportunity to speak directly to prisoners about the impact of their crimes." Nor did the board consider his age, despite the state's own findings that people over the age of 65 are the least likely to reoffend.
Which is why current and former inmates view grassroots efforts to restructure the board's membership as a beacon of hope in an otherwise grim landscape.
Jose Saldana, who himself spent 38 years in New York state prisons before being paroled in January of this year, believes the makeup of the current board coupled with his advocacy efforts played a huge part in his release. During his four previous unsuccessful hearings, he claims that the parole commissioners "barely glanced" at his extensive docket of materials detailing his mentoring and advocacy efforts, focusing exclusively on the nature of his original offense.
Saldana told Rewire.News that while in prison he earned a college degree, initiated anti-violence and restorative justice workshops, and even fundraised for the Miles of Hope Breast Cancer Foundation while at Sullivan Correctional Facility in upstate New York.
"They were just not interested in anything I'd done to account for my past, or my many accomplishments since then," he said. But the new commissioners, including those who oversaw Saldana's hearing, appeared to have "genuine faith in humanity"; they came from community service or social justice backgrounds, a stark departure from their predecessors, almost all of whom were former law enforcement officials and were often "openly aggressive and hostile" during interviews, Saldana said.
George says advocates are keen to continue this positive trend, which is why Bell's case has become "a bit of a bellwether," particularly for those in high profile cases, or cases involving the NYPD.
He said, "The political blowback from the PBA means that, in the future, commissioners might be reluctant to follow their own regulations for fear of intimidation and public condemnation," of the kind that has now become a daily feature of publications like the New York Post and the New York Daily News.
Inflammatory headlines target certain commissioners by name, and news reports often use racist and derogatory language to describe Bell. At a press conference on March 15, Lynch referred to Bell as an "animal" and vowed that he would die behind bars. The PBA has gone so far as to issue a safety warning to its members, urging them to "remain vigilant" in the event of Bell's release and to take precautions to "ensure their own safety and to provide back-up to any other law enforcement officers in their vicinity."
Lawyers like Bina Ahmad, a New York City public defender, told Rewire.News that such actions are "thinly veiled calls for vigilante justice."
"When you have an association like the PBA, the union representative of the largest police force in the nation, openly calling Herman 'vermin' and asking its members to be trigger-happy when and if they see him on the streets, it sends a chilling message," she said. "It's not hyperbole to say that the NYPD frequently get away with killing people, and the fact that [Lynch] can make such statements without any condemnation from elected officials is not something we should accept."
Far from condemning the PBA's actions, de Blasio wrote a letter to the parole board urging it to suspend its decision, on the same day that lawyers, advocates, and city officials held a press conference in support of Bell at the Center for Constitutional Rights in New York City. According to news reports, Cuomo also publicly stated that he "strongly disagreed" with the Board's decision, while state Senate Majority Leader John Flanagan (R-Smithtown) demanded the dismissal of the three commissioners who presided over Bell's hearing.
Ahmad said that such vocal support from the highest elected officials in the state for the PBA's "horrific comments" sets a very dangerous precedent, effectively empowering the PBA in their extrajudicial efforts to undermine the law.
"It sends the message that the rule of law is a flexible thing, bending and shaping itself to whoever is in power, with groups like the PBA deciding when the law applies, and to whom. "The PBA is attempting to terrorize parole board members into submission, with threats to their careers. All sense of fairness and justice becomes a farce when you have a group like the PBA saying, essentially: If you anger the NYPD in any way, God help you."
A page on the PBA's website called 'Keep Cop Killers in Jail' features a list of over 60 names of persons allegedly responsible for crimes against NYPD officers, including Anthony Bottom, Bell's co-defendant back in the '70s. The PBA has sworn that it will "go through all this again in June when Bell's accomplice Anthony is up for parole."
Formerly incarcerated people like Saldana say such threats do not bode well for those who, like him and Bell, have done their time and earned their release, and now want to spend what is left of their lives with their families, making a positive impact in their communities.
"The New York State Parole Commissioners have made a lawful, just, and humane decision in releasing Herman Bell," he said during the March 23 press conference. "It's time for humane justice to prevail over vengeance."
It is still unclear how, or whether, Thursday's restraining order will affect Bell's release. In a report for In Justice Today, Victoria Law noted that, while rescissions are rare, they have been known to happen. In 2009, following pressure from the PBA, the parole board rescinded its decision to parole Shua'Aib A. Raheem, who was serving an indeterminate sentence for a 1973 shooting in which a police officer was killed. He was eventually released on parole in 2010.
But advocates are more likely to point to the case of John Ruzas, who was serving a 25-years-to-life sentence for the 1974 shooting of a New York State trooper when he was granted parole in December 2017. The board had previously denied him parole ten times. Enraged by the decision, the New York State Troopers' union filed a lawsuit in the state Supreme Court, but a Hudson Valley state judge threw out the case and Ruzas was freed later that month.