New York Lawmakers Brush Aside Reproductive Rights—Again
The fact that these reproductive health proposals failed is, perhaps, not surprising to political insiders familiar with the dysfunction in Albany, but we should all be angry.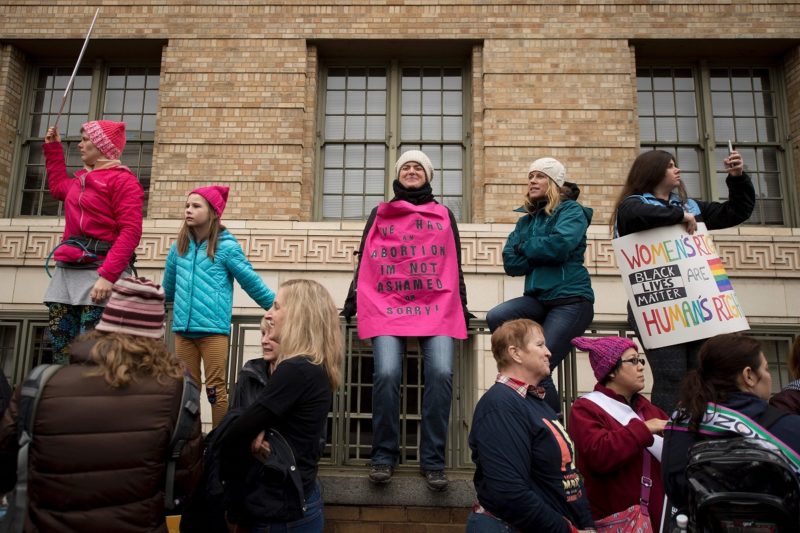 Anyone going through a troubled pregnancy or who has been delayed in getting abortion care will be running against a clock most of them don't even know is there. Jim Watson/AFP/Getty Images
In 2016, my wife and I came up against New York's cruel and unconstitutional abortion law when we found out our pregnancy was not viable at 30 weeks' gestation. We ended up having to leave the state to get an abortion due to the state's law that effectively bans abortion care at 24 weeks' gestation. It was awful, and absolutely the right decision for our family.
Now, when we talk with lawmakers as advocates for later abortion care access, my wife and I have often been asked to be patient, to wait for more favorable political conditions. The implication is that the government we have is incapable of delivering the justice we seek, that our expectation of progress is wrong.
In the meantime, more people are getting on planes or being forced to carry unhealthy pregnancies.
Our issue is one of many in the state that met a similar fate late last week. In January, Gov. Cuomo (D) laid out in his State of the State, and then in his executive budget proposal, a slew of progressive policy proposals, including criminal justice reform, changes to the state's backward voting laws, passage of the Child Victims Act, a state DREAM Act, and an expansive Women's Agenda.
The Women's Agenda included a number of proposals that are "progressive" because they address issues affecting people who are not straight, cisgender men.
One was the Comprehensive Contraceptive Coverage Act, S3668, a bill that would enshrine, like other states, the Affordable Care Act's expanded access to and mandatory no-co-pay coverage for contraception. Another bill would have established and funded a state-level Maternal Mortality Review Board, an attempt to address the fact that New York ranks 30th in the nation in that grim statistic. We have incredible racial disparity in the state where Black expectant women are four times more likely to die as white expectant women. In New York City, they are 12 times more likely to die.
The agenda also included a proposal to decriminalize abortion, which would address the problem my wife and I encountered with the state's law. This proposal in the budget was a simpler version of the Reproductive Health Act, S2796, a bill we'll continue advocating for. New York places abortion in the criminal code, with exceptions before 24 weeks' gestation and after that only in cases of life endangerment. The lack of exceptions for threats to the more general health of the patient or in cases of fetal nonviability make the law inconsistent with the U.S. Supreme Court's ruling in Roe v. Wade, and unconstitutional.
Almost all of these proposals failed to pass in the budget that lawmakers and the governor approved last week despite Democrats controlling the State Assembly and the governorship. And while the state senate is controlled by Republicans, their majority is enabled by rogue Democrats who have broken ranks to caucus with the GOP. Their control of the senate ultimately results in progressive legislation stalling in the state.
The fact that these and many other proposals failed is, perhaps, not surprising to political insiders familiar with the dysfunction in Albany, but we should all be angry. The legislation is dry and boring on paper, the speeches about it are worse, but it deeply affects people's lives. To see it used as a political prop without any real support is crushing.
There will be many victims of last week's inaction and craven political machinations. When we say our leaders put politics before people, we need to understand what we are talking about.
Because lawmakers failed to protect ready access to contraceptives, which is under attack by the Trump administration, some people will fail to fill their contraception prescriptions in time, and some will fail to get the contraception they need altogether. Some will be at risk for an unwanted pregnancy, while others will suffer through conditions like endometriosis that are treated with the medication.
Without a group of medical professionals empowered to find out why or how to stop maternal mortality, women, and especially Black women, will continue to die at alarming rates during pregnancy or in the year that follows.
Anyone going through a troubled pregnancy or who has been delayed in getting abortion care will be running against a clock most of them don't even know is there. Some will be forced to carry a doomed or unhealthy pregnancy. Others will spend a fortune to get on a plane on the worst day of their life to get care hundreds or thousands of miles from their home.
In the meantime, the governor and many Democratic legislators will say they tried and move on.
They'll take the win on a milquetoast sexual harassment policy immediately criticized by both people who have been sexually harassed and employment experts. Arms will be strained patting themselves on the back for strengthening gun restrictions for domestic abusers, a laudable accomplishment, but one meant to appease recent calls for wider gun reforms after the Parkland, Florida, shooting.
Some, like state Sens. Liz Krueger and Brad Hoylman, as well as Senate Minority Leader Andrea Stewart-Cousins, will be as angry as we are with last week's outcome, and are hopefully resting up to continue the fight.
But the truth is, it is unlikely that Cuomo or any of the other men in the room fought very hard for his Women's Agenda during the closed-door budget negotiations. While the governor has positioned himself as an ally to women and families with his words, we need him to be an accomplice in his actions. Being complicit in the struggle to improve the lives of over 51 percent of your constituents shouldn't be risky.
In New York, the legislative session ends in June. We have a few months to work with the lawmakers we have for all of the critical legislation cleared off of the negotiating table last week. Then it is on us to carry these issues into election season and hold them accountable.