SESTA Is Already Having Devastating Impacts on Sex Workers—Just Like They Predicted (Updated)
Shortly after the legislation passed through Congress, Craigslist shut down its personals section, and Reddit removed several subreddits related to sex work. This, sex workers say, will put them in danger.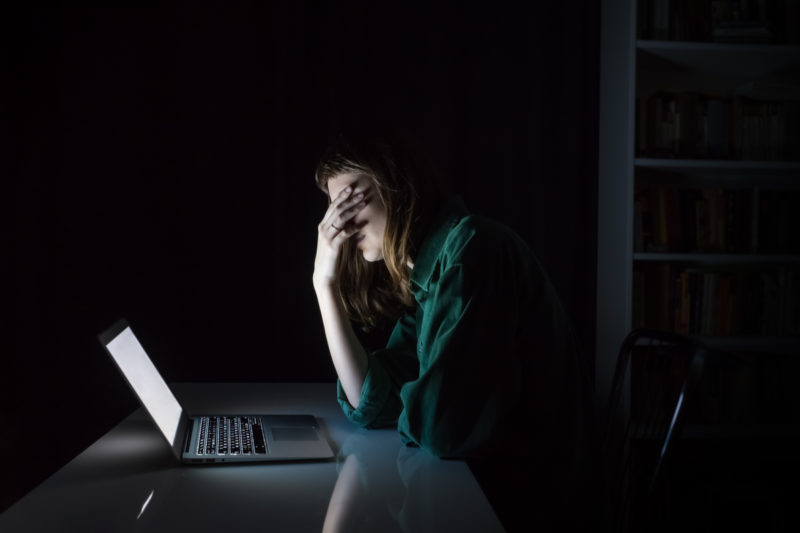 Sex workers who have been kicked off platforms are now being pushed into physical, more criminalized spaces—such as truck stops, street corners, and so-called red-light districts—where police may be patrolling and doing sting operations. Shutterstock
UPDATE, April 11, 4:24 p.m.: President Donald Trump signed SESTA-FOSTA into law on Wednesday.
For sex workers, watching websites serving as their main source for work close because of government action is nothing new. Last year, online marketplace Backpage.com shuttered its adult services section, citing "new government tactics" as the impetus for the decision. In the federal government's view, these "tactics"—which included pressuring credit card companies to sever ties with Backpage—were necessary in order to shut down online vehicles for sex traffickers to prey on children and girls.
But what's happened in the last week has been nothing short of disturbing for those in the sex work industry. In March, the U.S. Senate passed S 1693, better known as the Stop Enabling Sex Traffickers Act (SESTA)—a controversial piece of legislation that broadly expands prosecutorial power over tech companies often used by sex workers for their business. The bill amends Section 230 of the Communications Decency Act so that websites and social media platforms are now held accountable for third-party activity related to sex trafficking or prostitution, thus conflating consensual sex work with criminal acts.
In other words: SESTA, and its counterpart in the U.S. House of Representatives, the Fight Online Sex Trafficking Act (FOSTA), treats tech platforms as publishers of user-generated content, rather than hosts of that content. Sex workers and other activists had warned of the bills' effects before they passed: Before President Donald Trump could even sign the legislation into law, tech platforms have made preemptive moves to get ahead of it. Shortly after it passed through Congress, Craigslist shut down its personals section, and Reddit removed several subreddits related to sex work.
"It was very disheartening to see how fast different websites and platforms were self-censoring before it's even become a law," Maxine Holloway, a Bay Area sex worker, activist, sex educator, artist, and filmmaker, told Rewire.News.
Survivors Against SESTA, a coalition of former and current sex workers, has been documenting the tech sector's response to the controversial bill since it passed the Senate two weeks ago. So far, the coalition has logged at least 18 platforms, including Craigslist and Reddit, that have either shut down, closed verticals or forums, or changed their policies on transactions, content, and language in that time.
The significant change in or outright loss of these sites causes real harm to sex workers, especially those living at the margins, such as transgender women and women of color, says Survivors Against SESTA member Kate D'Adamo, a national policy advocate and community organizer at the Sex Workers Project. Sex workers who advertised their services on Craigslist Personals, My Scarlet Book, Pounced, and similar online classifieds could screen their potential clients and determine whether or not it's safe to schedule a session. Through these type of online service sites, people who trade sex can get identifying details from their clients—names, email addresses, phone numbers, and usernames, for example—and do a bit of digging online to find out more about their history interacting with sex workers.
And that's where platforms like Reddit, Hung Angels, and VerifyHim, a screening site for online daters, came in. Those online spaces gave sex workers a way to share more information about those potential clients, as well as exchange safety tips, tech advice, and support, she says.
"[VerifyHim] shut down its communication tools where you can see that [a client] has been verified, but then you can actually communicate with people about that person and about their experiences, which is so desperately important," she told Rewire.News. "That is how people are staying safe."
Without those sites, D'Adamo continues, many people who trade sex not only lose a means of generating income, they're also denied access to vital services and information that could save their lives. Sex workers who have been kicked off those platforms are now being pushed into physical, more criminalized spaces—such as truck stops, street corners, and so-called red-light districts—where police may be patrolling and doing sting operations. (Survivors Against SESTA has put together a rolling list of tech tips on how sex workers can protect themselves online in a post-SESTA world, including how to self-censor on social media, consolidate and transfer your information to safer online platforms, and turn off your phone's location services and GPS.)
"It's really a scary situation that is going to affect the most marginalized of sex workers the most intensely," Holloway told Rewire.News.
A spokesperson for VerifyHim told Rewire.News by email that, although the company is based in Singapore, "we still need to follow American laws due to the fact that many of our customers are from there."
"That being said," the spokesperson continued, "we cannot comment more other than the fact that we can't afford to run this site the way it is and shutting down all the discussion and communication tools here. We also have banned many users … for adult-related language."
Rewire.News also reached out to Craigslist and Reddit for comment, as their changes have been heavily scrutinized in the last week, but did not hear back in time for publication.
How this legislation will affect the sex work industry going forward is still open to question, experts say.
With the exception of Craigslist, Reddit, Google Drive (which is now deleting "explicit content"), and Microsoft (which altered its terms of service), most of the sites that have taken preemptive measures in response to SESTA are comparatively small. Other tech giants such as Facebook, Twitter, and Squarespace—sites sex workers use for more than just business—haven't yet made any public indication on how they'll respond to SESTA, what kind of new policies they'll create, the scope of those policies, and how those policies will be enforced.
Activists also don't have a sense of how the controversial legislation will affect websites outside of the United States. This concern is compounded by the recent passage of the CLOUD Act, which greatly expands the country's ability to access content and metadata from other nations without adhering to their privacy laws.
"It's something we don't have a lot of control over," Holloway told Rewire.News. "We're still really unsure of how that's all going to play out."
Then there's SESTA itself. There are parts of the legislation—such as its retroactive provision that allows prosecutors to go after alleged crimes that happened before the bill's enactment date—that could be subject to constitutional challenges, Holloway says. SESTA's language is also "very broad," she added; for example, it's unclear what constitutes "knowingly facilitating prostitution" or whether or not apps are affected by the legislation. Activists may be able to challenge the language in court and have it narrowed so that the bill only affects certain, but not all, platforms.
"We're trying to prepare ourselves for what alternative possibilities can be while really being unsure of how this is going to be enforced and what the actual final form that this bill is going to come in," Holloway said.
In the end, SESTA is a dangerous bill that will have implications for both sex workers and the tech sector, advocates say, beyond what has happened so far—and all before Trump could even put pen to paper.
And, they add, the devastating impact SESTA will have on the sex work industry could have been avoided if the very people who pushed this legislation brought sex workers to the table in the first place.
"I was having conversations about this for months on what's going to happen and everyone—everyone—told me I was wrong," D'Adamo said.
But she wasn't, and everything that D'Adamo predicted would happen has happened "within minutes" of SESTA passing.
"People who trade sex are so stigmatized and so criminalized and so cut out of the discussion," D'Adamo said. "[But] we are the experts, and it's time to start showing up and demanding space."