Native Women 'Hack' Traditional Dress for Easier Breastfeeding
The original two-layer, belted regalia worn to Pueblo ceremonies made it hard for me to feed my child and honor my ancestors. But armed with community feedback and ingenuity, we're literally redesigning it.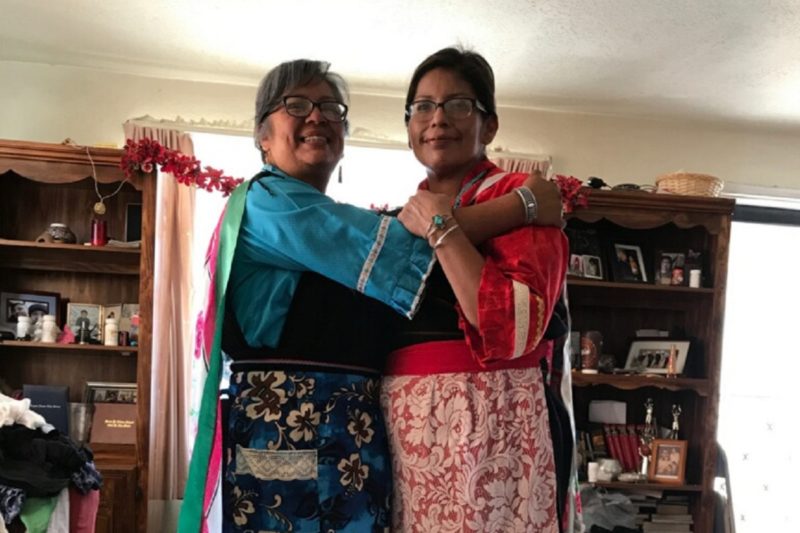 Leigh Ann Lorenzo and her sister, Kari Ray, show off their traditional Pueblo dress. Its two layers and belt are typically paired with moccasins and worn to ceremonies—but the dress' structure make it difficult to undo quickly. Rachael Lorenzo
Breastfeeding is such a natural thing, yet it's one of the most difficult and expensive things I've done as a parent.
When I gave birth to my daughter, Adalie, in 2012, no lactation consultant visited me in the hospital in Albuquerque. All I got was 15 minutes of questions with nurses, who gave me a nipple shield but no instructions on how to use it.
And not only did I struggle to feed my child, I struggled through my undergraduate degree in political science as a pregnant person and new parent. Classmates told me I should have been more "careful"—meaning, not get pregnant in the first place—and that I should give up my spot for someone more "serious" about their education. I left the hospital defeated, but determined to breastfeed.
I didn't turn to my Laguna Pueblo tribal elders back home. My mother lived an hour away, and my mother-in-law and I were just getting to know each other well. And perhaps I didn't ask them for help because I saw an obstacle in my own culture, too: the traditional regalia for Pueblo women.
The dress is actually made up of two thick layers of dresses. The first layer is a three-quarter sleeve dress with a collar and is about shin length. The outer layer, called a manta, is black and about the same length as the garment underneath. It is a rectangular piece of fabric, and one side is tied on the right shoulder. To complete our regalia, we wrap a belt tightly around the waist. Putting on the layers can take anywhere from 15 to 45 minutes, depending on the person.
Not every indigenous person is active in their traditions, and that's OK. But my family participates in traditional ceremonies about four to six times per year. Most of those times, we are wearing the dresses from as early as 4 a.m. to 8 p.m., and sometimes later, two or three days in a row. Because breastfeeding parents are literally feeding the village and taking part in ceremonies for up to 16 hours a day, we have to pump or care for our children while wearing regalia that takes time—and sometimes another person's help—to put on and take off.
I often found myself hiding in my car, lifting up the layers of my traditional dress during ceremonies. If I didn't have the time or a somewhat private place to undress, I stayed at family members' home to breastfeed or pump. I did not get a chance to pray and participate with my partner and our new baby the way I wanted to, the way I felt I needed to, to feel whole. Wearing the regalia is not only part of the ceremonies. It is a sign of respect to my elders and my ancestors. I knew I could not be the only one who struggled with my desire to pay that respect and also take care of my child.
There had to be another way. After I had my second child—with a team of more supportive doulas and midwives—and I completed my master's degree, I had the tools, the chance, and the community to make that way happen. In graduate school, I learned how to navigate insurance plans, patient rights, and what kind of care Native people are entitled to in the Affordable Care Act and through the Indian Health Service. I had given my time to various political campaigns and started making connections with organizations throughout the country around reproductive health and justice, while raising awareness of the structural barriers unique for Native peoples seeking health care.
In 2017, I was approached by the New Mexico Breastfeeding Task Force to participate in a "hack-athon" at the MIT Media Lab in Cambridge, Massachusetts. The event attempts to "hack" policies and norms around breastfeeding to make it better as well as improve breast pumps. I knew this was the chance to pull together a team to really make a difference in my own community: We would make our traditional dresses more breastfeeding-friendly.
First, Malia Luarkie (Laguna Pueblo and an organizer with Indigenous Women Rising), Marya Errin Jones of ABQ Zine Fest, Monica Esparza of the New Mexico Breastfeeding Task Force, and I organized an intimate community gathering of Pueblo women who wanted to share their past breastfeeding experiences. The conversation was wide-ranging: We talked about stigma against teenage parenting and breastfeeding, how to normalize breastfeeding in a traditional way, body image, boundary-setting for our children, sexuality, and gender.
We asked what the women wanted out of a traditional dress when they breastfed. Their answers varied: They wanted something simple and reminiscent of the first layer of dresses from the early 1900s to the 1970s; in that version, a seam stretched down the middle to the belly button. Others proposed a kind of halter top inside the dress, that would open easily and permit discreet breastfeeding.
We took those ideas to two seamstresses, Lorissa Garcia (Acoma Pueblo) and Rhiannon Douma (Laguna Pueblo), and they created truly innovative dresses, with different "architecture." Each dress made for a Pueblo woman is already one of a kind; they are not mass-produced, and they are made to order so these dresses are even more sacred to us. And now these dresses mean that women can participate in sacred ceremonies and the sacred act of breastfeeding.
Garcia made one dress that has a long zipper that goes from the sternum to the belly button. The other dress she created has no collar and has snaps across the top of the shoulder and down the underarm. Douma made a dress with two crossing pieces of fabric that can be unclasped to expose a breast for feeding. Her second design has a flap to lift up for breastfeeding and acts as a cover.
Lorissa's daughter, Shaine, tried on the dresses and breastfed her newborn, Elaina, while wearing them.
Lorissa said, "As a mother of five daughters, raising my girls to be mindful and respectful of the matrilineal society we come from means that I must teach the core values of our people, which include participating in cultural, traditional, and religious ceremonies and activities. Most all of these require women to wear traditional clothing, which typically includes a dress, belt, and moccasins. For breastfeeding moms, wearing traditional clothing, with the way the dress is designed and sewn, it is next to impossible to feed a baby, and even harder still if she is wearing a manta on top of the dress.
"Now that my own daughter is a breastfeeding mom, I saw first-hand that my dress design allowed her to wear a traditional dress during a religious ceremony, a dress that helped make it easy for her to feed my granddaughter."
The new designs were shown at a Laguna community feast on March 19, and interested Pueblo women can order a custom-made dress from the maker.
Using community feedback and knowledge, our team worked on eliminating one barrier to breastfeeding through design.
But other structural obstacles exist. For example, depending on the state where the new parent lives, the Women, Infants, and Children program and the Supplemental Nutrition Assistance Program (often called food stamps) may not cover bags to store milk, attachments to breast pumps, or another pump if it breaks. For Pueblo women who have only a high school diploma, earnings are 45 percent of what a white, non-Hispanic man with the same education makes. Native women in my community do not have local obstetric care if they are pregnant and in labor; they must travel 30 miles west to Grants, New Mexico, or 50 miles east to Albuquerque, which makes it hard to get essential care, including lactation counseling.
That is not equity, and our situation as a rural Native community is not unique. But we are doing what we can with what we have. Redesigning our traditional regalia is a start.
If these dresses can help new parents breastfeed and pump during our ceremonies, we are on our way to healing as a people and retaining more of our cultural and traditional knowledge, starting from birth.