West Virginia Teachers Are Fleeing From the Hills
Low-income salary levels and rising insurance costs have West Virginia teachers walking out of their jobs—and the state.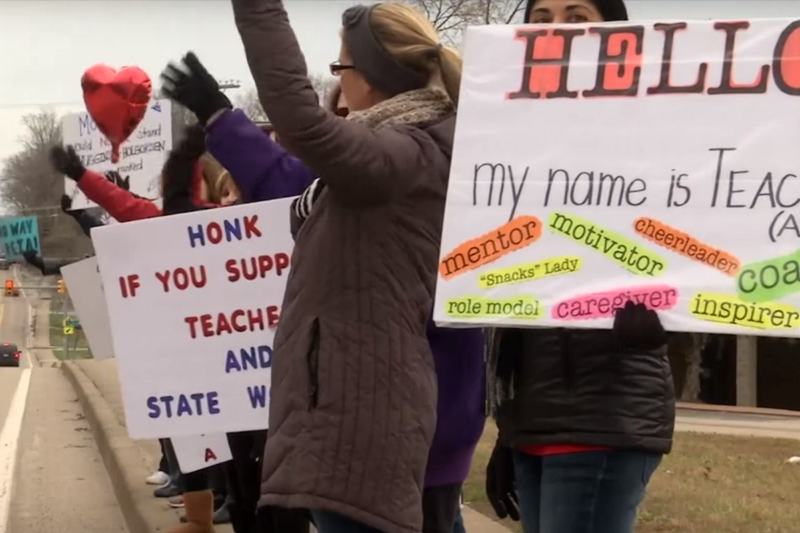 The blaring sound of my car horn has nothing on the enraged shouts of teachers that have filled the halls of the State Capitol in Charleston, West Virginia, for the past two weeks, as teachers have stood for hours outside the doors to the state Senate and House of Delegates chambers to make their voices heard. Associated Press / YouTube
UPDATE, March 1, 4:21 p.m.: Gov. Jim Justice announced a 5 percent raise for West Virginia teachers and educational staff, but with high health costs offsetting these raises, the pay and benefits package does not meet teachers needs and the strike has continued.
I've been honking my car horn more in the past two weeks than I have in the past two years. I give off short blasts each time I drive past the intersection beside Meadows Elementary School in Huntington, West Virginia, where teachers stand on the sidewalks with big signs that read, "Honk if you support our teachers!"
It's the least I can do to help those teachers fight for better lives.
My small show of support cannot compare to the force of the teachers' "illegal" strike to speak out against insufficient pay and rising health care costs. West Virginia teachers—a group which once included my parents—have suffered from inadequate pay for a long, long time. West Virginia ranks 48th in the country in average pay for teachers—$45,622 in 2016—according to the most recent report from the National Education Association.
To further put that salary in perspective, the National Center for Children in Poverty released a report this January that determined incomes below $48,678 for a family of four are considered low-income households.
When I called my mom, who now teaches in Ohio, to talk about the strike here, she said, "Thank God I'm not teaching there anymore." She is grateful to live in a different state that does not force her to choose between caring for her students or caring for her own family, as many of her former coworkers have had to do.
The blaring sound of my car horn has nothing on the enraged shouts of teachers that have filled the halls of the State Capitol in Charleston, West Virginia, for the past two weeks, as thousands of teachers have stood for hours outside the doors to the state Senate and House of Delegates chambers to make their voices heard.
Their massive protests were met with minuscule results. Gov. Jim Justice (R) signed legislation last Wednesday to give teachers a 2 percent salary increase starting in July, with an additional 1 percent raise to follow in fiscal years 2020 and 2021. The proposed raise, teachers have said, does nothing to solve the real problem: inadequate health insurance. Even with the few hundred dollars more they will now receive each year, they will still struggle to pay the increasing premiums and co-pays from the Public Employees Insurance Agency.
As a result, thousands of teachers across the state have been staging a walkout in protest. The walkout began last Thursday and still continues this week, causing schools in all 55 counties in the state to close for four days and counting. Some people have criticized teachers, calling the walkout a selfish act that forces children to lose out on important educational days.
But how can teachers provide that education and take care of the state's children, when they're busy worrying if they will be able to pay their bills on time?
Especially with President Donald Trump's recent call for teachers to take up arms and prevent school shootings, the responsibilities placed upon teachers all over the country—to be second parents, vigilant counselors, skilled disciplinarians, and, now, alert bodyguards—outweigh the payment they are receiving for performing those responsibilities.
Everything I have is because of West Virginia's teachers—whether it's my own parents, who taught in this state for 12 years, or the teachers I've had from first grade to now, as I finish out my senior year at Marshall University. I wouldn't be writing this article without them.
But West Virginia teachers, on average, have dropped into the national low-income bracket, just above the poverty line. Due to their minimal salaries, they are no longer considered part of the middle class. This is a shocking realization to most. And it should be. Unfortunately, I've already known this reality all too well.
From the time my parents moved our family to West Virginia from the neighboring state of Ohio in 2001, they were trying to move back. We struggled to live on my dad's salary alone, so my mom went back to teaching once my brother and I were in school. Even with both my parents teaching, they found it difficult to make ends meet, so they took on side jobs. My mom taught piano lessons while my dad taught guitar lessons, took on multiple coaching jobs at his school, and mowed lawns during the summer.
It didn't take long for them to realize they would have to get master's degrees if they wanted to stay financially secure. So they invested thousands of dollars into getting the pieces of paper that would qualify them to earn slightly more pay and have a better chance at bidding on certain teaching jobs.
Even with the small increase of about $200 each month, the growing costs of their health-care plan kept them from getting ahead. My parents had no idea how they would be able to afford helping me and my younger brother further our own educations. If it wasn't for several privately funded scholarships and the PROMISE Scholarship, my brother and I would have had to take out crippling student loans with the hope that our jobs out of college would help us stay on track for paying them off during the next ten years.
When I received my letter of acceptance for the full-ride, academic Marshall University Yeager Scholarship, my mom cried from relief. Educators should never have to worry about paying for the very education they spend their lives promoting.
This past year, my parents finally made the move to Ohio, where my dad works as a high school associate principal, and my mom teaches in an online school. Their new income, combined with Ohio's more sufficient public employees health insurance policy, has allowed them to focus on strengthening the minds of future generations, rather than having to scramble for their own side jobs.
And all it took to achieve this better life was to cross over a nearby state border—a simple action that took almost two decades of saving and planning.

My parents aren't alone in moving out of the state. Many teachers have decided to look for teaching jobs with higher salaries in surrounding states like Maryland and Kentucky. Consequently, West Virginia has experienced a widening teacher shortage. Last year, then-West Virginia State Superintendent of Schools Dr. Michael Martirano said the state was in a "crisis" stage with more than 700 teacher vacancies. That number is expected to increase this year.
Last year, West Virginia legislators scrambled to fill a nearly $500 million hole in the state's budget. West Virginia is starting from scratch for FY 2019, which is why the state's Republican leadership have said they cannot afford to do more than a 4 percent total raise for teachers over the next few years.
While I understand legislators' need to uphold their responsibility of presenting a balanced budget, they also have the responsibility bestowed upon them by the West Virginia State Constitution to provide for "a thorough and efficient system of free schools." That system includes teachers. Teachers cannot be "thorough and efficient" if they are struggling to make ends meet each day.
So, when the state's 19,488 public school teachers are forced to return to their classrooms in order for their families to survive financially, it is my hope that legislators will continue the fight those teachers started this year. I hope they find effective, long-term solutions to give teachers the pay and insurance benefits they need to get out of daily survival mode.
I know I'll keep fighting for them, because they are fighting—and always have fought—for students like me.