When Fear Turned Into Fact: Congress' Move to Gut the Americans With Disabilities Act Spurs Protests
Activists filled first the House Rules Committee session, and then the House Gallery days later for the final floor vote, chanting, "Don't take our rights away; hands off the ADA."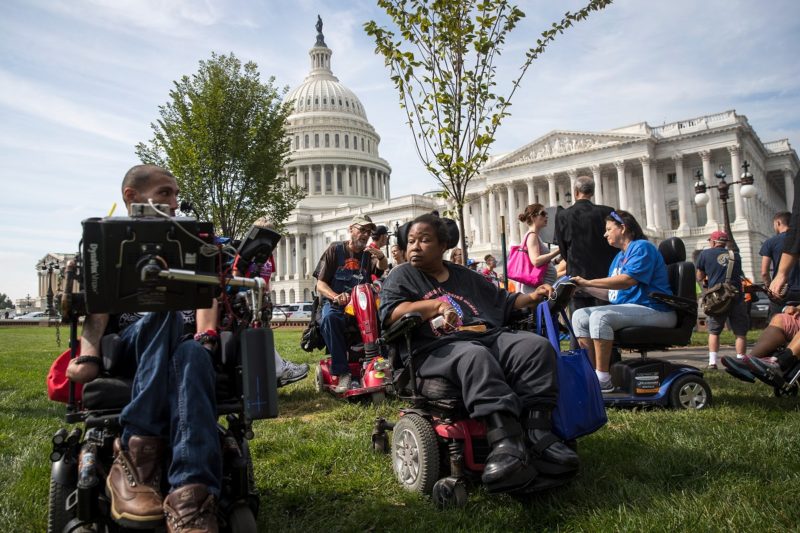 Disability advocates, who believe that this bill only serves to incentivize non-compliance by businesses, have fought similar legislation for years. Drew Angerer/Getty Images
Last week, the U.S. House of Representatives passed the ADA Education and Reform Act (HR 620). Despite its name, disability advocates believe this bill is an assault on their civil rights and will weaken protections afforded to them under the Americans with Disabilities Act (ADA).
The 225-192 vote was primarily along party lines, with only 19 Republicans opposed to the bill. Twelve Democrats voted in support, including six from California—Reps. Pete Aguilar, Ami Bera, Lou Correa, Scott Peters, Jackie Speier, and Norma Torres—as well as Reps. Jim Cooper (TN), Henry Cuellar (TX), Bill Foster (IL), Collin Peterson (MN), Kathleen Rice (NY), and Kurt Schrader (OR).
In a final attempt to stop passage of the bill, members of ADAPT, a national grassroots group that organizes disability rights activists to engage in nonviolent direct action, descended on the U.S. Capitol. Activists filled first the House Rules Committee session, and then the House Gallery days later for the final floor vote, chanting, "Don't take our rights away; hands off the ADA."
Colleen Flanagan, co-founder and executive director of Disability Action for America and a National ADAPT organizer, was among those who were arrested twice during last week's actions. "I saw House members from the floor turn their heads toward our chanting. I remember seeing one member of Congress' jaw actually drop while he gawked at us with his mouth wide open," Flanagan, who streamed the arrests live on Twitter from the House Gallery, told Rewire via email.
"Soon the U.S. Capitol Police flooded in the ADA-accessible viewing area where we were protesting. Cops began pushing ADAPTers in locked wheelchairs out of the viewing section," Flanagan explained, referring to wheelchairs with the brakes on.
"For those in wheelchairs they couldn't push out, Capitol Police decided to literally pick up our disabled bodies and carry us out instead," Flanagan continued.
"That's how I left the House Galley ADA-accessible viewing area on Thursday," Flanagan concluded, "being carried out by a cop."
As I have explained previously for Rewire, HR 620 completely upends how the ADA is enforced. Since the law was passed nearly 28 years ago, people with disabilities have had two mechanisms for enforcing their rights if a business is inaccessible: They can file a complaint with the U.S. Department of Justice (DOJ), which will investigate the alleged access violation and decide if a business has violated the ADA. The agency then may enter into mediation with the aggrieved individual and the business, or sue the business on the person's behalf. Otherwise, people with disabilities may file a lawsuit in court, bypassing the DOJ entirely. Typically, both enforcement mechanisms allow for swift action to resolve the violation.
However, HR 620 would require people with disabilities to give a business owner "specific enough" written notice about the accessibility violation. The business owner then would have 60 days to acknowledge the problem and another 120 days to make "substantial progress" toward resolving the access violation. Effectively, the bill would require people with disabilities to wait 180 days before they could enforce their civil rights by filing a lawsuit.
Proponents of HR 620 contend that the bill is necessary to prevent frivolous lawsuits. They believe people with disabilities and their attorneys intentionally seek out accessibility violations at businesses so that they can sue and make money.
However, HR 620 will do nothing to stop attorneys who bring frivolous lawsuits for money because the ADA does not allow courts to award monetary damages to plaintiffs. Settlements or court orders that grant money damages for accessibility violations are not based on the ADA, but rather on laws in a handful of states—including in California, whose Business Properties Association issued a statement celebrating all 14 Republicans and the six Democrats who voted "yes." Moreover, attorneys are ethically and legally not allowed to represent individuals in frivolous lawsuits. Hence, this is an issue that state courts and bar associations must address, not Congress.
Disability advocates, who believe that this bill only serves to incentivize non-compliance by businesses, have fought similar legislation for years. However, this is the first time this type of bill has made it as far along in the legislative process, and that is alarming.
In September 2017, the Consortium for Citizens with Disabilities, along with over 200 disability and civil rights organizations, issued a letter to the House Judiciary Committee strongly opposing the bill: "We know of no other law that outlaws discrimination but permits entities to discriminate with impunity until victims experience that discrimination and educate the entities perpetrating it about their obligations not to discriminate. Such a regime is absurd, and would make people with disabilities second-class citizens."
Activists were not alone in voicing their opposition to HR 620. Immediately following the House Rules Committee's vote to send the bill to the floor for a final vote, Sen. Tammy Duckworth (D-IL), issued a statement, saying, in part, "This offensive legislation would undermine civil rights in our nation and reward businesses that fail to comply with the Americans with Disabilities Act, which has been the law of the land for nearly 30 years. Passing it would send a disgraceful message to Americans with disabilities: their civil rights are not worthy of strong enforcement and they can, once again, be treated like second-class citizens." For Duckworth, who is a disabled veteran and wheelchair user, access to public accommodations is personal.
Several Democrats also expressed their concerns during the floor debate that HR 620 would roll back protections for people with disabilities. These lawmakers included Rep. John Lewis (D-GA) who told his colleagues in an impassioned speech that the bill "strikes a devastating blow in the fight for civil rights."
"This bill is wrong. It is mean-spirited, and it is a shame and a disgrace that we would bring it to the floor," Lewis continued.
Now that HR 620 has passed the House, it will head to the Senate, where some Democrats have already declared their opposition. Indeed, Duckworth, Sens. Bob Casey (D-PA), Chuck Schumer (D-NY), Maggie Hassan (D-NH), Elizabeth Warren (D-MA) and Chris Van Hollen (D-MD) issued a joint statement on Friday: "Advocates worked tirelessly to oppose the bill in the House and to protect the rights of people with disabilities. As a group of Senators who value the rights of people with disabilities and recognize that disability rights are civil rights, we will work with advocates to uphold the rights of people with disabilities and oppose any legislation that threatens those rights."
There is not a current version of the bill in the Senate yet, and thus far, Republican senators have remained silent on their positions. However, it is clear that disability activists are not backing down. "We need everyone to call their senator to let them know how critically important it is they reject similar legislation in the Senate," Flanagan told Rewire.
Activists also pointed out the fact that the passage of HR 620 marked yet another attack on disability rights during the Trump era. "The results of the 2016 election both outraged and terrified me," Flanagan said. "I feared the rights of disabled people would be the first to be attacked, and my fear since turned into fact."