Feminism in the Coalfields: What Appalachians of the 1970s Can Teach Today's Feminists
Appalachian feminism, which is to say feminism of working-class white and Black women who lived in a place long dominated by corporate officials, has volumes to teach us about meaningful efforts to reach gender equality, but more importantly, justice.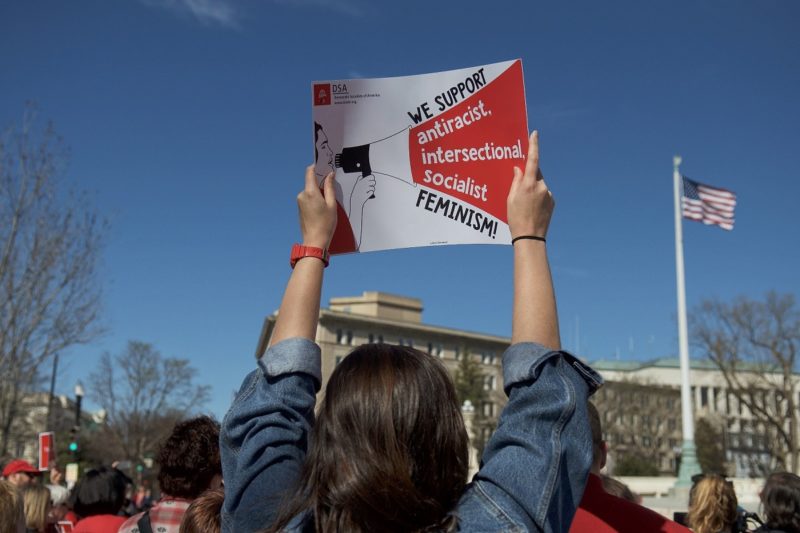 A protester holds up a sign in support of a "antiracist, intersectional, socialist feminism" during the #GlobalGag rally in D.C. on March 8, 2017. Lauryn Gutierrez / Rewire
On the one-year anniversary of the 2017 Women's March, women once again turned out across the country to reject the Trump presidency, including in Pikeville, Kentucky, in the heart of the eastern Kentucky coalfields. A New York Times photographer captured the image of two white girls from Floyd County, Kentucky, holding pink-trimmed signs with familiar slogans of this season's protest. But what one of the girls told the reporter evoked earlier times: "The more we stand together, the more that we can do together." Their statement of solidarity, that we need to stand together, is reminiscent of the feminism that caught fire in 1970s Appalachia.
Appalachian feminism, which is to say feminism of working-class white and Black women who lived in a place long dominated by corporate officials, has volumes to teach us about meaningful efforts to reach gender equality, but more importantly, justice. Above all, Appalachian feminism insists upon an understanding of class oppression, which operates within a capitalism that thrives on racist and sexist social structures. It requires listening to women whose feminism is rooted in their daily experiences and charting feminist movements that will transform society for all women, not just those in positions of relative power.
Appalachian feminists emerged out of welfare rights and labor movements. By the early 1970s, a few dozen welfare rights groups had organized across West Virginia, eastern Kentucky, and southwestern Virginia. White and Black women led the movement and made militant calls for the rights of poor and working-class women.
A few months before welfare rights activist Johnnie Tillmon, a Black woman living in California, published her now-classic article "Welfare is a Women's Issue" in the inaugural issue of Ms. (1972), a white woman from West Virginia, Shelva Thompson, made a similar argument. In a regional magazine devoted to reporting on social justice issues, she argued against a policy that would require that welfare recipients enter the workforce. Caring for children or family members with disabilities was work, even if unpaid.
She underscored the fact that poor women were held to different standards than the rich wives of coal mine operators. "Her own duties as mother and housewife are not considered an important duty, unless she's doing it in somebody else's home," she argued. Those expectations did not hold for the wife of a man "earning lots of money," who needs "a maid for house and kids so [she] can go to clubs, parties, and church bazaars." Thompson envisioned a movement of working-class people that recognized oppression "across group lines" and focused on fighting "the oppressor" together.
In 1973 and 1974, working-class white women joined pro-union miners on the picket lines in Harlan County, Kentucky, in scenes made famous by the documentary film Harlan County, USA. Not captured in the film is how women negotiated their militant activism within the context of a women's movement cresting across the country. Reporter Judy Klemesrud, a New York Times journalist who was a trailblazer for women in journalism, unintentionally put class tensions on full display. She characterized the women as "bored housewives" who walked the picket lines because they were loyal to husbands. In fact, the women fought for a broad range of issues in their community that they identified from their positions as caregivers, including better housing and safer working conditions. In public hearings and protests, they lambasted the state for protecting the interests of capitalists at the cost of working people's well-being.
In the months after the miners' strike in Harlan County, women spoke out against Klan organizing, protested the city of Harlan's plan to raze homes in a predominantly Black neighborhood, and gave speeches at women's liberation events. Activist Bessie Lou Cornett voiced her own vision of justice in an interview with the Liberation News Service in 1976, connecting gender, racial, and economic justice. Cornett pointed out that the coal companies "wouldn't be able to make a white miner believe he's superior without those advantages that the coal operators give to the white miners. A white miner can get a job; the first people to get fired anywhere are Blacks, and they're the last to get hired."
She later connected that "feeling of superiority" to the home as well, where some men feared that if their wives "were exposed to a lot of other social activities, you might begin to broaden your interests a little outside of the home, and see that you had more potential." She concluded that the social movements of the 1960s had led to important "concessions," but that "we still have to carry" the movement forward. For her, racism and sexism could not be divorced from the system of capitalism that operated in the coalfields.
The Appalachian Women's Rights Organization, a group of women who had been involved in welfare rights and union struggles, formed in 1975 to explicitly fight for women's rights, as they understood them from their lived experience. In a meeting with the Kentucky Commission on Women, they called for family economic security, access to well-paying and safe jobs, state funding for day-care facilities, and an end to the assaults on welfare programs that benefited poor women.
But they saw the writing on the wall: The commission cared more about "the concerns of professional women," like access to credit and employment in white-collar jobs, than the issues that most affected women in the working class.
A right to a decent standard of living and the means to care for family and friends animated women's organizing in 1970s Appalachia. In the summer of 1975, Activists rallied around Joan White and Amy Parks, Black women leaders in the West Virginia Welfare Rights Organization (WRO) who faced retaliation by the West Virginia Department of Welfare.
As president of the welfare rights group, White had campaigned to force out the commissioner, a leader in the welfare-to-work camp. She and Parks had led demonstrations at his office and had joined lawsuits to force the department into compliance with federal laws. They also helped to develop a narrative counter to those that demonized welfare recipients as living at the taxpayers' expense. Corporations, in particular the coal industry, sucked all of the wealth out of the region, they argued. If policymakers were truly concerned about fairness, then they should pass a severance tax on coal companies that extracted natural resources from the state.
The Welfare Department targeted the women in what their allies called "selective persecution." Found guilty of welfare fraud, they faced five-year prison sentences.
White and Parks decided not to take a plea bargain and instead chose to fight what they saw as political repression. Their decision made them a cause célèbre throughout the region. The Appalachian Women's Rights Organization sent a telegram to the presiding judge and also published it in a regional magazine, calling for an end to the attack on Parks and White, as well as the assault on "the rights of mothers" and "others who must depend on the state."
Several hundred welfare rights activists from West Virginia and eastern Kentucky traveled to Fairmont, West Virginia, where the hearings were held. With representatives from the local National Organization for Women and other feminist activists, they rallied in the streets, crowding into the courtroom on the day of White's hearing. When the judge cleared White of all charges (Parks was found not guilty), they broke out in song.
These are but a handful of examples of women in Appalachia organizing for justice in their communities. Although many of them were white, their understanding of labor, class, and welfare injustices led often to interracial and cross-gender alliances. They faced many stumbling blocks—loss of funding, internal conflicts, and political backlash—and ultimately could not withstand the state-backed assaults on their movement, but their decade-long attempts to build coalitions and demonstrate solidarity are no less significant.
In recent years, the most recognized feminists have focused on representation rather than the redistribution of power and wealth. Theirs is not a feminism of deep solidarity. What does standing together truly look like? With fresh assaults on the social safety net happening seemingly daily and renewed attention to working women's lives, the history of Appalachian feminism is one that today's feminists would do well to emulate. At the core of Appalachian feminist activism of the 1970s was an understanding that gender justice for all meant accounting for the ways in which capitalist enterprises exploited working people's paid and unpaid labor and how the state denied them their rights as citizens. The advice that the Appalachian Women's Rights Organization gave to middle-class white feminists in the 1970s still holds: "take up the genuine problems of the vast majority of women."