Here's the Memo From a Christian Hate Group Sowing Panic About Marriage Equality
The Alliance Defending Freedom memo is part of a broader strategy to "attempt to undermine marriage equality, to undermine the Supreme Court ruling" legalizing same-sex marriage.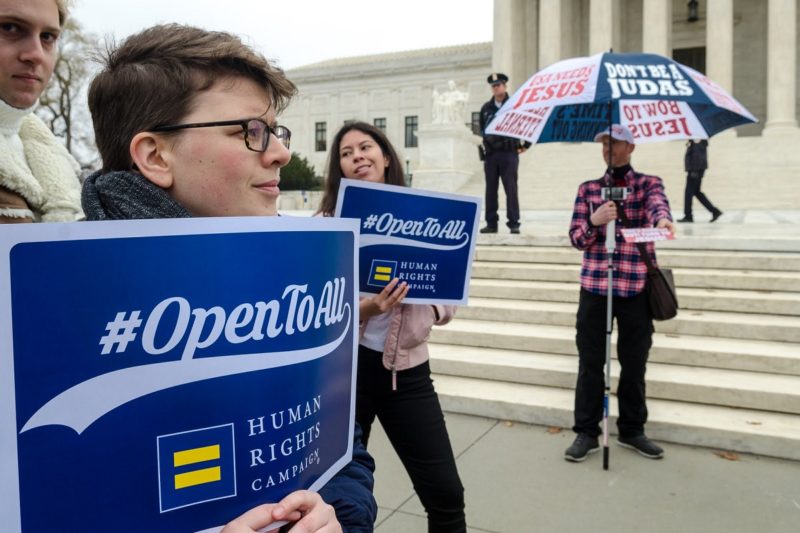 Activists gather around the U.S. Supreme Court during the #OpentoAll rally on December 5, 2017. Lauryn Gutierrez / Rewire
It only took minutes for anti-LGBTQ paranoia to grip the public hearing in the tiny town of Sundance, Wyoming.
"We're on a very slippery slope here," Kim Reed, a rancher and nurse, warned lawmakers. "What will next constitute a union? A man and his sister? A woman and her dog?"
The topic of the meeting last November was legislation to replace such words as "husband and wife" in Wyoming statutes with gender-neutral terms. A 2015 U.S. Supreme Court decision had made marriage equality the law of the land, but Wyoming statutes remained stuck in time—confusing and harmful to same-sex couples, the bill's sponsor explained.
But the 35 or so residents huddled inside the small meeting room believed something nefarious was afoot.
"What will this expand to?" questioned Steve Melia, according to a recording by a local news outlet. "We have transgender children in kindergarten. A very intelligent psychiatrist on Fox News said next is gender-neutral babies."
"If everyone became homosexual or lesbian, they could, the world could, decreate itself," argued Audrey Epson, of Hulett. "We could put ourselves out of existence!"
What had so inflamed the residents was a legal memo circulating on an anonymous message service, social media, and in church circles days before the meeting. The 11-point memo came from Alliance Defending Freedom (ADF), a Christian legal advocacy firm called a hate group by the Southern Poverty Law Center for its spread of conspiracy theories about a vast "homosexual agenda."
"A lot of folks came thinking this was an assault on their own marriage," said Wyoming Rep. Tyler Lindholm (R-Crook-Weston), as if the fate of heterosexual marriage hinged on doing away with the legislation.
With annual revenue that outpaces the American Civil Liberties Union (ACLU), ADF might be best known for its recent defense in the U.S. Supreme Court of a Colorado cake baker who refused to make a same-sex couple's wedding cake. But the group has shaped religious imposition laws, pushed so-called bathroom bills in nearly a half dozen states, and trained thousands of attorneys to reach the nation's loftiest legal posts. In a single year, President Trump nominated at least four federal judges with ties to ADF, as the Nation reported.
How a single memo by this Arizona-based legal group ultimately cowed Wyoming lawmakers into killing this bill—one they'd previously approved—is a lesson in how the powerful organization can quietly chip away at marriage equality. And with a new campaign to build a nationwide network of like-minded churches, ADF's reach could grow.
"Just like the ACLU, they're all over the country too," Melia, who spoke against the legislation, said of ADF.
The bill's sponsor, Rep. Cathy Connolly (D-Albany), got an inkling of the brewing controversy when she opened her inbox on the Saturday before the meeting to find a batch of emails from worried fellow lawmakers. The furor caught her by surprise. Two months earlier, a Republican-dominated legislative committee had given the go-ahead to the very same bill.
"I was like, 'Oh shoot.' Then I got a copy of the ADF memo late Saturday," she told Rewire.
The thrust of lengthy memo, written by ADF Senior Counsel Matt Sharp, was that Connolly's bill threatened Wyoming families, according to a copy Rewire obtained.
"The state has an interest in encouraging children to be raised in the most stable homes with their biological mother and father, and its laws can seek to achieve that interest," Sharp wrote.
The ADF attorney downplayed the sweep of the seminal Supreme Court decision legalizing same-sex marriage, writing, "Obergefell has NO IMPACT on the father/mother/child relationship. That relationship is grounded in biological truths, and Obergefell does not change those truths."
While Sharp noted the state might have cause to change words like "policeman" to "police officer," he likened the scope of Connolly's bill to taking a "chainsaw" to state statues. "This law undertakes to radically rewrite the social fabric of the state," Sharp wrote, "That is a dangerous experiment to impose on the children born under this new regime."
Although Connolly couldn't know it, the ADF memo was a sanitized version of views long held by ADF founder and recent CEO Alan Sears.
In a 2003 book "The Homosexual Agenda," Sears and his co-author had railed against the rise of same-sex marriage with anti-LGBTQ slurs: "This means marriage will be no better than anonymous sodomy in a bathhouse," the authors wrote, according to a New York Times report. "Why not two men and three women, or two men, one woman, and a dog and a chimpanzee?"
While the ADF memo didn't contain this language, some of the speakers at the Sundance meeting seemed to parrot these very words.
Shocked, Connolly poured over the ADF memo.
"It was in my mind filled with outright lies and implications that were incendiary," Connolly said. "The way it talked about how children should only be raised with the biological families, it was an insult to adoptive parents, not just gay and lesbian couples."
She knew of a same-sex couple who had left the state because they felt the outdated state statutes would not protect them. She worried more might follow.
The memo, she told Rewire, "came out of nowhere." How was it that ADF got involved?
When Rewire put that question to ADF, Sharp, the author of the memo, gave Rewire a blanket statement through a spokesman: "From time to time legislators ask our attorneys to review proposed legislation and provide legal analysis of the potential impact and legality of the bill."
The Wyoming legislation, he continued, "would have had implications far beyond its stated purpose."
Asked whether a Wyoming legislator had requested the legal analysis, the ADF spokesman didn't respond.
Rep. Dan Zwonitzer (R-Laramie), who co-chaired the hearing, told Rewire he received the ADF memo from former Republican state legislator Amy Edmonds. Edmonds, recently the communications director for U.S. Rep. Liz Cheney (R-WY), declined to be interviewed.
In the end, the ADF memo had the desired effect.
Calling for a vote, committee co-chair Sen. Cale Case (R-Fremont) observed, "I can see the fear factor in some of your eyes."
Two Republican lawmakers who'd voted for an earlier version of the bill last session voted against it, as WyoFile reported.
Locals said they resented ADF's intrusion. Sara Burlingame, executive director of Wyoming Equality, who spoke in favor of the bill, told Rewire, "ADF has no commitment to Wyoming and our culture. They're here to sow division."
Lindholm, a Republican lawmaker whose district includes the town of Sundance, said, "This about putting a W on ADF's wall and saying, Here's what we did."
Meanwhile, Naomi Goldberg, policy and research director with the LGBTQ think tank Movement Advancement Project, sees ADF's memo as part of a broader strategy in the wake of the Obergefell decision to "attempt to undermine marriage equality, to undermine the Supreme Court ruling."
As for Connolly, the bill's sponsor, she refuses to let ADF have the final say in her state. She told Rewire she aims to bring back the legislation. "I don't want them to think they won," she said. "They did not win."