Thousands Circle North Carolina's Busiest Abortion Clinic as Anti-Choice Group Marches On
The number of protesters was more than enough to drop the clinic's full Saturday roster to less than half of the typical number of patients it sees—showing exactly what sort of impact a large presence can have outside a clinic, regardless of whether that presence is openly hostile.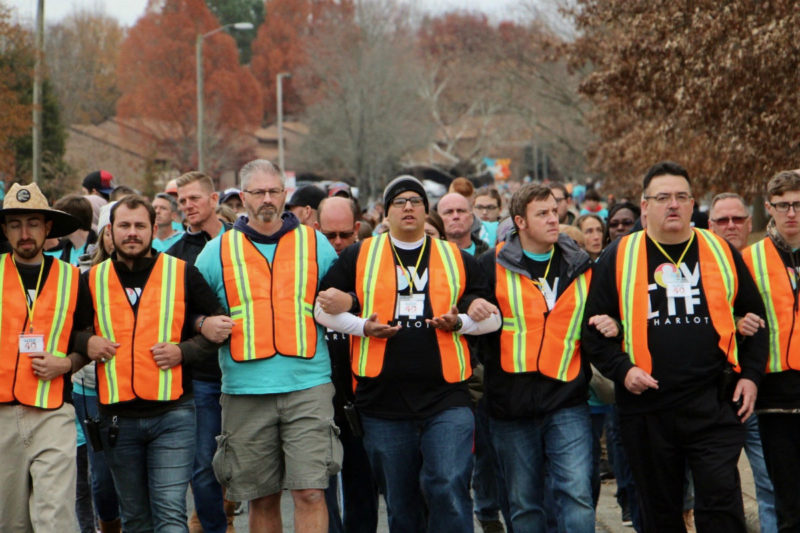 Thousands of anti-choice protesters arrived in Charlotte, North Carolina, on Saturday to protest A Preferred Women's Health Center. Robin Marty / Rewire
For the previous 39 weeks, Love Life Charlotte (LLC)—a local anti-choice group whose mission is "uniting and mobilizing the church to create a culture of love and life that will bring an end to abortion in Charlotte"—has conducted Saturday "prayer walks" at the busiest abortion clinic in North Carolina. On week 40, for its final event, shuttles were arranged to bring as many as 7,000 followers to march a 1.5-mile path looping A Preferred Women's Health Center.
According to LLC, nearly 4,000 attendees ultimately arrived on Saturday to gather for music and prayer at a site up the street from APWHC, followed by a half hour procession down the street to the clinic and back up again. Charlotte police put the number at closer to 1,500. Regardless, it was more than enough to drop the clinic's full Saturday roster to less than half of the typical number of patients it sees—showing exactly what sort of impact a large presence can have outside a clinic, regardless of whether that presence is openly hostile.
The hundreds of new protesters joined the usual regular cast of street preachers, "sidewalk counselors," and other abortion protesters who gather at the driveway on Latrobe Drive six days a week. Over the last year, Calla Hales, the director of APWHC, has seen the number of abortion opponents increase day by day, as Rewire documented in its film Care in Chaos. According to Hales, as of the beginning of November, the clinic had already seen 12,000 protesters this year—with at least two events drawing more than 1,000 protesters each. LLC's 40 week wrap-up appears to have dwarfed them all.
"This whole year, things have been getting worse," agreed Angela Anders, a Pro-Choice Charlotte member who organizes escorts for the clinic. "The city is paying less and less attention to us the more noise we make."
Learning from last year's LLC event, Hales sought out more assistance in preparation for what was planned to be the largest protest at an abortion clinic since the end of the rescue movement in the early 1990s. Clinic escorts and reproductive rights allies from Kentucky and Alabama drove into town, primarily holding signs to direct patients away from protesters and down the long stretch of circular road that leads to the clinic. Other volunteers dispersed throughout the mile of street, urging cars not to stop to talk to those with anti-abortion leaflets or carrying signs so traffic would flow smoothly while patients were being dropped off for procedures.
"It's good to have these defenders here," Jasmine Sherman of Pro-Choice Charlotte told Rewire. "But we need this many every day, not just on parade days."
The clinic also reorganized how it would schedule patients in order to minimize their contact with marchers and other abortion opponents. "This morning we are starting appointments earlier in the day than normal, we have twice as many escorts here as normal just to help be a comforting presence, a sign that it's OK to be here," said Anders. She told Rewire that patients were warned about the anti-choice presence and asked if they would prefer to come in Friday or Monday instead. "But obviously Saturday is the day you can, if you work," said Anders.
Clinic staff and volunteers consider LLC's march to be an aggressive effort to intimidate patients out of terminating their pregnancies. But David Benham, who acted as spokesperson for LLC in a media briefing, claimed otherwise. Benham is the son of Operation Save America's Flip Benham and founder of Cities4Life, an active sidewalk ministry whose members intercept patients outside APWHC to try to direct them to local "crisis pregnancy centers."
"Love Life is not here to protest anything. We are here to proclaim that we love Jesus and we love our neighbors as ourselves, and how we show that is providing for their tangible needs," said Benham, describing the group's housing and medical assistance for new families, its work in partnership with the state on promoting foster care, and other non-abortion clinic-related advocacy efforts. "We are here as the church to usher in love and life at the clinic in Charlotte. It doesn't matter who shows [up] against us.  It doesn't matter what people say against us and the stories that get spun."
The message from the main stage was one of peace and prayer, but that wasn't reflected by everyone directly outside the clinic. Approximately 20 minutes before the march began, Flip Benham was arrested for violating a noise ordinance by using a sound system in front of the clinic without a permit. He was released not long afterward, and within 30 minutes of his arrest, that same sound system was again being used as anti-choice leaders urged the marchers now swelling through the street to pray for those in the clinic, patients and doctors alike—words that could be heard clearly inside the clinic walls themselves.
However, there were far fewer patients to hear them than usual. While APWHC often schedules around 80 patients on a Saturday, this week that number was capped at 50 because of the protest, in hopes of having everyone in the clinic before the LLC activists arrived.
Only 28 patients came through the doors.
Clinic staff considered it a victory that it remained open despite the thousands of anti-choice activists, the large police presence, the large sound systems not just at the clinic but also a quarter of a mile up the drive, and the buses shuttling LLC attendees from parking lots to the rally site and back again. But there is little doubt that as many as 20 patients were unable to access an abortion that day simply because they were too confused, too overwhelmed, or too scared to navigate the sea of barricades, officers, and teal-shirted anti-abortion activists—even if those activists were primarily doing nothing but silently walking and praying.
"We have no-shows and drive-bys that happen on a normal day, with 10 to 15 protesters," said Anders, the clinic escort organizer. "They circle around a few times and drive away, and I'm sure it was a patient who didn't want to come in, who was intimidated and didn't want to talk to these street preachers. Today, I can't imagine."
"Access is being impeded by groups who come down these small side streets and swarm these clinics, putting them under siege, which blocks access for patients and also confuses patients who don't know if that clinic is open," said Jen Ferris, Progress North Carolina, a progressive liberal policies action group out of Raleigh that is working with the clinic. "People should be able to access clinics without fear of harassment."
Ferris suggests that one thing the city should do to ensure patients don't face similar situations is to stop issuing parade permits like the one it issued today. "Today they gave a permit for 5,000 people to come down this small street," she said. "You can see traffic is backing up. They could stop issuing sound permits. You can hear this inside the clinic and there is no reason a patient needs to hear religion shouted at them while they sit inside a clinic." Rewire has previously reported on noise levels outside of the clinic and the inadequate response of city officials in addressing them.
But getting the city to work with the clinic rather than those who want the clinic closed apparently may be easier said than done. "The city has been fabulous to work with," David Benham told the press at the rally. "They have worked very well with us. We are thankful that we live here in Charlotte." The city has not released a comment.
Come Sunday, the group says it will refocus its efforts on church outreach, growing its foster care and adoption ministry, and finding work, homes, and other domestic needs for the pregnant women and their families it encounters. And its members will still spend every Saturday walking the path in front of A Preferred Women's Health Center, though its crowd size will no longer be in the thousands and the police will no longer be flanking them as they go. But for the patients entering the clinic, even a smaller crowd is an intimidating presence, regardless of its size, aggression or intention. The question is whether the city will address it as the violation of abortion access it is, or continue to condone and contribute to it.