This Week in Sex: Happy World AIDS Day (Yes, There Is Reason to Celebrate)
More people worldwide have access to treatment and prevention than ever before, but 15 percent of people living with HIV in the United States don't know their status.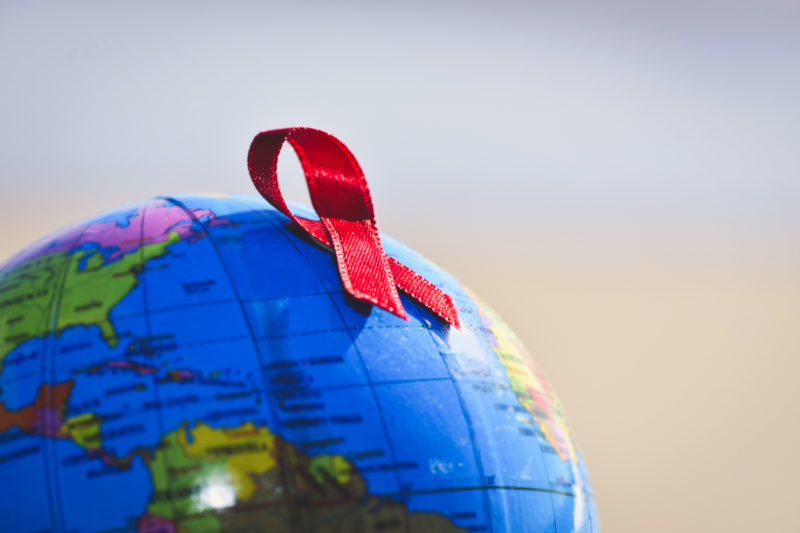 An estimated 19.5 million people living with HIV across the globe are accessing the anti-retroviral therapy they need to stay healthy. There's both much room to improve and still reason to celebrate strides in expanding care. Shutterstock
This Week in Sex is a summary of news and research related to sexual behavior, sexuality education, contraception, STIs, and more.
Many Nations, One Goal: Ending the Pandemic
Since 1988, public health organizations across the world have recognized today, December 1, as World AIDS Day to raise awareness of the epidemic, show support for those affected by HIV, and commemorate those who have died from AIDS-related illnesses.
The United Nations notes that, as of 2016, 76 million people have been infected with HIV worldwide since the start of the epidemic and 37 million were living with the virus. Last year alone, 1.8 million people across the globe became newly infected with HIV, and one million people died from AIDS-related illnesses.
But there is good news to celebrate this World AIDS Day: 19.5 million people across the globe are accessing the anti-retroviral therapy they need to stay healthy, and that includes 76 percent of pregnant and breastfeeding moms with HIV. This is an all-time high, which is drastically reducing the risk of mother-to-child transmission.
There are different themes to this year's day of recognition. The UN is celebrating "My Health, My Right"; the World Health Organization is pushing for universal health coverage with its theme "Everybody Counts"; and in the United Kingdom, the theme "Let's End It" references not just the epidemic but the stigma and shame.  The United States has declared its goal to "Increase impact through transparency, accountability, and partnerships."
We here at "This Week in Sex" concede that some of the themes are clearly catchier than others (we're looking at you, United States), but we recognize that World AIDS Day is and should be more than a slogan. It should be a day when we look at the progress we've made and the work still to be done. And it's a day for each of us to consider steps we can take to end the epidemic. For a start, December 1 is a great day to get tested.
Time Between Infection and Diagnosis Drops in U.S., But Some Don't Know Their Status
A new report from the Centers for Disease Control and Prevention (CDC) estimates the time between new HIV infection and diagnosis. As Jonathan Mermin, director of the CDC's National Center for HIV/AIDS, Viral Hepatitis, STD, and TB Prevention, told reporters, "Prompt diagnosis is prevention. It is the first step to protecting people living with HIV and their partners."
Prompt HIV diagnosis helps improve health outcomes for the individual and prevent further transmission in the community. In fact, the CDC explains that people who are unaware of their HIV infections are responsible for 40 percent of ongoing transmission.
To estimate the gap between infection and diagnosis, researchers at the CDC looked at the CD4 levels of people who were newly diagnosed with HIV in 2015. CD4 cells, also known as T cells, are white blood cells that play an important role in fighting off infection. A normal CD4 count is between 500 and 1,500 cells per millimeter of blood. HIV attacks CD4 cells, leaving individuals with a much lower count and vulnerable to opportunistic infections. By looking at CD4 levels at the time of diagnosis, CDC researchers were able to approximate how long the HIV virus had been in a person's blood.
The researchers found that the median time between infection and diagnosis was three years, but that there is a lot of variation based on race and gender:
The median time to diagnosis is longest for Asian-Americans at 4.2 years, compared to 3.9 years for Native Hawaiians or Pacific Islanders, 3.4 years for American Indians or Alaskan Natives, 3.3 years for Latinos and Black people, and 2.2 years for whites.
The median time to diagnosis among Americans 55 and older was 4.5 years compared to 4 years for those 45 to 54, 3.5 for those 35 to 44, 2.6 for those 25 to 34, and 2.4 for those 13 to 24.
The median time to diagnosis among males was 3.1 years compared to 2.4 years for females.
The research also found that the median time to diagnosis was highest among those who were infected through heterosexual contact. Straight men, in particular, are less likely to visit health-care providers than women or men who have sex with men. Heterosexual people were also less likely to be offered an HIV test when they do. This could explain some of the racial differences as well since male-female contact accounts for more infections among Asian-Americans, Black people, and Latinos than among whites.
Overall, the data point to a positive trend in testing. The time to diagnosis is down by 7 months, or 17 percent, from when it was last calculated in 2011. The researchers note the success of public health campaigns promoting testing as one possible reasons for this improvement.
Still, the study estimated that 15 percent of those infected with HIV in the United States are unaware of their status and that half of these people are living in the South.
NIH Testing New Method of Injectable Prevention
The National Institutes of Health announced on Thursday that it is launching a large-scale drug trial among sexually active women in East and Southern Africa. The study is testing whether a new anti-HIV drug called cabotegravir will work to prevent transmission if given as an injection every eight weeks. Using drugs to prevent HIV is referred to as pre-exposure prophylaxis or PrEP. The only drug currently approved for this use is Truvada, which is a pill taken once a day.
Women accounted for more than half (58 percent) of new HIV infections among adults in this area of Africa in 2016, and they typically have few options that they can control to prevent becoming infected. Research suggests that Truvada has to be taken every day without fail in order to protect women, which can be a challenge, especially for women who can't let their partner know they are taking a prevention pill.
The study will enroll more 3,000 women in seven countries. The women will be randomly assigned to get either Truvada or cabotegravir. To maintain their impartiality, those women who take Truvada will get a placebo injection every eight weeks and those on cabotegravir will take a placebo tablet every day. The women are expected to be in the study for more than three years, and results are not expected until 2022.
Cabotegravir was developed by GlaxoSmithKline, and the company is working with the NIH and the Bill and Melinda Gates Foundation on this study. Last year, it started a similar study—also testing an injectable form of PrEP—among men and transgender women who have sex with men.