Veteran of Charles Koch's Far-Right Higher Ed Machine Joins Department of Education
Education Secretary Betsy DeVos has repeatedly confirmed what civil rights advocates feared: She will do all she can to impose her conservative Christian values on the public education system.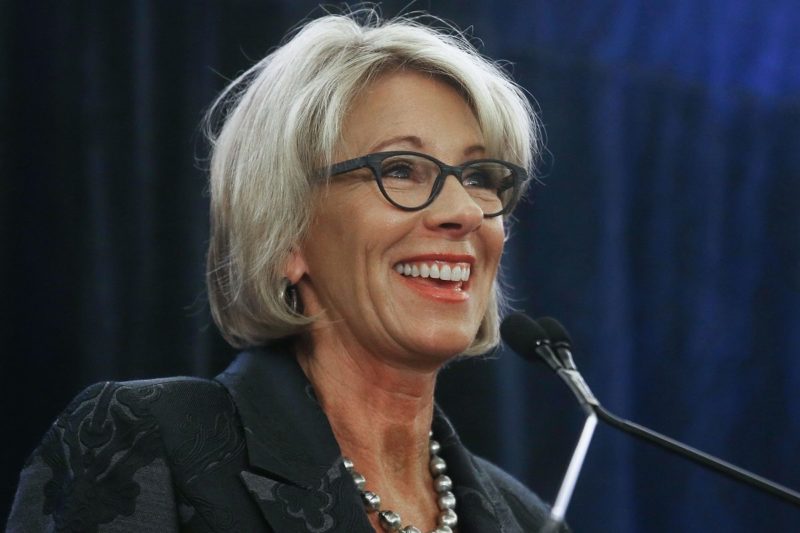 The DeVos-led Dept. of Education has been quiet on how it will deal with campus sexual assault, so much so that the National Women's Law Center sued the department on June 12 for records of federal enforcement of Title IX. Mario Tama/Getty Images
As of June 19, Adam Kissel is now deputy assistant secretary for higher education programs in the U.S. Department of Education.
Kissel enters the public sector as a veteran of conservative billionaire Charles Koch's ideological network, having worked for several Koch-funded institutions that are part of Koch and his brother David's vast web of think tanks, nonprofits, and political advocacy groups that work together to push extreme, far-right, small-government economic policies into the mainstream.
Kissel is a key figure in the conservative push for "campus free speech," a movement that enables hate speech on campus and is partially financed by the families of Koch and of U.S. Department of Education Secretary Betsy DeVos. Based on his past, one can only conclude that Kissel's addition to the department will mean an even larger emphasis on privatization of colleges and universities and the potential for increased hate speech on campus.
A Product of the Far-Right Koch Pipeline
Since at least 2001, Kissel has worked for or with numerous Koch-backed institutions, some of which have also received funds from DeVos and her family.
From 2001 to 2004, according to research by UnKoch My Campus, an activist group that researches and opposes Koch influence in higher education, he received nearly $23,000 in fellowship funds from the Institute for Humane Studies (IHS), a free-market think tank on the campus of George Mason University (GMU) in Virginia. GMU has received by far the most funding from the Charles Koch Foundation (CKF) of any university, which is why reporters have called it "Koch U." It is unclear what Kissel did with this funding.
CKF is far and away the biggest donor to IHS, according to ConservativeTransparency.org, a website that compiles public tax information of conservative nonprofits. The current IHS board of directors is essentially a who's who of the Koch higher-ed network, and includes Charles Koch himself. Also funding the think tank is the Lynde and Harry Bradley Foundation, which has recently come under scrutiny for its nationwide plan to boost conservative infrastructure in the states.
From 2006 to 2007, Kissel was a fellow at the Intercollegiate Studies Institute's Jack Miller Center and Lehrman American Studies Center. According to his LinkedIn page, Kissel directed faculty, curricula, and programs "designed to develop new academic centers and provide resources for developing the next generation of college professors."
The Jack Miller Center is a nonprofit that funds academic programs to "reinvigorate the teaching of America's founding principles and history." The Koch family foundations donated more than $1 million to the center through 2014, most of it during the time Kissel worked there, and the Bradley Foundation has given close to $700,000. Richard Fink, a former president of CKF, was previously on the board of directors at the center.
The Jack Miller Center—which became independent as of fall 2007—began as a project of the Intercollegiate Studies Institute. Founded in 1953 "to counter the progressive ideology taking over American colleges" and led by William F. Buckley, the Intercollegiate Studies Institute funds fellowship programs, publications, and student newspapers with an emphasis on basic conservative principles such as limited government, free-market economy, and "traditional values." The biggest funder of that institute is the Richard and Helen DeVos Foundation (more than $8 million through 2014), the foundation named after Betsy DeVos' parents. The Bradley Foundation has chipped in $3.5 million, and two Koch family foundations have combined to donate over $700,000.
Kissel then went on to work at the Foundation for Individual Rights in Education (FIRE), a libertarian-minded nonprofit with a mission "to defend and sustain individual rights at America's colleges and universities," including freedom of speech and religious liberty. FIRE is funded by the usual suspects of right-wing politically motivated philanthropy: more than $1.5 million from two Koch foundations; over $1.3 million from the Bradley Foundation; and $25,000 from the Dick and Betsy DeVos Foundation. Its biggest funder, however, is Donors Capital Fund, which is in turn funded by Donors Trust, a big-money conduit that allows major conservative donors including the Kochs, DeVoses, and Bradleys to funnel their money to an array of organizations while avoiding public disclosure.
At FIRE, where Kissel worked for five years and rose to vice president of programs, he defended campus free speech and campaigned against efforts to strengthen protections for survivors of campus sexual assault.
After FIRE, Kissel went to work for CKF as a program officer while returning to IHS as a visiting fellow for roughly a year. CKF has a history of donor agreements with colleges and universities that contain especially strict stipulations for the money's use. In some cases, CKF has given itself control of university hiring and course curriculum.
As a CKF representative, Kissel attended at least one Association of Private Enterprise Education conference, where Koch-funded professors, big-business representatives and Koch-backed think tank scholars meet to share strategies for founding free-market centers or taking over university departments.
Free Speech Over Student Welfare
Kissel is largely known as a free-speech champion among conservatives for his work at FIRE, which has a strict First Amendment stance and fights for "campus free speech."
The campus free speech movement has largely been led by conservatives reacting to liberal students who protest racist campus speakers such as Charles Murray, who wrote a book that claimed Black people were intellectually inferior to white people; Milo Yiannopoulos, an "alt-right" icon and well-known racist and misogynist provocateur; Ann Coulter, an outspoken far-right conservative who regularly publishes on the white nationalist website VDARE; and David Horowitz, one of the nation's most venomous Islamophobes. In these and other cases, conservative groups value the free speech rights of guest speakers over the students themselves; in one case, about which Kissel wrote, FIRE appeared to support punishment of students who protested a 2010 lecture by an Israeli ambassador at the University of California, Irvine.
As I reported at AlterNet, right-wing organizations such as Young America's Foundation (YAF) and the American Enterprise Institute (AEI), both bankrolled by the Koch and DeVos families, pay for extremists to give campus lectures. These figures are too distasteful for most universities to pay their fees, but YAF and AEI have hundreds of student organizations at schools around the country. The conservative organizations make speaker suggestions to the groups, which then request their desired speaker, sometimes in conjunction with a College Republicans group. YAF and AEI foot some, or all, of the bill.
The result is more hate speech on college campuses coupled with a crackdown on dissent. Not only are conservative billionaires providing the funds for right-wing extremists to speak to college students, they're also bankrolling the movement to impose harsh penalties on students and faculty who voice their disapproval at events featuring white nationalists and anti-Muslim speakers.
As I reported previously, the Kochs both directly and indirectly fund a think tank called the Goldwater Institute, which crafted a model bill that penalizes campus protesters who interrupt speeches with long-term suspension or expulsion. Numerous states have adopted versions of the bill already.
At the Department of Education, Kissel joins DeVos and likely others in the right-wing crusade to protect fringe campus speakers. At this year's Conservative Political Action Conference, which, ironically, frequent campus guest Yiannopoulos was originally scheduled to headline until his controversial comments on pedophilia surfaced, DeVos told the crowd, "The education establishment … tell[s] you what to do, what to say, and more ominously, what to think …. But the real threat is silencing the First Amendment rights of people with whom you disagree."
Given his history at FIRE in particular, Kissel is also likely to push against protections guaranteed by Title IX—the law that governs how schools handle sexual harassment and assault on campus-in the name of "free speech." Sen. Patty Murray (D-WA) said in a statement, "I am deeply troubled this hire is another concerning sign that President Trump plans to make it more difficult for survivors of campus sexual violence to get justice. Campus sexual violence is an urgent public health threat nationwide, and rolling back steps that have empowered more survivors of sexual violence to come forward will only send this problem back into the shadows."
The DeVos-led Dept. of Education has been quiet on how it will deal with campus sexual assault, so much so that the National Women's Law Center sued the department on June 12 for records of federal enforcement of Title IX. The acting head of the department's civil rights office, Candice Jackson—who is the person in charge of enforcing Title IX—recently refused to publish a list of universities with active sexual assault investigations, something the Obama administration ended up doing after pressure from advocates. Jackson has a disturbing record on civil rights, and has condemned feminism on college campuses.
In the four months since she narrowly squeaked by her confirmation vote to become education secretary, DeVos has repeatedly confirmed what civil rights advocates feared: Just as her past indicates, she will do all she can to impose her conservative Christian values on the public education system and privatize it as much as possible. This also appears to include hiring individuals who will not protect vulnerable students. Anti-racists and those who believe in transgender rights, protection for sexual assault victims, and fair and equal opportunities for all students will need to fight her agenda every step of the way.