Virginia's First Transgender Candidate Could Take on 'Bathroom Bill' Sponsor (Updated)
Danica Roem doesn't shy away from her status as the first transgender candidate for Virginia's General Assembly—while vying for the chance to run against one of the most hardline Republicans in the GOP-dominated House of Delegates.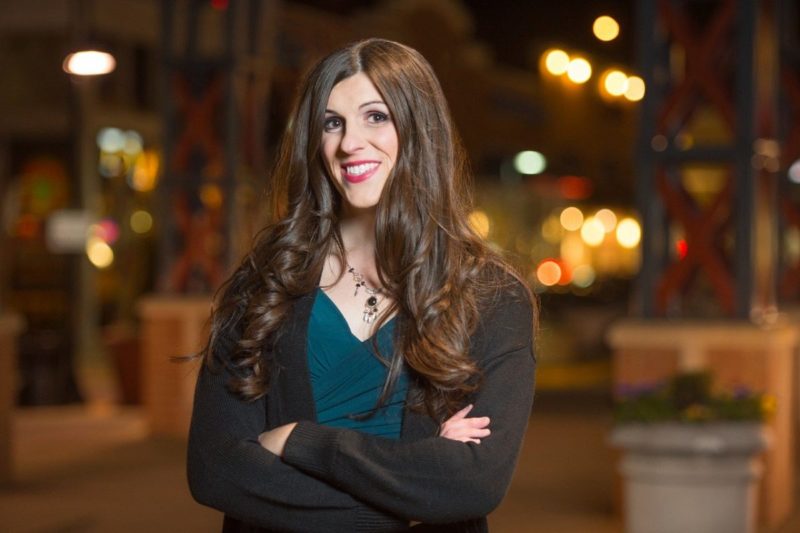 Danica Roem said her historic candidacy doesn't excuse her from delivering on "quality-of-life issues." Courtesy of Danica Roem
UPDATE, June 14, 8:25 a.m.: Danica Roem took Virginia's 13th District Democratic primary on Tuesday with 42.96 percent of the vote against three other candidates.
In 1862, on the battlefields of Manassas, Virginia, Confederate soldiers led by Gen. Robert E. Lee defeated the Union, leading to the South's first march into northern territory. It was the height of the Confederacy's powers; within three years, Richmond would be in flames.
You can still step onto the battlegrounds for a bit of respite from the near-constant traffic of U.S. 66 and Route 28, which run through the Virginia House of Delegates' 13th District. Most who live here are on the road a lot, commuting into Washington, D.C..
In Prince William County, clusters of townhouses, shopping centers, and planned communities have replaced farmland, and the Jiffy Lube Live outdoor concert pavilion pulls thousands more people onto local roads. The region is known just as much for its traffic snarls as it is for Civil War history.
Traffic is the issue Danica Roem has seized upon as one of four Democrats looking to win Tuesday's primary in the 13th. She hammers home her argument that incumbent state Del. Bob Marshall (R) has promised to do something about the traffic on Route 28 since he was elected to the Virginia House of Delegates in 1991 but has failed to make substantive changes to the road.
"His own party doesn't take him seriously," Roem told Rewire in a Thursday interview. "Del. Marshall's legislative priorities are more concerned with where I go to the bathroom."
Roem, 32, doesn't shy away from her status as the first transgender candidate for Virginia's General Assembly—while vying for the chance to run against one of the most hardline Republicans in the GOP-dominated House of Delegates. Marshall, for example, sponsored a failed "bathroom bill," which had it succeeded would have affected the rights of many other Virginians, including Roem. Since transitioning to female in 2013, she has advocated for the Prince William School Board to include sexual orientation and gender identity in anti-discrimination protections, an uphill battle that continues today.
Roem said her historic candidacy doesn't excuse her from delivering on "quality-of-life issues," like promoting local business, supporting schools, and improving transportation.
"I'm transgender and I am well qualified," she said, pointing to her experience as a longtime community journalist reporting on "hyperlocal issues," as well as creating detailed plans to expand Route 28 without increasing taxes, raising teachers' salaries, improving health care, and bringing more tenants to Innovation Park, a high-tech business space in Prince William County.
Roem argues that Marshall has neglected the basic needs of the district in favor of his social agenda, which he bolsters with what Roem calls "alternative facts, which we in the newsroom would call B.S." She points to a letter she says Marshall sent to constituents defending the discriminatory bathroom bill by citing a study by a former Johns Hopkins scientist that has since been disavowed by the university.
Marshall's bathroom discrimination bill was killed in subcommittee, just like many of his efforts to curtail LGBTQ rights and women's reproductive freedom. In the 2016 General Assembly session, 2.4 percent of his bills were passed, according to the Richmond Sunlight, a site that tracks the state legislature. By comparison, Del. Dave Albo, a Republican elected in 1993, saw 30 percent of his bills pass last year. Even Democrats with less seniority fared better than Marshall, passing between 18 and 50 percent of their bills in 2016.
Marshall did not return a request for comment before this story's deadline.
A lifelong Manassas resident, Roem has spent much of her career as a community journalist. She was a reporter for nine years at two Prince William County newspapers, while contributing stories to "The Hotline," Atlantic Media's daily political briefing. Before entering the race, Roem was news editor at a community paper in Montgomery County, Maryland. Today she's a full-time candidate and, if elected, will supplement the position's $17,640 salary by taking a writing job. Roem also moonlights as a vocalist in a metal band—probably another first for the Virginia legislature.
She is running against three other Democratic candidates in Tuesday's June 13 primary: Steven Jansen, a former prosecutor who now runs a pro-gun control organization; business owner Mansimran Kahlon, Virginia's first Sikh candidate; and Andrew Adams, an Army veteran who entered the race late and lags behind the others in fundraising. Jansen and Kahlon are ahead of Roem in money raised.
"The difference between money and candidates can be made up by a good ground game," Don Shaw, a Prince William County Democratic Party leader who ran against Marshall in 2015, told Rewire by phone last week. "I think there are three candidates that have as good a chance of winning. It's not like there's one runaway."
Shaw, speaking for himself and not on behalf of his organization, said he encouraged Roem to consider running last August, before anyone had announced a Democratic candidacy.
"She probably has a better grasp of the issues in the 13th District than anybody else. She was a reporter for the better part of a decade, so everybody knew who she was," he said.
Roem also fielded a call from Del. Rip Sullivan, a Democrat who represents Arlington and Fairfax County. "He wants as many Democrats to run as possible across Virginia," said Kate Petersen, Sullivan's legislative assistant. "There are four great candidates running against Bob Marshall."
The big question is, why hasn't Marshall—whose district voted for Obama and Clinton—been left in the dust? One reason is residents' inattention to off-year elections, plus Marshall's reputation for good constituent services, according to Shaw and Roem. Shaw said Marshall "finds an issue before election time and gravitates toward the populist perspective on it. A lot of people don't realize the extent of his extreme views."
Marshall is known for, among other things, his fiery opposition to abortion. He has sponsored several failed "personhood" bills in the state and drew scorn in 2010 for suggesting that children born with disabilities were "vengeance" against women who have had abortions, a statement he later apologized for.
He has a long history of opposing LGBTQ rights, having sponsored bills to revoke protection of LGBTQ students in public schools and provide legal immunity to businesses or organizations that refuse service to LGBTQ people. Marshall called for the impeachment of Attorney Gen. Mark Herring in 2014 in part for his refusal to fight same-sex marriage in court. None of these measures made it out of committee sessions.
Roem's instincts as a journalist seem to have already served her well, prompting more media coverage of Marshall's bills and his aforementioned mailers that feature his extreme views on LGBTQ people.
"You've got to keep him on the defensive," Shaw said. "You've got to keep him explaining, responding and answering. Marshall has hidden what his social agenda is, but you don't have to dig very deep to find it."
CORRECTION: This piece has been updated with the correct spelling of Mansimran Kahlon's name.