Trump Administration: 'Protected' Haitian Immigrants Have to Leave in January (Updated)
Opal Tometi, co-founder of Black Lives Matter, called on the administration to "alter its perception of black immigrants as criminals and instead implement long term programs that allow immigrant families to live and thrive in the United States."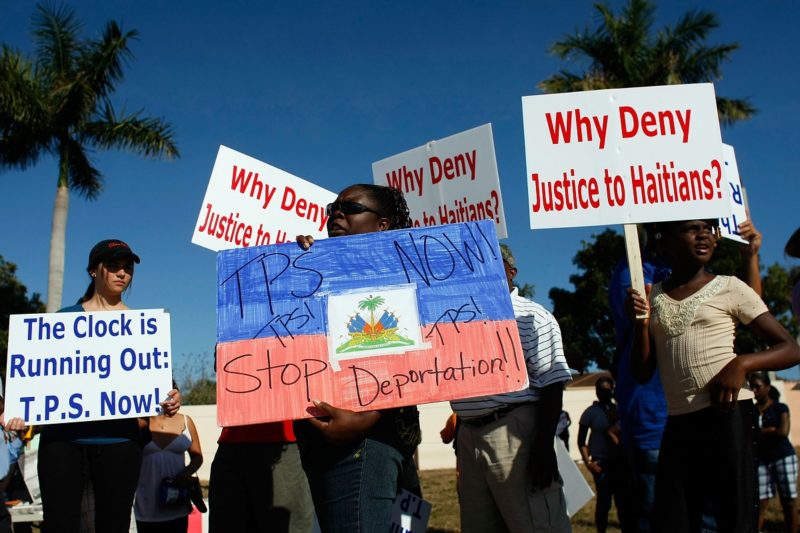 Groups working with Haitian immigrants called on the federal government to extend TPS for 18 months. Joe Raedle/Getty Images
UPDATE, April 16, 2:55 p.m.: A second federal judge on Sunday blocked the Trump administration's termination of Temporary Protected Status for Haitian immigrants in the US, the Associated Press reports.
Department of Homeland Security (DHS) Secretary John Kelly announced Monday a six-month extension of Temporary Protected Status (TPS) for Haitian immigrants.
Kelly said he believed "there are indications that Haiti … may not warrant further TPS extension past January 2018." The extension is effective between July 23, 2017 and January 22, 2018. Advocates are taking Kelly's statement to mean that in six months, the United States will begin mass deportation of the United States' 50,000 Haitian TPS recipients.
TPS gives people from designated countries temporary permission, on humanitarian grounds, to remain and work in the United States during times of natural disaster or civil strife in their country of origin.
Haitian immigrants were first given TPS in 2010 by the Obama administration after one of the region's most destructive earthquakes affected an estimated 3 million people and killed more than 200,000. The administration last year renewed the extension after Hurricane Matthew, which decimated the southern region of the nation, killing 1,000 people, leaving a cholera outbreak in its wake, and halting reconstruction work ongoing after the earthquake.
Groups working with Haitian immigrants, including the Black Alliance for Just Immigration (BAJI), were calling on the Trump administration and Kelly to extend TPS for 18 months. BAJI in a statement called Monday's decision "discouraging, but not surprising."
"America has a moral obligation to support Haitian immigrants by extending Temporary Protected Status without delay and ending deportations to Haiti," said Opal Tometi, co-founder of Black Lives Matter and executive director of BAJI. "The Department of Homeland Security must also fundamentally alter its perception of black immigrants as criminals and instead implement long term programs that allow immigrant families to live and thrive in the United States."
The Associated Press reported last week that a Trump administration official was digging for "unorthodox" information on Haitian TPS recipients as DHS considered the extension: crime data and information related to public benefits.
The AP obtained internal emails in which a "top immigration official wanted not only crime data on Haitians who are protected from deportation under the Temporary Protected Status program, but also how many were receiving public benefits. Such immigrants aren't eligible for welfare benefits."
The immigrant rights organizations UndocuBlack Network and the National Immigration Law Center (NILC) have filed a Freedom of Information Act (FOIA) request with the agencies involved in the TPS adjudication process to get more information about how the administration arrived at its decision.
Kamal Essaheb, policy and advocacy director at NILC, said in a statement that while she was "pleased" about an extension, the time allotted by the extension is not enough.
"A six-month extension will hardly appease the concerns of those who face a return to a country that has been ravaged by natural disasters and continues to experience political and economic turmoil," Essaheb said. "Furthermore, we cannot overlook the gravity of the Trump administration's behind-the-scenes attempts to criminalize and vilify Black and immigrant communities."