'Crimmigration' and the Need for Actual Sanctuary Cities
"While many officials champion their status as 'sanctuary cities' and have taken meaningful steps to protect immigrant communities, sweeping criminal laws in these places leave many immigrants trapped within an arm's reach of deportation."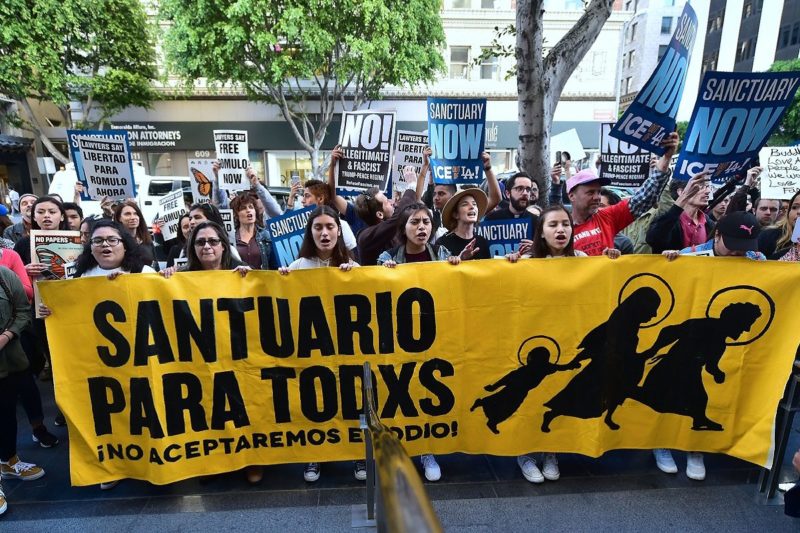 While it may seem sanctuary cities are stuck between a rock and a hard place under an administration that has vowed to defund and shame them, in states pushing anti-immigrant policies, public officials such as mayors, city councils, county commissioners, and law enforcement officials actually have a great deal of power and discretion over policing in their communities. Frederic J. Brown/AFP/Getty Images
A new report released last week confirms what advocates have been saying about so-called sanctuary cities since President Donald Trump began his full-fledged attack on them: Many of the regions that identify as safe havens for undocumented individuals, no matter how well-meaning, have criminal justice systems in place that target undocumented people.
As Rewire reported in November, "sanctuary cities" have a number of inconsistencies, including offering their immigrant residents little more than statements of solidarity. But according to the new report, The Promise of Sanctuary Cities and the Need for Criminal Justice Reforms in an Era of Mass Deportation, there are much larger issues at play. The report makes recommendations for jurisdictions to truly protect their residents.
"Because of the way federal immigration law and deportation policies are entangled with the criminal justice system, cities that strive to be safe spaces often have criminal justice systems that feed the President's deportation machine," reads the report from the Fair Punishment Project and the Immigrant Defense Project, with support from the Immigrant Legal Resource Center.
"While many officials champion their status as 'sanctuary cities' and have taken meaningful steps to protect immigrant communities, sweeping criminal laws in these places leave many immigrants trapped within an arm's reach of deportation," the report says.
"Crimmigration"
What the report largely details is something called "crimmigration," a term coined in 2006 by legal scholar Juliet Stumpf describing the intersection of criminal law and immigration law. The overlapping of these two systems allows the federal government to achieve two goals: detain people suspected of committing crimes and reduce the number of unauthorized immigrants in the country.
As CityLab reported in September, some of the first laws that eventually led to crimmigration emerged under the Reagan administration; "subsequent ones were enacted with the blessings of both the Republican and Democratic presidents that followed," journalist Tanvi Misra wrote.
A bulk of crimmigration laws primarily addressed drug crimes and immigration, "leading to more overlap in the roles of law enforcement and immigration officers and greater coordination between them," Misra reported. Around the same time, the category of criminal activity called "aggravated felony" was dramatically broadened, hitting Black communities especially hard. For non-citizens arrested for these crimes, deportation was immediately triggered. These laws also authorized pre-trial, mandatory detention,  and they reimbursed local and county governments for imprisoning immigrants, according to CityLab.
In The Promise of Sanctuary Cities, the report's authors outline how Trump is only ramping up crimmigration that was in place from Obama's administration, relying on local criminal justice systems to deport as many people as possible.
The Washington Post reported last month that about "half of the 675 immigrants picked up in roundups across the United States in the days after President Trump took office either had no criminal convictions or had committed traffic offenses, mostly drunken driving, as their most serious crimes."
This style of policing, called "broken windows policing" or "quality of life policing," in which people receive harsh penalties for low-level offenses, emerged in the 1980s and largely affected Black communities. In the years since, no evidence has emerged proving that it reduces serious crime. The policy has resulted in the incarceration of low-level offenders who ostensibly pose no safety risk to the community, and harm people in racially segregated communities.
So-called sanctuary cities are not immune to this style of policing. The report cites urinating in public, driving without a license, subway turnstile jumping, and using a small quantity of marijuana as the types of offenses that can trigger a deportation in self-described sanctuary cities such as Chicago, New Orleans, and New York.
"Often in these cities, you have mayors or law enforcement officials publicly saying they are a welcoming city for non-citizens, but on the other hand, they continue to arrest people for selling a single cigarette in New York or until recently, for possessing a little marijuana in Houston," said Michael Admirand, senior legal counsel at Harvard Law School's Fair Punishment Project and one of the authors of the report. "These offenses have huge consequences and this very aggressive enforcement of low-level, non-violent offenses completely undercuts a city's ability to be a sanctuary, no matter how grand their pronouncement."
In a phone interview with Rewire, Admirand said that what low-level offenses are targeted depends on locality and that each locality has different enforcement priorities. In New York City, the one jurisdiction that has perhaps been the most vocal against Trump's sanctuary city crackdown, the mayor has refused to take turnstile jumping off a list of 170 crimes on which the New York Police Department collaborates with Immigration and Customs Enforcement (ICE). In Los Angeles, low-level offenses related to vagrancy are enforced aggressively.
"As a law enforcement agency, you are participating in immigration enforcement when you arrest someone for a low-level, non-violent offense because when you arrest someone, there are fingerprints and when there are fingerprints, that information gets sent to the Department of Homeland Security and that puts a person on ICE's radar. ICE can find out who they are, where they are, and if ICE has the resources and manpower that day, they can take that person into custody. So whether or not a local law enforcement agency is openly collaborating with ICE or not, they are nevertheless assisting ICE in enforcement by simply arresting folks for jumping a turnstile," Admirand said.
When any person is taken into custody by local law enforcement, their fingerprints are captured and sent to other agencies, such as DHS, as well as run through different databases. For those in the country without authorization, this means that an arrest for something as minor as turnstile hopping can lead to their deportation back to potentially life-threatening circumstances.
This is because upon learning an undocumented person is being held in a jail, ICE will issue something called a detainer request. ICE detainer requests, though not mandatory or legally required, are a key crimmigration tool that involves a written request asking "a local jail or other law enforcement agency detain an individual for an additional 48 hours (excluding weekends and holidays) after [their] release date in order to provide ICE agents extra time to decide whether to take the individual into federal custody for removal purposes," the ACLU explains on its site. Although some regions choose not to honor detainer requests for a variety of reasons, the Trump administration has highlighted detainers as a way to shame and stigmatize regions that do not hold people on a detainer under ICE's request.
Emboldened by Trump, ICE is also working to make conditions impenetrable for so-called sanctuary cities. For example, in Travis County, Texas, which includes Austin, Sheriff Sally Hernandez said she would ignore most ICE detainers. But in February, immigration officials obtained federal arrest warrants for at least 42 immigrants, charging most with federal felonies for illegally re-entering the United States. "By using judicial arrest warrants instead of detainers, ICE is now requiring rather than requesting that immigrants be detained—and Hernandez was thus compelled to turn them over to the feds," Slate reported.
"These policies are a way of assisting the Trump administration [in mass deportations] without affirmatively saying so," Admirand said. "Officers have significant discretion of what they charge people with and how severely, and that discretion is more important now than ever."
Who Benefits From "Crimmigration"?
While the new sanctuary cities report doesn't outline who is benefiting from crimmigration, it's worth pointing out that it's a system profiting entirely off of the detainment and deportation of immigrants. One undocumented woman whose husband was deported over a minor traffic offense told Rewire that she considers the system "human trafficking."
The criminal justice system and the immigration system are now so deeply intertwined that there is no simple way to unravel them. And the institutions upholding the system have little reason to detangle them: Criminalizing immigrants is a highly lucrative business, and private prison companies like GEO Group and CoreCivic (formerly Corrections Corporation of America) not only benefit financially, but also create incentives for cities that allow these privately-run detention centers to operate in their jurisdictions.
When a private prison company opens a detention center, it provides jobs to locals, which also translates to a boost to the local economy. There can be other incentives too. In Karnes County, Texas, where GEO Group runs the Karnes family detention center, the private prison company reportedly gave the county $4,000 for school scholarships and $6,000 for maintenance and upkeep of the city's courthouse. GEO Group also contributed to the local rotary club, Toys for Tots, the Little League, Relay for Life, and other local organizations and events, NPR reported in 2011.
Under Trump, the stock of GEO Group and CoreCivic is up 100 percent, but these companies have long had a stronghold on the U.S. criminal justice system despite their histories of human rights abuses, including in-custody deaths.
Every year, private prison companies spend millions of dollars influencing public officials—including advocating for legislation that benefits their business models, making campaign contributions to candidates (including Trump), and seeking new contracts with federal immigration agencies such as ICE, In The Public Interest reported in October. These companies have successfully expanded the role they play in the U.S. criminal justice system to such a degree that they are dictating laws.
In Texas, for example, GEO Group wrote the legislation advancing through the Texas State Senate, which would allow family detention centers to be classified as child-care facilities, operating at reduced standards and enabling ICE to detain women and their young children for longer periods.
There's also the fact that private companies literally benefit at every stage of the immigration detention system. Whether it's the inadequate and deadly health care people in detention are provided; the spoiled food they are served; the inadequate, expensive telephone access they are forced to rely on; or the GPS ankle monitor they must wear if they're released, all of these services are privatized.
Trump's "Biggest Fallacy" Regarding Sanctuary Cities
Admirand said the "biggest fallacy" Trump and his administration have managed to normalize is that sanctuary cities make "citizens" less safe. In a recent statement about sanctuary cities, Attorney General Jefferson Beauregard Sessions III reiterated popular Trump talking points: Sanctuary cities endanger Americans; they house murderers and rapists; and they are responsible for the deaths of "countless" Americans. This is far from the truth.
As many have reported, those in the country without authorization are less likely to commit crimes or be incarcerated than the general population. The recent period of rising immigration to the United States from 1990 to 2013 actually corresponded with plummeting crime rates across the country, according to the American Immigration Council.
Also, even in sanctuary cities that routinely refuse to honor ICE detainer requests, these jurisdictions often honor ICE detainers for those who have committed serious, violent crimes, according to the sanctuary cities report. For example, in 2012 after the implementation of the Secure Communities program, the Council of the District of Columbia passed the D.C. Immigration Detainer Compliance Amendment Act, which limited law enforcement's authority to cooperate with ICE. Under the law, however, local police honor detainers for individuals in custody who have been convicted of dangerous and violent crimes.
There's also the fact that sanctuary cities contribute to the vitality and the safety of a community, Admirand said.
Counties that did not comply with ICE detainer requests not only experienced 35.5 fewer crimes per 10,000 people than those that did, NPR reported earlier this year, but also had higher household incomes, lower rates of unemployment, lower rates of poverty, and were less likely to have children under 18 in households receiving public benefits.
So although Trump has been unsuccessful at defunding sanctuary cities, his threats against them have done irreparable harm to undocumented communities. Dan Satterberg, the top prosecutor in Washington state's King County, which includes the sanctuary city Seattle, recently told the Washington Post that "the federal government, in really just a couple of months, has undone decades of work that we have done to build this trust [with the undocumented community]."
If, for example, an undocumented person living in an apartment building is too afraid to contact the police about a crime being committed, that affects everyone in their community. This shameless targeting of immigrants has the potential to make every person, in every city, no matter their citizenship status, unsafe.
Cities Must Reform
The debate over sanctuary cities seems only to be getting started. On May 7, Texas Gov. Greg Abbott (R) signed a law effectively banning sanctuary cities across the state. In Nevada, Senate Minority Leader Michael Roberson is leading the charge to amend the state constitution to ban sanctuary cities. Roberson also recently announced the creation of Prevent Sanctuary Cities, a political action committee pursuing a ballot question that would prevent Nevada from allowing sanctuary cities.
While it may seem sanctuary cities are stuck between a rock and a hard place under an administration that has vowed to defund and shame them, in states pushing anti-immigrant policies, public officials such as mayors, city councils, county commissioners, and law enforcement officials actually have a great deal of power and discretion over policing in their communities. To be more of a sanctuary for undocumented individuals, the report's authors suggest that cities make the following changes:
Public officials should prohibit all government agencies—particularly those in law enforcement—from working with immigration authorities. This means not honoring warrantless detainer requests, not collecting information about an individual's immigration status or place of birth, and not sharing information with ICE beyond what federal law requires. This includes not entering into 287(g) agreements. Such agreements, which exist in some 40 jurisdictions nationwide, essentially deputize police officers to act as immigration agents, which undermine their ability to offer sanctuary.
Jurisdictions should not only decriminalize certain offenses, but also end broken windows policing entirely. "Cities should, at a minimum, create civil enforcement options for low-level crimes, which would reduce the number of arrests and decrease over-incarceration in local jails," the report reads. "District attorneys should stop prosecuting [broken windows policing] cases, and should, at a minimum, create pre-plea diversion programs for low-level offenses."
The Sixth Amendment requires defense counsel to advise non-citizen defendants of the immigration consequences, such as deportation, of a potential conviction. In order to fulfill this obligation, local governments should adequately resource public defender offices. Prosecutors should also stop asking for cash bail. Often, the requirement of cash bail keeps low-income people of color in jail for low-level crimes—and that is complicated by immigration status. The longer an undocumented person sits in jail, the more apt they are to be taken into ICE custody.
Judges should not ask about citizenship or immigration status on the record, such as at a hearing, and should refrain from providing information on immigration consequences on the record. This is because if a defense counsel does not comply with their duty to "provide affirmative and accurate advice, a court notification can make it more difficult for an individual to vacate the improperly counseled—and therefore unconstitutional—plea." Judges should also prohibit courthouse arrests because of immigration status, such as the arrest of Ms. Gonzalez, an undocumented transgender woman detained by ICE in Texas while at a hearing seeking abuse protection from her boyfriend.
Lastly, jurisdictions should consider immigration consequences for a person at every stage of the criminal process, starting with the initial charging decision and lasting throughout plea negotiations. This recommendation could have the most power over how successful a city is at providing sanctuary. And it seems that some prosecutors are already working to implement this consideration. The Baltimore state attorney, for example, has circulated a policy directing attorneys to consider immigration at every step. In Seattle, the King County prosecuting attorney has historically asked that immigration consequences be considered from charge to sentencing.
Admirand told Rewire that much of what the report recommends should be considered "baseline" offerings by so-called sanctuary cities. Under the current administration's watch, he said, just about any policy that doesn't directly mirror or echo the Trump administration's priorities will be considered sanctuary. This provides local officials with the opportunity to define sanctuary for themselves and to put into place reforms that protect non-citizens and citizens alike, making their communities fair and equitable places.
"It's one thing for a mayor to say their city is a sanctuary city, but if local law enforcement is not limiting the information it collects; if it is not using discretion to not arrest someone for minor offenses; if it is allowing ICE into the local jail without a warrant, no matter what a mayor says, local law enforcement is eviscerating the city's ability to be a sanctuary," Admirand said. "It is imperative that folks hold local officials accountable. No matter what they say, they have tremendous discretion over city's law enforcement apparatus and these officials need to feel every bit of pressure and backlash possible over their broken promises."