The Resistance in Photos: Trump's First 100 Days
A contingent of the resistance movement gathered around the Freedom Bell on the Inauguration Day of Donald J. Trump. Lauryn Gutierrez/Rewire
A woman demonstrated at a check-point blockade on Inauguration Day. Lauryn Gutierrez/Rewire
The Women's March on Washington brought hundreds of thousands of demonstrators to Washington, D.C., the day after inauguration. Lauryn Gutierrez/Rewire
Summer Zervos, one of the many women who accused Donald J. Trump of sexual misconduct and defamation, emotionally embraced a supporter. Zervos attended the Women's March on Washington with her lawyer, Gloria Allred, and several other women who publicly accused Trump of sexual assault or misconduct. Lauryn Gutierrez/Rewire
The Women's March on Washington reached the south side of the White House. Lauryn Gutierrez/Rewire
Demonstrators gathered at the White House for the first of many #NoBanNoWall protests in response to Trump's Muslim ban on January 29. Lauryn Gutierrez/Rewire
#NoBanNoWall marchers flooded the steps of Trump International Hotel. Lauryn Gutierrez/Rewire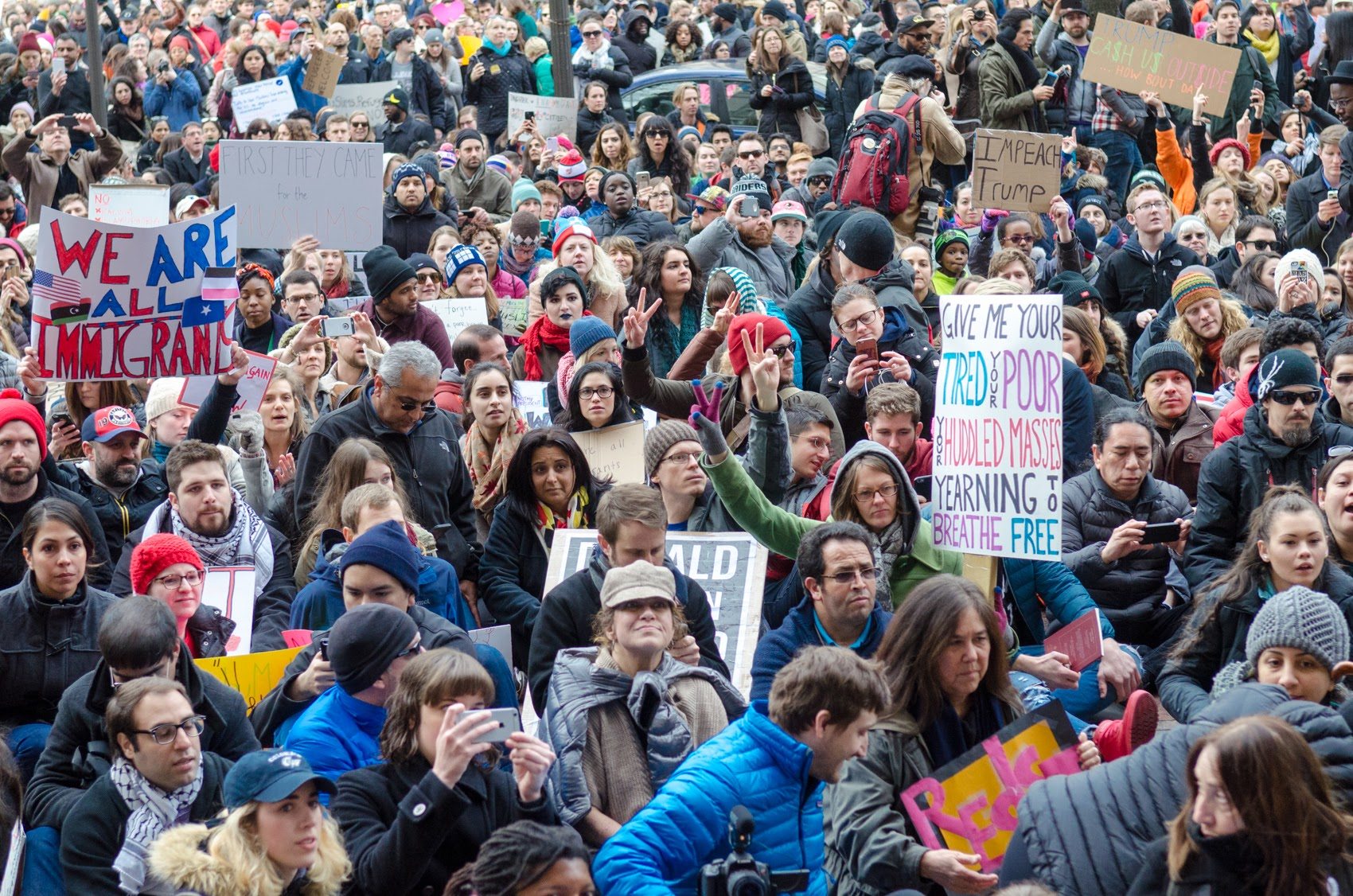 #NoBanNoWall protesters sat peacefully in the plaza of Trump International Hotel. Lauryn Gutierrez/Rewire
Democratic senators hosted a #NoBanNoWall vigil on January 30 on the steps of the Supreme Court, which was widely attended by private citizens despite the bitter cold. Lauryn Gutierrez/Rewire
Leaders from the Women's March on Washington held a press conference at the U.S. Capitol to oppose Trump's nomination of Sen. Jefferson Beauregard Sessions III (R-AL) for U.S. Attorney General on January 31. Lauryn Gutierrez/Rewire
Since the night Judge Neil Gorsuch, known for his deep conservatism on the bench, was tapped by President Trump for a seat on the Supreme Court on January 31, reproductive rights advocates put forth a sustained resistance to his nomination. Lauryn Gutierrez/Rewire
Parents, students, teachers, administrators, and children joined several Democratic senators on February 3 on the Upper Senate Lawn to advocate for public education, and to denounce the nomination of Betsy DeVos as Secretary of Education. DeVos is infamous for her remarks at a confirmation hearing in which she said schools should be able to have guns in classrooms to "protect from potential grizzlies." Lauryn Gutierrez/Rewire
"My mother is banned from Assad's Syria because her name means revolution and she is banned from Trump's U.S. because she is Muslim." Protesters gathered again to decry the Muslim ban outside the U.S. Capitol at another #NoBanNoWall rally on February 3. Lauryn Gutierrez/Rewire
Hundreds of people gathered to #WerkforPeace on the plaza of Trump International Hotel to show their resistance to the new administration in the form of a dance and march to the White House on February 3. Lauryn Gutierrez/Rewire
A Native activist spread prayer incense among those gathered at the emergency #NoDAPL "last stand" rally on February 8 outside the White House after President Trump granted Dakota Access an easement, dealing a devastating setback to opponents of the pipeline. Lauryn Gutierrez/Rewire
More than 800 people came to an emergency #NoBanNoWallNoRaids rally outside the White House in response to reports of mass arrests of undocumented people by Immigration and Customs Enforcement (ICE) on February 11. Lauryn Gutierrez/Rewire
Thousands of people gathered for a march from DuPont Circle to the White House to demonstrate their displeasure with the Trump administration and to declare February 20 as "#NotMyPresidentsDay." Lauryn Gutierrez/Rewire
Advocates for transgender rights gathered outside the White House on the day the Trump administration withdrew a guidance regarding Title IX protections for transgender students on February 22. Lauryn Gutierrez/Rewire
Gavin Grimm, transgender student and advocate for equal rights, sued his school in Virginia for the right to use the restroom of the gender he identifies with. He addressed the crowd gathered outside the White House. Lauryn Gutierrez/Rewire
Supporters of the Affordable Care Act (ACA) gathered outside the White House to show their opposition to its repeal. #SavetheACA, February 25. Lauryn Gutierrez/Rewire
An advocate for the ACA marched past the plaza of Trump International Hotel, carrying a sign reading: "Paul Ryan makes me sick enough—don't repeal." Lauryn Gutierrez/Rewire
On March 8, or International Women's Day, reproductive rights activists organized a protest against President Trump's executive order to reinstate the "global gag rule," known as the "Mexico City Policy," which prohibits any U.S. family planning aid from going to foreign nongovernmental organizations that provide information about or perform abortions. Lauryn Gutierrez/Rewire
Over 5,000 people attended the #WomenWorkersRising rally outside the U.S. Department of Labor for International Women's Day. The event promoted equal pay, paid leave, an end to workplace violence and harassment, and for labor rights at work. Lauryn Gutierrez/Rewire
Women shared historic stories of the struggles and successes of the labor movement to honor the women who started and sustained the women's labor movement at #WomenWorkersRising. Lauryn Gutierrez/Rewire
The Standing Rock Sioux Tribe and Native Nations hosted the Native Nations Rise march to highlight "the necessity to respect Indigenous Nations and their right to protect their homelands, environment and future generations." Lauryn Gutierrez/Rewire
On March 16, LGBTQ equality organization GetEQUAL declared a National Day of Action to #ProtectTransWomen—particularly transgender people of color. Advocates gathered in Freedom Plaza for a vigil for lost loved ones and to highlight the dangers faced by trans women and femmes. Lauryn Gutierrez/Rewire
Health-care advocates gathered at the White House to mark the seven-year anniversary of President Barack Obama signing the Affordable Care Act (ACA), his signature health-care reform law. This was the same day the American Health Care Act, the GOP's bill meant to replace the ACA, was slated for a vote on the House floor. Lauryn Gutierrez/Rewire
Thomas, Leah, and Mari (center, left to right) were among 40 children and youth from seven states—including Colorado, Florida, Maryland, New Jersey, New York, North Carolina, and Virginia—that gathered at the White House for the We Belong Together Kids Caravan to stand against family separation by deportation on April 13. Lauryn Gutierrez/Rewire
Thousands of demonstrators marched from the U.S. Capitol to the Lincoln Memorial on Tax Day to implore President Trump to release his tax returns to the public. Lauryn Gutierrez/Rewire
"Trump" appeared outside his Washington, D.C. hotel property to shake his finger at passing marchers during the Tax March. Lauryn Gutierrez/Rewire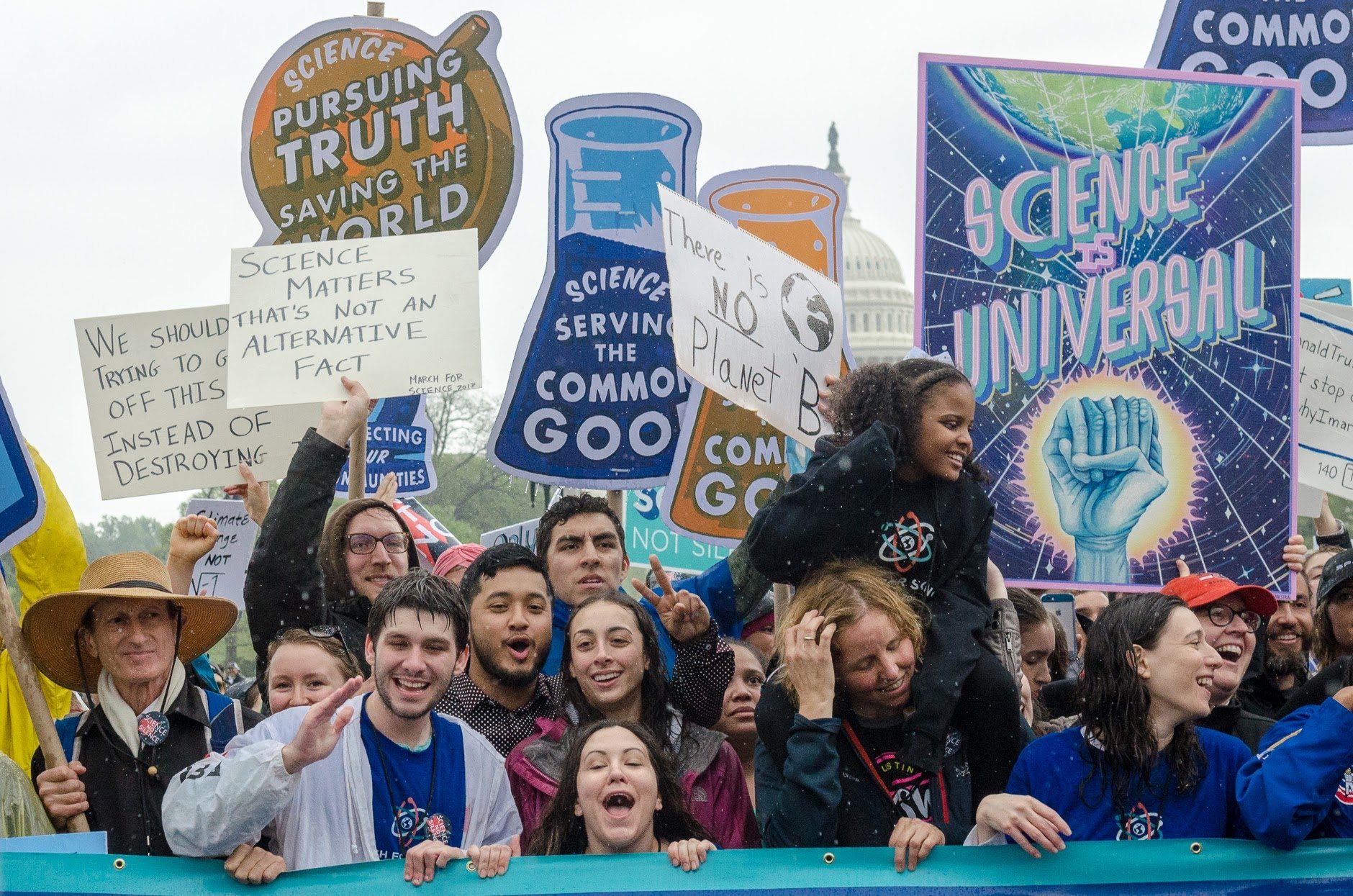 Despite the pouring rain, thousands of people gathered to march in a "celebration of science" on Earth Day, April 22.

Lauryn Gutierrez/Rewire
The #MarchforScience gave demonstrators an opportunity to call attention to the Trump administration's proposed severe funding cuts to scientific and environmental agencies, including the National Park Service. Lauryn Gutierrez/Rewire
As a photojournalist, I have toted my camera to at least 27 marches and actions since Inauguration Day—many of them organized by "ordinary" citizens who felt called to demonstrate for their rights, the well-being of their children, the safety of their neighbors, and the humanity of strangers. The ability to elevate the voices, faces, and stories that are so often discounted by the mainstream media has fueled my return to the streets week after week.
It's important to note that the peaceful displays of anger don't begin or end at rallies for activists. There are scores of actions in Washington, D.C., and across the country that are documented only in the hearts and minds of those present. That fact speaks to how activists showing up doesn't begin or end with waving a sign at publicized rallies and marches. Communities marginalized by U.S. policy and practice continue to need support and real, consequential action from allies to survive.
At its core, this work is about respect and recognition, particularly regarding those on the opposite side of the lens who see human rights as non-negotiable. And the work undoubtedly will continue as long as this administration's attacks against vulnerable communities continue.