'You Must Become the Voice Every Day': Protect Trans Women Day of Action in D.C.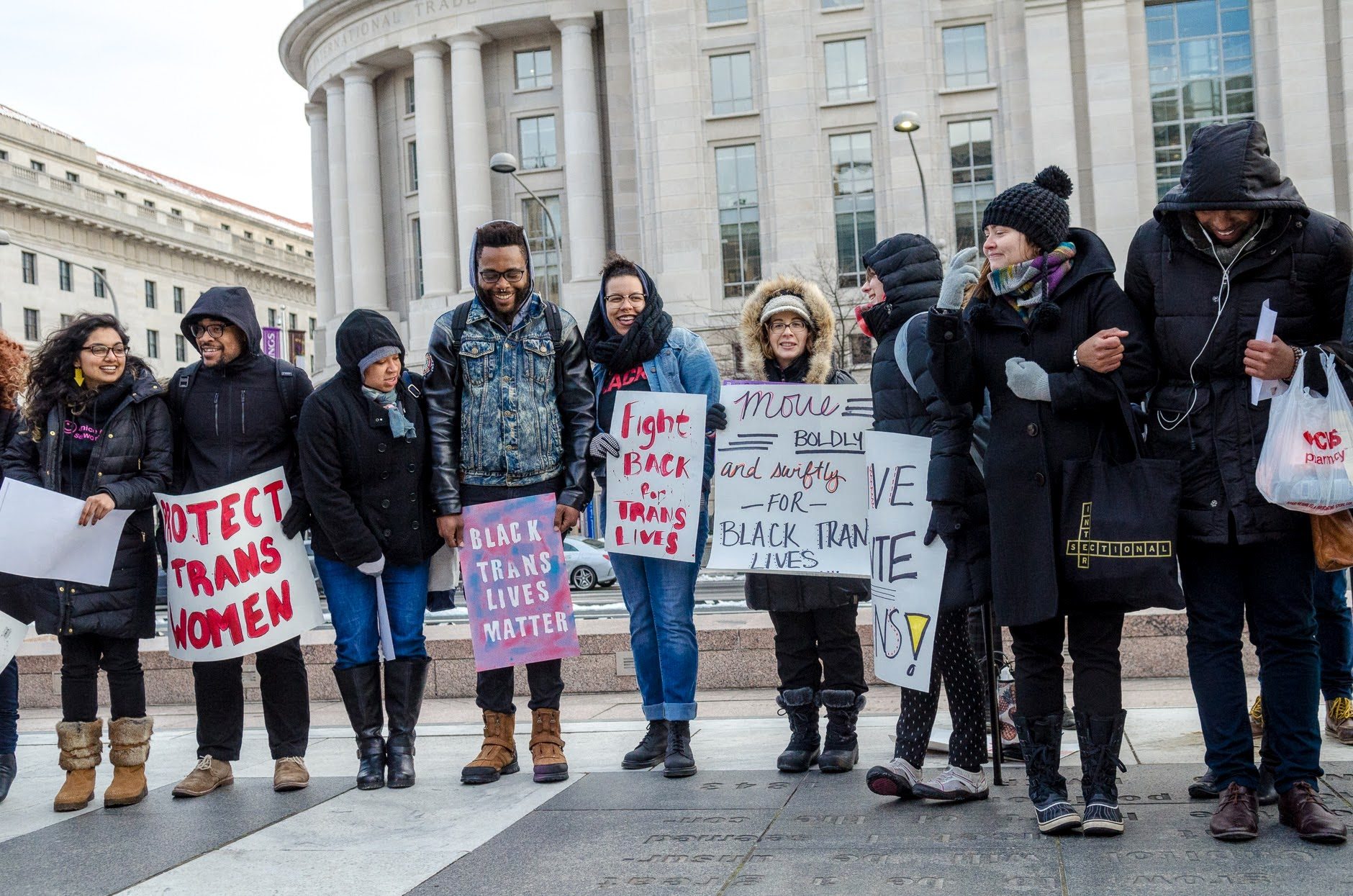 Activists maintained good spirits despite the cold and wind as they gathered at the #ProtectTransWomen National Day of Action at Freedom Plaza. Lauryn Gutierrez/Rewire
"This is the day of transgender visibility, and we want to be cognizant of the fact that even though a lot of people aren't talking about it, we're going to talk about it: Since the beginning of 2017, seven transgender women have been murdered in the United States," said Molly H., second from left, director of supportive services at Casa Ruby.

Lauryn Gutierrez/Rewire
"We have to stick together because we are dying!" said Chloe. "Live for today, and love each other and let them know that we are here for a reason. And we're not going nowhere. We're not hiding no more. There will be no more killings, we're here to fight back and say we are human beings. Respect us!"

Lauryn Gutierrez/Rewire
"It's not enough to just come out to this march, or any other march. How are we supporting the Black trans women in our lives every day?" said Alexis Wilson (not pictured) of Blackout D.C. in her remarks. "Check in with the trans women in your life. Make sure they're OK. Make sure they're safe .... Make sure you're actually putting that emotional labor into your community, instead of just making a Facebook post or tweeting a hashtag." Lauryn Gutierrez/Rewire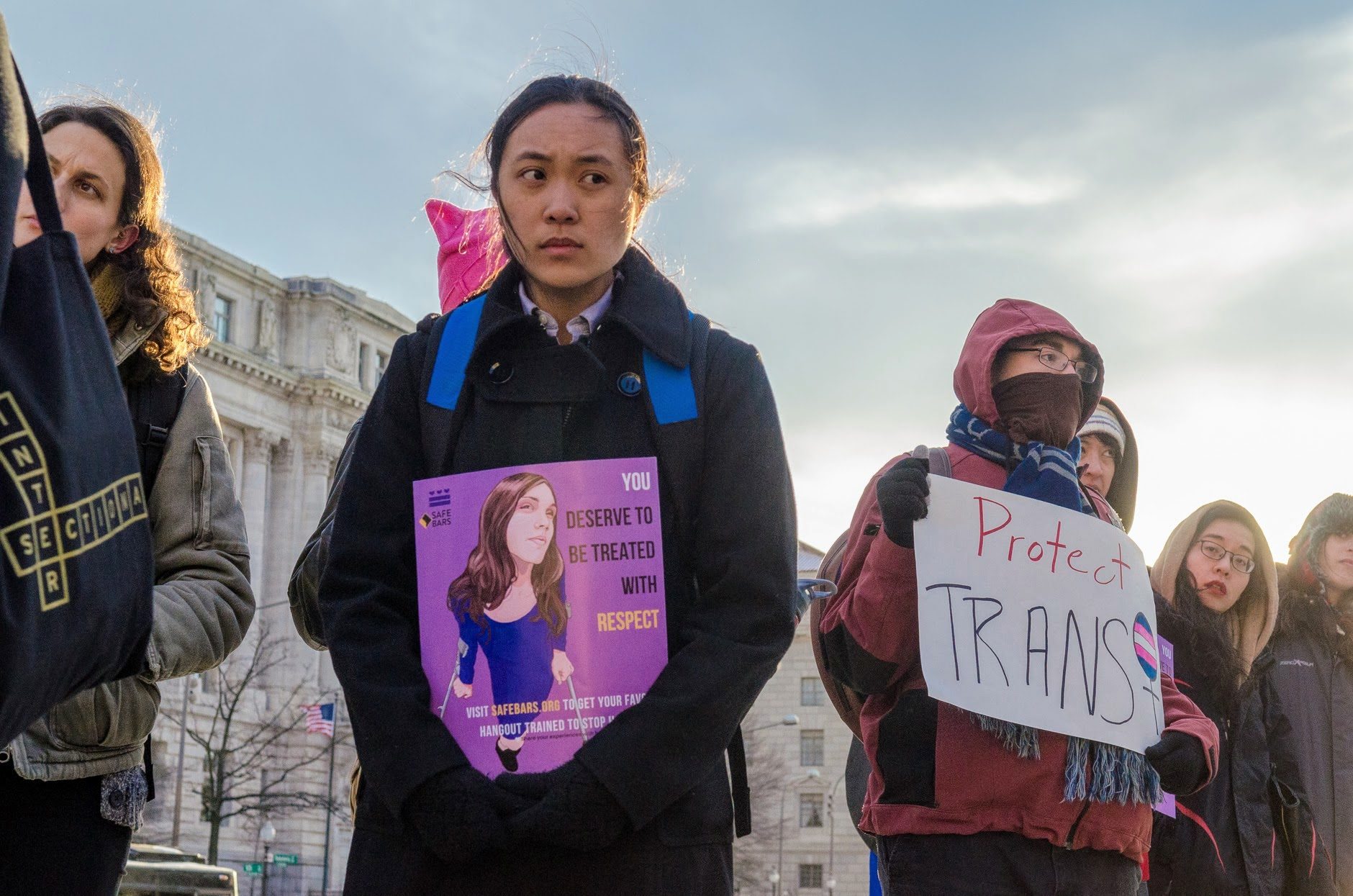 "Every day, murders are being committed against Black trans women—and make no mistake, suicides are still murders. In a system that oppresses Black trans bodies ... make sure you're counting the suicides when you're listing the names of the fallen," continued Wilson (not pictured). Lauryn Gutierrez/Rewire
"Black trans lives matter!" was chanted repeatedly at the #ProtectTransWomen rally. A moment of silence was held for those who have been killed. Lauryn Gutierrez/Rewire
Shabab of KhushDC, a local organization for South Asian LGBTQ people, is a queer, transgender, Muslim immigrant.

"Right now, there are people who want to make [Islam] a wedge issue, who believe [Muslims] don't stand in solidarity. But I'm here to fuck up that narrative, because we are here together. We stand in solidarity. And I am proud to be here because my liberation is tied up with everyone else's liberation over here. I am here to celebrate the joy of Black transgender lives. I am not waiting for one more person to die before Black transgender lives matter to me." Lauryn Gutierrez/Rewire
Transgender advocates listened to testimonies of Black transgender women as the sun set behind Freedom Plaza. Lauryn Gutierrez/Rewire
"Not only are trans women real women, trans women [and] men deserve the full protection of their community," said Shareese Moné of HIPS. "The hyper-policing of trans women and sex work makes us more vulnerable to state and interpersonal violence. We call on [D.C.] Mayor Muriel Bowser to divest from policing and invest resources into housing, jobs, education, health care, [and] mental health services for trans women, so that we can live with dignity and free from violence and fear." Lauryn Gutierrez/Rewire
A sign read "LGBQ rights are possible thanks to trans women of color!" Lauryn Gutierrez/Rewire
Catalina Velasquez is a transgender immigrant from Colombia. She is also the first undocumented immigrant to graduate from Georgetown University and is a beneficiary of Deferred Action for Childhood Arrivals (DACA).

"There are 400,000 undocumented Black immigrants in this country, thus, immigration is a Black issue," said Velasquez. "With over 80 countries criminalizing people based on sexual orientation and gender identity, do not act surprised when you see Black trans people migrating into this country and who are undocumented and need your support." Lauryn Gutierrez/Rewire
A Casa Ruby representative holds a sign in remembrance of Deeniquia "Dee Dee" Dodds, a transgender Black woman, who was murdered last summer. She was misgendered and misidentified by initial news coverage of her death and as well as in police reports, and her trans identity was only revealed to the public after transgender advocates criticized the Metropolitan Police Department for its handling of Dodds' attack and death.

Dodds was involved with Casa Ruby prior to her death and is sorely missed. "We are here for the Dee Dees, for the Yukias, for the Stephanies, who never had a chance to thrive," said Ruby Jade Corado (not pictured), founder of Casa Ruby, which is now the largest employer and the largest housing provider for Black trans women. "Many of them die under the age of 25. So this is a reminder why our work is never done." Lauryn Gutierrez/Rewire
"We are living in new times," said Corado, describing the current feeling of intense vulnerability of all women—especially trans women. "We just had a reminder of how vulnerable we can be at Casa Ruby on Sunday in our own safe space. Hate stormed through the door, and once again, shook our comfort. Once again, Black trans women had to fear for their lives. " she said, referring to an attack on the building and an assault of an employee on Casa Ruby premises.

"Become the voice for the women who are still afraid to speak up," she urged those gathered. "Become the voice of the women that are behind those signs that you created today, because I know all of you came here to stand up for something. It does not end here. You must become the voice every day." Lauryn Gutierrez/Rewire
"Black trans women, as our survival is constantly attacked, we still know that we will win, because we always have. We always survive, and we have no choice but to do so," said Elle Hearns (second from left) of the Marsha P. Johnson Institute.

"Folks are here because our lives depend on it. Do the work of resistance so that no other trans women have to be back here begging and pleading for you to honor us." Lauryn Gutierrez/Rewire
Wednesday was declared a National Day of Action to #ProtectTransWomen—particularly those of color—by LBGTQ equality organization GetEQUAL.
Washington, D.C., has one of the largest LGBTQ communities in the country, and has the highest population of transgender individuals in the United States. Transgender advocates from Casa Ruby, HIPS, and the Marsha P. Johnson Institute led a rally that evening in Freedom Plaza to highlight the dangers faced by trans women and femmes, especially those of color.
Earlier in the day, advocates went to D.C. City Hall to request more accessible housing for the trans community. According to a DC Trans Coalition survey, 37 percent of transgender Washingtonians were homeless in 2015.