Lawsuit: Memphis Police Waging Intimidation Campaign Against Fight for $15 Workers
"The City of Memphis is declaring war on its lowest paid workers, most of whom are black," said Edie Love, a leadership member of Standing Up For Racial Justice Memphis. "It appears Memphis and its Police Department are still stuck in the days of Jim Crow."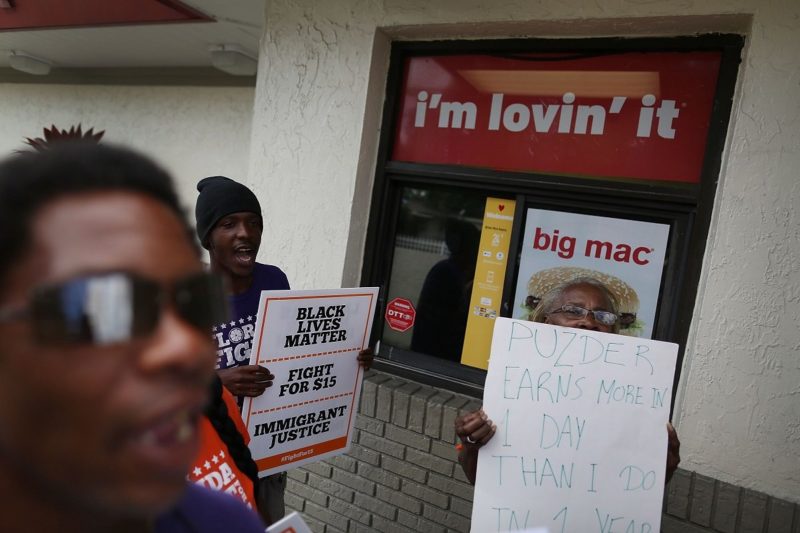 Politicians, civil rights leaders, and workers plan to march to the Nissan factory in Canton, Mississippi, on Saturday to protest the automaker's treatment of its predominantly Black workforce. Joe Raedle/Getty Images
Memphis workers have faced a sustained police pushback, including harassment, intimidation, and threats of arrest, after participating in a nationwide day of protest in 2014.
A federal civil rights lawsuit filed by a Fight for $15 fast food worker organization against the City of Memphis cites police officers staking out the homes of activists, blocking workers from signing minimum wage petitions in fast-food restaurants, and targeting protesters because of their race.
Filed in U.S. District Court for the Western District of Tennessee by the Mid-South Organizing Committee, the lawsuit alleges the Memphis Police Department (MPD) "engaged in a pattern and practice of various intimidation tactics aimed at discouraging (workers) from engaging in protected free speech activities," according to a press release.
Police even threatened workers with arrest, claiming they had "authorization from the president of McDonald's." A McDonald's franchise manager joined officers tailing workers in a protest. In some instances, police "seemed to take direction from McDonald's," the complaint charges.
"The City of Memphis is declaring war on its lowest paid workers, most of whom are black," Edie Love, a leadership member of Standing Up For Racial Justice Memphis, said in a statement. "It's a strategy ripped from the playbook of Bull Connor and J. Edgar Hoover. It appears Memphis and its Police Department are still stuck in the days of Jim Crow."
In April 2015, for example, a local catholic school shut down for the day after MPD warnings of a minimum wage rally nearby; earlier, four unmarked police cars and a patrol car showed up outside a teach-in on then-labor secretary nominee Andy Puzder and followed an organizer. In November, police stopped workers behind the counter of a fast-food restaurant from signing petitions calling for better working conditions, union rights, higher wages, and benefits, according to a press release.
"MPD's surveillance and intimidation tactics not only violate the constitutional rights of free expression and association guaranteed by both the Tennessee and United States constitutions, but they also violate the terms and conditions of a 1978 Consent Order that remains in full force and effect," the complaint states.
The lawsuit alleges that since September 2014, police have selectively enforced permit requirements against Fight for $15; have followed organizers home and sometimes parked outside to intimidate; spread disparaging information in schools and communities using racially coded language; and included organizers on a blacklist to prevent them from entering City Hall.
"The MPD is engaging in an intentional and illegal campaign to intimidate workers in an effort to prevent them from exercising their constitutional right to speak out," Jerry Martin, an attorney for the Mid-South Organizing Committee, said in a statement. "We've read about such behavior in history books, but unfortunately, in Memphis, intimidation and harassment of protesters is not just a thing of the past."
Bruce McMullen, Memphis' chief legal officer, said the city doesn't believe the Fight for $15 lawsuit has merit, the Associated Press reported.
This intimidation by the MPD comes amid actions targeting protesters nationwide. GOP lawmakers in at least 16 states have proposed laws further criminalizing protests, the New York Times reported.
"They're trying to stop us from speaking out, but even though it's riskier, we know we have a right to protest and we're not going to be intimidated," Ashley Cathey, a Church's Chicken worker and member of the Fight for $15 National Organizing Committee, said in a statement. "Our fight for $15 is changing the country and it's the Memphis Police Department that's going to have to change along with it."
Meanwhile, civil rights groups filed an appeal Thursday in a lawsuit that charges Alabama violated federal voting rights and equal protection laws when it blocked a minimum wage increase to $10.10 for 40,000 workers in Birmingham.
The plaintiffs—Birmingham fast-food workers, the Alabama State Conference of the NAACP, and Greater Birmingham Ministries—allege that that HB174, a bill rushed through the GOP-majority state legislature in February 2016 and signed by the governor that nullified the raise, violates laws because it targets an ordinance that Birmingham's Black community and its city council strongly supported.
Alabama is one of five states without a minimum wage law, and Alabama lawmakers failed to follow legally required notice procedures before speeding HB 174 through the legislature, the complaint states.
"Politicians in Montgomery have tried to strip the working people of Birmingham of their vote and their voice, but we won't give up the fight," Scott Douglas, executive director of Greater Birmingham Ministries, said in a press release.
In Missouri, Fight for $15 secured a win on Tuesday when the Missouri Supreme Court upheld St. Louis' minimum wage increase to $11 an hour.
Bettie Douglas, a McDonald's worker from St. Louis and a leader in Show Me $15, the local campaign, said the court ruling was "a major victory for workers in St. Louis who have been fighting for $15 an hour and union rights for four years."
"When we started our Fight for $15 an hour and union rights, nobody in Missouri gave us a chance to win. But by standing together and going on strike, we've secured life-changing raises for fast-food cooks and cashiers, janitors, and home care aides across the city," Douglas said in a statement. "Today we have more momentum than ever in our fight for $15 an hour and union rights, and we're not going to stop until we win."
Missouri workers are also taking on carmaker Nissan after the company allegedly harassed and retaliated against workers who made efforts to unionize.
Politicians, civil rights leaders, and workers plan to march to the Nissan factory in Canton, Mississippi, on Saturday to protest the automaker's treatment of its predominantly Black workforce. Of the roughly 5,000 workers at the plant, an estimated 80 percent are Black, according to a press release.
The National Labor Relations Board found in 2015 that Nissan unlawfully threatened and interrogated workers with termination for union activity. The board said that Nissan has been "interfering with, restraining and coercing employees in the exercise of their rights."
Organized by the Mississippi Alliance for Fairness at Nissan, the march is expected to be the state's largest protest in years, and will include Sen. Bernie Sanders (I-VT), actor Danny Glover, and NAACP President Cornell William Brooks.