ICE's Unmistakable Message to Immigrant Women Who Are Victims of Violence
Nowhere is safe.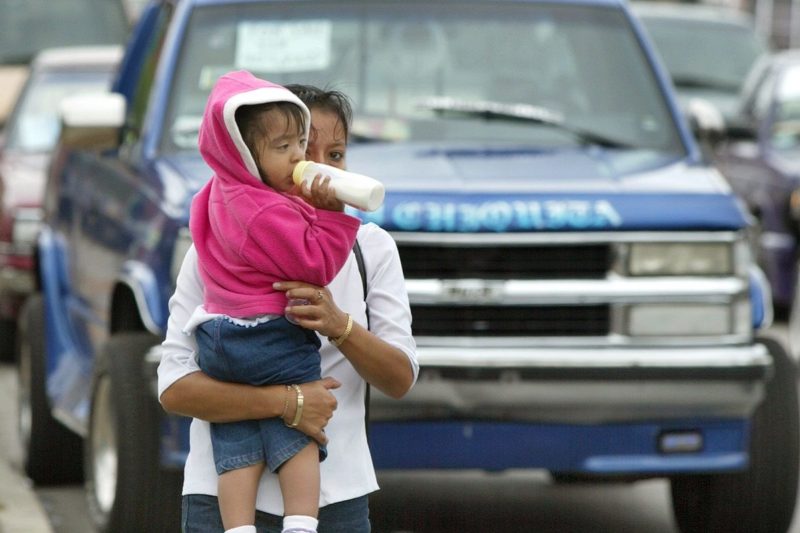 We need to keep organizing to protect undocumented people and to support survivors of violence. Tim Boyle/Getty Images
Recently, Ms. Gonzalez, an undocumented transgender woman, was arrested as she sought to get a protective order for domestic violence. According to reports, her abuser may have been the one who tipped off authorities. This is an unconscionable act that underscores the overall lack of compassion of the current presidential administration and its lack of awareness about what vulnerable communities actually need in order to achieve safety and well being.
The recent immigration actions under Trump and his administration send a clear message that the lives and safety of transgender people, women of color, Muslims, and all immigrants are on the line. The arrest occurred in the context of recent executive orders calling for increased enforcement  and funding for Immigration and Customs Enforcement (ICE), the planned gutting of the Violence Against Women Act, and—more recently—the rollback of a guidance standing up for transgender students.

As the leader of an organization that advocates for gender and racial justice for Asian American and Pacific Islander (AAPI) communities, I understand how the targeting of a Latina transgender woman reverberates in fear among many people touched by gender, racial, and domestic violence. Immigrant and gender justice are inextricable.
Approximately 40 to 60 percent of AAPI women report experiencing domestic violence in their lifetime. AAPI women may already underreport experiences of domestic and intimate partner violence due to cultural stigma, lack of culturally responsive services, and language barriers. For undocumented women, including but not limited to AAPI women, this recent incident has magnified the fear and risk of reporting abusers.
Undocumented people already have reason to fear any interaction with police as a conduit to deportation. Walking into a courthouse to arrest a survivor of domestic violence while she is seeking protection from her abuser is an unabashed abuse of power. ICE sent an unmistakable message to immigrant women who are victims of violence: Nowhere is safe. When victims of domestic violence have nowhere to turn and cannot access the right to protect themselves, none of our communities are safe or protected.
For transgender immigrant women specifically, the risks are even higher. Violence against transgender people is at an all-time high, and the violence disproportionately affects transgender women of color. ICE estimates that there are 65 transgender people being held in detention on any given day, and Human Rights Watch conducted research revealing that transgender women have experienced myriad forms of abuse while being held in immigrant detention. It was only earlier this year that an Indian transgender woman was detained in Arizona. She shared how her gender identity magnified her fear of violence and harassment while in custody, a concern shared by many undocumented transgender women of color.
Under the Trump administration and its persecution of immigrants, ICE raids do not only target people with criminal records; they target everyone, and they rely on racial profiling. Federal officials have knocked on doors in neighborhoods with large populations of immigrants, terrorizing people in the middle of the night in search of undocumented people. Targeted areas include Latinx as well as AAPI communities. They are casting a wide net, with many communities at risk of injustice—women, transgender people, all people of color, and their families.
In response, AAPI communities must continue to build a broad and diverse movement for justice. We need to keep organizing to protect undocumented people and to support survivors of violence. We must pressure local and state policymakers to embrace the sanctuary movement in its most holistic vision of justice for all. And we must hold federal lawmakers accountable to the Constitution they are sworn to uphold.
All people have the right to life, liberty, and the pursuit of happiness. People deserve a safe place to go when threatened with domestic violence—no matter their legal status or gender identity. Immigrant families deserve the opportunity to care for themselves and the people they consider family. We must build on the momentum of the Women's March and #AAPIResist to rise up to demand that the attacks on immigrants of color and transgender communities be stopped now.
Join advocates across the country demanding #Not1More deportation and calling for the release of Ms. Gonzalez. And find out more about how the AAPI communities can support gender and racial justice for immigrant communities here.