A Survivor's Guilt: John Edgar Wideman Ruminates on 'Louis Till File' in New Book
In Writing to Save a Life, Wideman recounts a startling, long-forgotten truth—the death of Emmett Till's father, Louis, which occurred ten years before his son's, played a crucial role in Emmett's killers' ultimate freedom.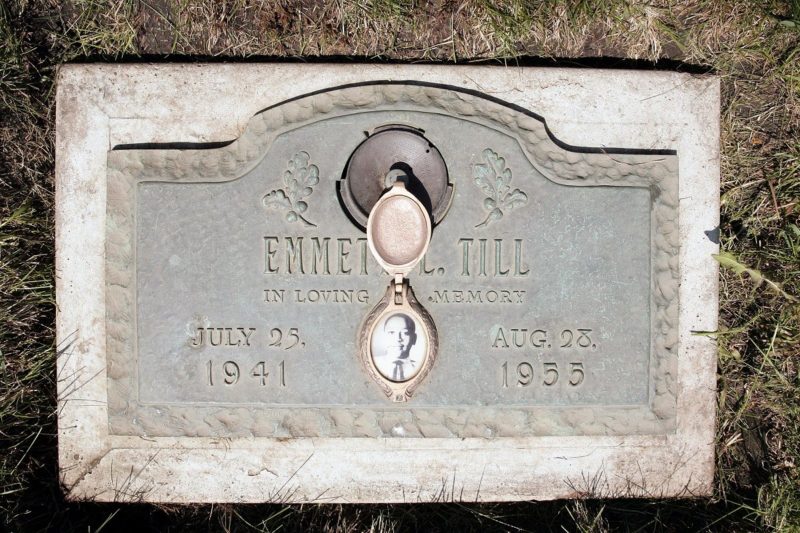 Emmett Till is buried at Burr Oak Cemetery in Aslip, Illinois, but his father, Louis, lies in a grave in a French cemetery after being executed while serving in the Army. Scott Olson/Getty Images
In the summer of 1955, young John Edgar Wideman spotted a September issue of Jet magazine with a "scary photo of a dead boy almost exactly my age, a dead colored boy murdered in Money, Mississippi, whose mutilated face looked like a black bug somebody had squashed under his thumb," the author writes in his latest book, out this week. It was a photo of 14-year-old Emmett Till, a native of Chicago, who was visiting family when Roy Bryant and his half brother J.W. Milam forcibly removed Till from his great uncle's home, beat him, shot him in the head, tied him to a cotton-gin fan with barbed wire, and dumped him in the Tallahatchie River for allegedly whistling at Bryant's wife.
The photo marked the onset of Wideman's survivor's guilt, and the beginning of his earnest meditation on the forces that caused their otherwise similar lives—his and Till's—to diverge so drastically.
Wideman, an award-winning author of some 20 books and the Asa Messer Professor and professor of Africana Studies and Literary Arts at Brown University, came across the name of Emmett's long-deceased father, Louis Till, in the transcript for his son's murder trial while researching a novel based on Emmett's life. Louis Till's name turned up again in a book's footnote, which disclosed the location of his grave in a cemetery outside of Paris—Plot E, the "dishonorable" burial ground of 96 American servicemen.
These two encounters with Louis changed Wideman's course. Early in his searing and poetic new book, Writing to Save a Life: The Louis Till File, he explains, "This text will not become the Emmett Till fiction I believed I was working on. All the words that follow are my yearning to make some sense out of the American darkness that disconnects colored fathers from sons, a darkness in which sons and fathers lose track of one another."
When Emmett was pulled from the Tallahatchie River three days after Bryant and Milam abducted him, his body was so badly mutilated the only identifying marker was an engraved signet ring he wore bearing his father's initials, "L.T."
Mamie Till awaited the return of her son, whom she affectionately called "Bobo," at Illinois Central Railroad station on 12th Street in Chicago. At the funeral, she displayed his body in a glass-topped casket to show the world the brutality done to him. On September 23, an all-white, all-male jury in Sumner, Mississippi, acquitted her son's killers of murder, and later that fall, a grand jury refused to indict them on kidnapping charges.
Emmett Till could not have met a more tragic end. His gruesome death, in many ways, seemed to galvanize the civil rights movement. Rosa Parks would refuse to give up her seat on a bus in Montgomery, Alabama, some 100 days later. His name would be resurrected after the deaths of other Black boys, including the 2012 vigilante shooting death of 17-year-old Trayvon Martin in Sanford, Florida, and again in 2014 when a police officer shot and killed 12-year-old Tamir Rice in a park in Cleveland, Ohio. But in Writing to Save a Life, Wideman recounts a startling, long-forgotten truth—the death of Emmett Till's father, Louis, which occurred ten years before his son's, played a crucial role in Emmett's killers' ultimate freedom.
The Northern newspapers covering Emmett Till's murder trial described his father, Louis, who died in 1945 in Italy while serving in the U.S. Army, as a brave soldier. Mamie knew little else about his death. The telegram she received stated he died in non-battle due to his own misconduct. His military file was marked confidential.
In October 1955, two weeks before the State of Mississippi convened a grand jury to determine whether Bryant and Milam should be tried for kidnapping, a vicious Mississippi senator, James O. Eastland, and an "accommodating" army officer, betrayed Louis Till's right to privacy and leaked his file to the press. It revealed the exact circumstances of his death. On July 2, 1945, in Aversa, Italy, the U.S. Army hanged 23-year-old Private Louis Till, along with co-defendant Private Fred A. McMurray, for rape and murder.
The timely revelation of Louis Till's cause of death—immediately before the grand jury convened on the kidnapping charges of his son's killers—shocked the public. It likely persuaded the grand jury, tasked with determining whether there was probable cause for the charges, to decline to indict Bryant and Milam a few weeks after their acquittals for murder. Wideman poignantly unspools this catastrophic consequence in Writing to Save a Life. "A colored father summoned from the dead to absolve white men who had tortured and shot his son," he writes.
Little is known about Louis Till's personal life, but Wideman attempts to paint as complete a portrait as possible. To fill in the blanks, the author uses his imagination and childhood memories to artfully blend fable with fact, writing: "I was not there. I am not Louis Till. Not Mamie Till. I'm guilty of imagining pictures, sounds, words. Mine. I make them up. They could or could not be the way. It happened. Truth."
In several passages, Wideman enters Louis' mind to describe what he may have experienced in his short life, both in the United States and in Italy. "He could sit like a dog or cat sit and watch all day all night the way that water comes up and go back down the beach like water's one thing and wants to be another thing like maybe water wants to be land," says Wideman.
Wideman's appraisal of the contents of Louis' military file—the inconsistent statements, the incomplete reports—bolstered his suspicion that Louis was wrongly executed. Given the shaky evidence of wrongdoing, coupled with the fact that 55 out of 70 of the soldiers court-martialed and executed in Europe during World War II were Black, and that of the 25 of them accused of the rape of civilians, 87 percent were put to death, Wideman concludes that Louis Till did not rape or murder anyone. The U.S. Army, reinforcing the popular Jim Crow myth that Black men raped white women, judicially asphyxiated a man who Wideman believes was innocent and in doing so, upended any chance his son's murderers would be justly adjudicated a decade later.
It is a merciless outcome, one partly rooted in domestic violence. Louis physically abused Mamie, so much so that she received a restraining order against him. When he violated the order, the judge, rather than jail Louis, forced him to enlist. 
The domestic violence led to Louis' enlistment, the enlistment and racial bias led to Louis' death, and his death led to the non-conviction of his son's killers. Wideman takes pains to imagine an alternate history for Emmett. "If Louis Till had been around to school his son Emmett about the south, about black boys and white men up north and down south, would Emmett have returned safely from his trip to Money, Mississippi, started up public high in Chicago that fall of 1955, earned good grades like I did, eluded the fate of his father, maybe even become successful and rich? President of the United States," wonders Wideman. 
Writing to Save a Life is a vital history to the eerily similar, contemporary vigilante and police killings of unarmed African Americans, and the serial miscarriage of justice that inevitably follows. "Again and again in courtrooms across America, killers are released as if colored lives they have snatched away do not matter," Wideman says.
In the wake of the election of a president who peddles fascist ideas, and at a time when racial threats and violence against people of color are reverberating throughout the country, the stories of Louis and Emmett Till have never been more relevant.
Wildeman writes to save Louis Till's life, his son's life, and the lives of all African Americans whose narratives have been buried and long forgotten.
And though the ghost of Louis Till eventually guides a weary Wideman to Louis' grave in France, he finds no solace, no rest, in the story of the Till family. "Fathers and sons. Sons and fathers. An eternal cycle of missing and absence … I'm helpless as Mrs. Till who stands in the Twelfth Street Station."