Raymond Moore May Have Resigned, But His Comments About Women's Tennis Betray a Broader Problem
What this situation makes clear is the glaring reality that women's tennis players often don't have institutionalized support or solidarity from their male colleagues.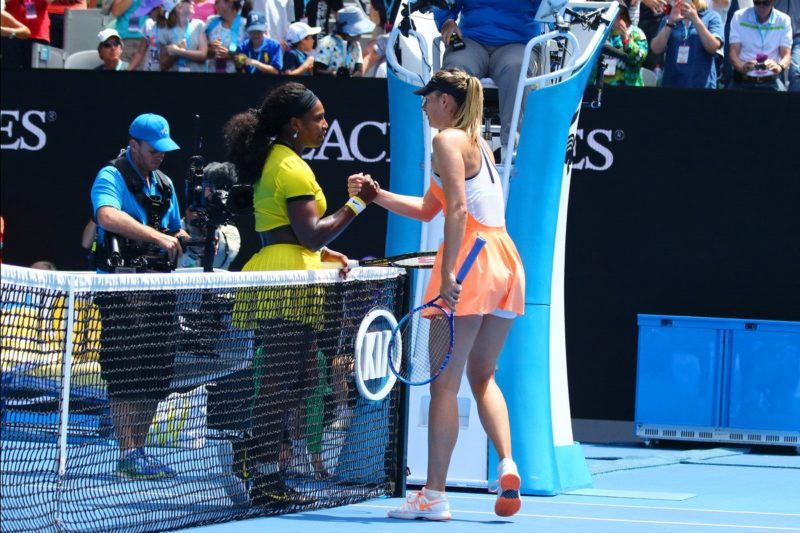 Solidarity with women, which includes not maligning the efforts of female athletes, is important to ensuring consistent growth of the sport. Leonard Zhukovsky / Shutterstock.com
Just before the final match of the BNP Paribas Open Tournament in Indian Wells, California, on March 20, tournament director Raymond Moore stunned the tennis world with misguided, sexist comments regarding women's tennis. The aftermath is somewhat reminiscent of a shoddy political campaign—complete with inappropriate gaffes, a deluge of critiques, apologies, and then a resignation.
Sexism in sports is quite prevalent, so women are accustomed to seeing reports of asinine commentary. The frequency of such attitudes does not mean that such remarks are not harmful to women's sports or that they ought to be taken lightly. What this situation makes clear, however, is the glaring reality that women's tennis players often don't have institutionalized support or solidarity from their male colleagues. This is discouraging, as tennis is widely regarded by members of the media as the sport that other federations should look to as an example of pay equity and camaraderie. Women consistently fight battles on their own with little backup from male players, men's tennis associations, and other athletes. This is part of the problem in a system that allows sexism to flourish in women's sports.
Moore chose to make mind-bogglingly misplaced comments to the usual media scrum that precedes the final match. His comments were unprovoked and unrelated to any specific issue. Instead, he simply offered his observations on female players: "I think the WTA [Women's Tennis Association] … you know, in my next life when I come back I want to be someone in the WTA, because they ride on the coattails of the men," Moore said. "They don't make any decisions and they are lucky. They are very, very lucky. If I was a lady player, I'd go down every night on my knees and thank God that Roger Federer and Rafa Nadal were born, because they have carried this sport. They really have."
To add insult to injury, Moore proceeded to comment on—wait for it—the level of physical beauty of specific players. Moore named Eugenie Bouchard of Canada and Garbine Muguruza of Spain as being among the "attractive prospects" on the tour. When asked to clarify about what he meant by attractive. Moore replied, "They are physically attractive and competitively attractive," he said. "They can assume the mantle of leadership once Serena [Williams] decides to stop. They really have quite a few very, very attractive players."
As a fan of tennis, I was aghast. And as a feminist sports writer, I was horrified.
In addition to being inappropriate and insulting, Moore's comments were factually incorrect. When I think of this sport, I think of a legendary history of advocacy coupled with enthralling athleticism displayed by female tennis superstars. In 1956, Althea Gibson became the first Black woman to win a major international tournament after years of being shut out by the all-white U.S. Lawn Tennis Association. She battled racist systems and even against hotels who would refuse to book a space in their establishments for a luncheon to honor her and her accomplishments. Gibson certainly helped to elevate the standards of the game.
Perhaps Moore also forgot about Billie Jean King. King engulfed herself in advocating for women's rights after realizing that a woman's place in tennis was economically restricted. When King won Wimbledon in 1968, she received £750, but her male counterpart Rod Laver won £2000. In 1973, she famously accepted a challenge from self-proclaimed "male chauvinist" Bobby Riggs and won in three straight sets. Not only did an estimated 50 million people across 37 countries watch the epic "Battle of the Sexes," but King drew much-needed attention to financial inequality and created the WTA. Former professional tennis player Chris Evert has said of King's contributions: "Everybody should thank her and shake her hand. She put money in our pockets and provided a living for hundreds and hundreds of female athletes."
And then there is Serena Williams, who was competing at the tournament in question and who has been hailed by tennis pundits as the best player the United States has ever produced of all time. The 21-time Grand Slam winner is not only a champion of women's sports; she is a one of the female athletes who routinely speaks up about issues that affect them. Williams has been the target of ruthless and racist sports media. She has been maligned, yet still uses her platform to connect with important organizations such as Equal Justice Initiative and has boycotted major tournaments because of her convictions. And Williams enthralls and inspires million of people with her grace, strength, and top form.
Thanks in part to the work of Gibson, King, Williams, and others, gender inequity is not as stark in tennis as it is in other sports. Tennis associations are reputed to be the most even-salaried for women and their male counterparts. However, if Moore's comment and others are any indication, it seems as if ingrained sexist ideologies simmer under the lid.
The reactions to Moore's comments, from King, Evert, and Martina Navratilova, to name a few players, were swift and appropriately angry:
Disappointed in #RaymondMoore comments. He is wrong on so many levels. Every player, especially the top players, contribute to our success

— Billie Jean King (@BillieJeanKing) March 20, 2016
Now is the Golden Era 4 men, no doubt, but women have worked,fought harder,and have been bigger draws many times. https://t.co/zojHd9WAkH

— Chris Evert (@ChrissieEvert) March 20, 2016
@BeingKimmie @WTA @ATPWorldTour @BillieJeanKing @ChrissieEvert @PHShriver @LDavenport76 disrespectful on so many levels. Wow…

— Martina Navratilova (@Martina) March 20, 2016
Williams, meanwhile, was very eloquent in her reaction to Moore's comments: "You know, there's only one way to interpret that. Get on your knees, which is offensive enough, and thank a man, which is not—we, as women, have come a long way. We shouldn't have to drop to our knees at any point."
Williams reiterated the point that the 2015 U.S. Open women's finals sold out before the men's. It is not the case that men shoulder more responsibility or interest in tennis more so than women. And, as Jane McManus of espnW noted, Moore's comments call into question his ability to be an effective tournament director for a co-ed event that relies on the celebrity of the women's game. "You can't have a tournament director for a men's and women's tournament who doesn't believe the women carry their weight," McManus wrote.
In the midst of this criticism, Moore issued an eager apology.
While Moore was trying to navigate through the mess he created, sports media outlets asked other prominent players what they thought of his comments. Very unfortunately, the world's number-one ranked male player, Novak Djokovic, used the opportunity to lecture awkwardly about how pay inequality would be justified because men garner more income than women on the tennis circuit.
"I think that our men's tennis world … should fight for more, because the stats are showing that we have much more spectators on the men's tennis matches," Djokovic said. "I think that's one of the, you know, reasons why maybe we should get awarded more."
Djokovic also added in some inexplicable comments about women's bodies and their hormones—yes, hormones—going through "different things." He ended his obtuse statement with the very subtle: "Ladies know what I am talking about."
The stream of off-the-cuff sexist remarks and subsequent apologies is very popular, apparently. After being counseled by fellow tennis player Andy Murray, Djokovic insisted in a Facebook post that he never meant any offense or "negative connotations."
But his knee-jerk reaction was also to insist that his comments were taken out of context. Instead of stating that he was wrong and will not repeat the same mistake, he placed the burden on others who might have been offended for taking his comments "the wrong way."
I don't believe his comments were interpreted incorrectly; I believe he, like many male sports stars, was simply unwilling to own up to his comments.
Sports writer and tennis enthusiast Lindsay Gibbs reported for ThinkProgress that when the Association of Tennis Professionals was asked to comment on Moore or Djokovic's remarks, its statement was a baffling argument against equal prize money.
"That's right—given a very obvious opportunity to take a strong stand against sexism and promote equality, men's tennis instead decided to make the argument against equal prize money," Gibbs wrote. "This cycle is as exhausting as it is self-defeating."
There are those who avoid these messes by educating themselves and properly articulating their support of women's tennis. Former pro tennis player Patrick McEnroe said he was "livid" at Moore's comments and publicly called for him to resign.
WTA Tour Chief Executive Steve Simon also declared his unwavering endorsement of equal pay for female players before the start of the Miami Open. And Murray was quick to denounce Djokovic's position and insisted that his words "do not stack up." He mentioned that quite often, tennis fans come to watch Williams specifically.
Overall, though, the advocacy offered to women is unstable and inconsistent. While discussing how women mobilized to earn a proper salary, King told espnW during an interview at Wimbledon last year, "The men will never give us credit."
The dim silver lining of all this seems to be that wider discussions of gender inequality in pay and institutionalized sexism have been prevalent in mainstream, male-dominated sports media, which would otherwise seldom address such topics. But so long as there are men in positions of power asked to comment on issues in women's sports—as is the case with tennis—they also need to participate in vocalizing their support for female athletes. Solidarity with women, which includes not maligning the efforts of female athletes, is important to ensuring consistent growth of the sport. For men at all levels to reiterate that women's sports are powerful and exciting goes a long way in dismantling sexist ideology suggesting women's sports do not hold broad appeal, that they are somehow less "interesting" than men's sports, or that, like Moore suggested, they are piggybacking off male athletes' success.
While men remain in the roles of executive directors, administrators, and decision makers, it is crucial for them to back up female players—particularly because that recognition is well deserved.
So many women's tennis players have brought issues of social justice to the forefront. They are addressing pressing issues of sexism but also of race, class, and gender identity. These feats go far beyond only winning trophies. These women are fostering change in society through sports.
How unjust and ignorant of Moore to erase these accomplishments.
On March 21, Moore resigned as tournament director of Indian Wells. I sincerely hope that the next tournament director is far more enlightened of the enormous contributions to tennis and sports that female players have had.
Moore's initial comments ballooned into an issue involving other men and highlighted the recurring sexism that plagues sports. Their mea culpas ring hollow at a time when women's tennis features brilliant female players. The point is certainly not to avoid making sexist comments in front of the cameras. It is to understand that sexist comments are doing a disservice to the sport and are incorrect and unjust, and must be addressed and corrected by everyone, not just the women they affect directly.
It was not only Title IX nor the "coattails of men" that created the genius and success of women's tennis; it was the women themselves.