Texas Advocates Speak Out as Abortion Access Hangs in the Balance
Reproductive rights advocates with the #FightBackTX Truth Tour have traveled around Texas this month to raise awareness about the negative effects anti-choice laws have had on abortion access.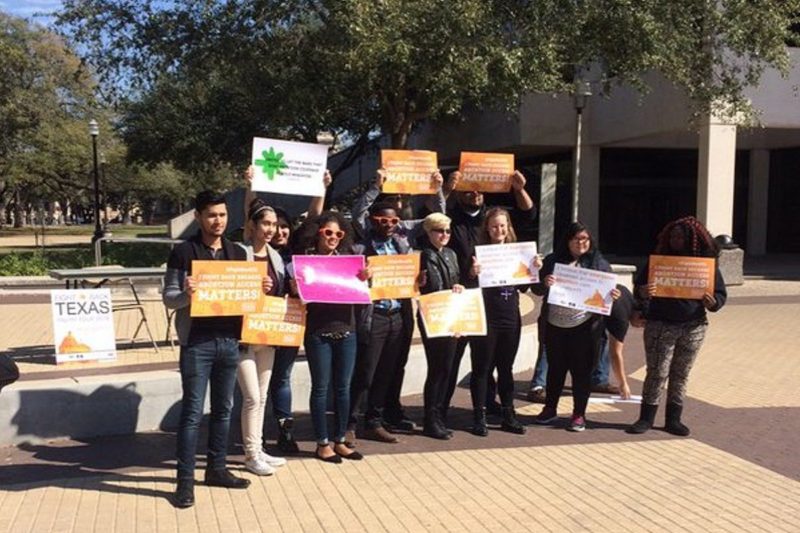 Reproductive rights advocates with the #FightBackTX Truth Tour have traveled around Texas this month to raise awareness about the negative effects anti-choice laws have had on abortion access. Teddy Wilson / RH Reality Check
Young women on the Texas A&M University campus in College Station Friday read personal narratives about having abortions as part of the #FightBackTX Truth Tour. The speakers gave life to the experiences of women who have had an abortion as part of an ongoing effort to end the stigma around the procedure.
The Feminists for Reproductive Equity and Education, a student organization, sponsored the event on Texas A&M University's campus.
Reproductive rights advocates with the #FightBackTX Truth Tour have traveled around Texas this month to raise awareness about the negative effects anti-choice laws have had on abortion access, and the further repercussions for reproductive health care that could come to pass in the coming months.
The Supreme Court will hear oral arguments March 2 in Whole Woman's Health v. Hellerstedt (formerly v. Cole), the case that will decide the constitutionality of the sweeping anti-choice restrictions passed by Texas Republicans in 2013.
"It's a challenge to the Texas law that has had such drastic impact on this state and could have even more detrimental impacts if the case doesn't go our way," Heather Busby, executive director of NARAL Pro-Choice Texas, one of the sponsors of the tour, told Rewire.
Busby explained the importance of traveling around the state to raise awareness and ensure diverse voices from all women could be heard. "We really wanted to make sure that Texan voices were represented, and not just in Austin at a rally at the capitol, but across the state," Busby said, referencing the battle waged at the tail end of the 2013 legislative session.
SB 5 was introduced during the first special legislative session called by then-Gov. Rick Perry (R) in 2013. Republican lawmakers tried to push through the bill at the end of the session, and it was filibustered in an act of political defiance that would have a lasting effect on the politics of abortion in the state and throughout the nation.
Then-state Sen. Wendy Davis (D-Fort Worth) spoke on the chamber floor for more than 11 hours, preventing a vote from being called before the midnight deadline on June 25, 2013. The filibuster was broadcast live, and people tuned in throughout the country to watch the stream online.
It was a galvanizing moment for Sidney Coker, a sophomore special education major at Texas A&M. She watched the filibuster and the protests from her home in Irving, Texas, the summer before her senior year in high school.
"It definitely made me realize that these are issues that I'm going to have to care about as a woman," Coker told Rewire.
The political victory of Davis' filibuster was short-lived. An identical bill, HB 2, was passed and signed into law during a second special legislative session. 
"What we have to realize is that moment was more of a catalyst," Busby said. "What we're seeing now and is that we're really working hard to do is continue that work."
After Davis' filibuster, Busby saw people from all over the state who had come to Austin to protest at the capitol return to their communities and begin having conversations about abortion access.
"Sen. Davis' filibuster and all of the people who came and testified at the capitol broke the silence around abortion access. Now people are talking about this issue, talking about their own abortion experiences and why they support access to abortion care," Busby said.
The Center for Reproductive Rights (CRR) filed a lawsuit challenging two provisions of HB 2: the admitting privileges requirement as applied to two clinics—Whole Woman's Health in McAllen and Reproductive Services in El Paso—as well as the requirement that every abortion clinic meet the same building requirements as mini-hospitals.
If the Supreme Court sides with Texas, there will be only nine or ten clinics, licensed as ambulatory surgical centers, that will provide abortion services in a state with more than 5.4 million women of reproductive age, according to CRR.
"We already seeing the impact of this," Busby said. "There was a study that came out last year about how there are waiting periods of up to 20 days in some areas," a statistic found by the Texas Policy Evaluation Project (TxPEP) at the University of Texas at Austin. "Anecdotally, that's what I'm hearing as well: people calling our office saying that they can't get an appointment and where can they go."  
The TxPEP study concluded that the longer waiting periods would increase the number of second-trimester abortions. The study's authors noted that this is concerning from a public health perspective because "later abortions, although very safe, are associated with a higher risk of complications compared to early abortions."
"When you're cutting off timely access to safe care, some folks are resorting to other options if they can't get an appointment at a clinic or if they can't get an appointment anywhere close to where they live," Busby said.
The Planned Parenthood clinic in nearby Bryan closed in 2014 because it would not meet the requirements of HB 2, leaving Texas A&M students with few options for affordable reproductive health care. The Women's Clinic on the Texas A&M campus is one of the few places where students can access reproductive health care.
Coker said that she goes to the Women's Clinic to get hormonal birth control, but that is one of the only services they offer. "If you want anything else you have to go to an actual doctor off campus," Coker said.
The lack of access, either due to distance or cost, has reportedly pushed some women as far as attempting to self-induce abortions. Between 100,000 and 240,000 Texas women of reproductive age have attempted to end a pregnancy on their own without medical assistance, according to a study by TxPEP.
"Texas has a long and proud tradition of standing up for reproductive rights," Rachel Jacobson, the Texas state director for Shift, an organization working to "shift the stigma around abortion" that also sponsored the#FightBackTX Truth Tour, told the students in the plaza. "We know that no matter what happens at the Supreme Court we're going to have challenges and we're going to have opportunities ahead."