Missouri Republicans to Push Anti-Choice 'All Lives Matter' Bill
The GOP proposal would define a fertilized egg as "a person" and life as beginning at conception.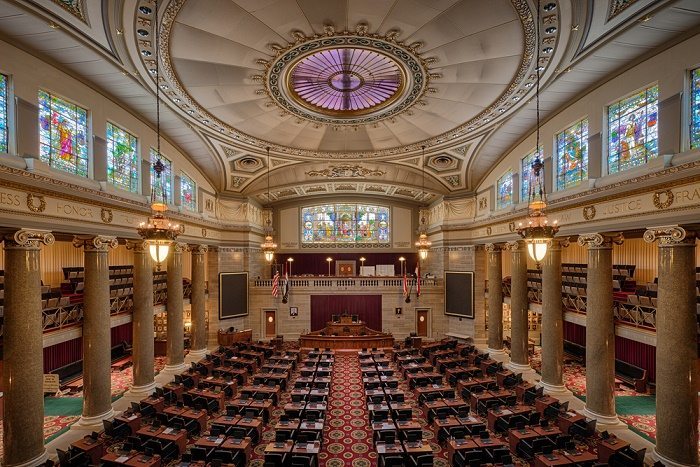 The GOP proposal would define a fertilized egg as "a person" and life as beginning at conception. Nagel Photography / Shutterstock.com
The flurry of anti-choice proposals coming in the 2016 Missouri legislative session includes one policy that appropriates the Black Lives Matter movement to create a so-called personhood law designed to effectively end legal abortion in the state.
Missouri has been a key state in the Black Lives Matter movement. After a Ferguson police officer in 2014 gunned down Michael Brown, an unarmed Black man, activists there took to the streets demanding justice for all victims of police violence.
HB 1794, sponsored by Rep. Mike Moon (R-Ash Grove), would establish the All Lives Matter Act, an example of what activists view as anti-choice legislators using the Black Lives Matter movement for their own restrictive agenda. It would amend state law to define a fertilized egg as "a person" and life as beginning at conception. So-called personhood laws have been an unmitigated failure. Voters in state after state have rejected by wide margins personhood ballot initiatives, and personhood bills have failed to gain any traction in legislatures.
Alison Dreith, interim director of NARAL Pro-Choice Missouri, wrote in an op-ed for the St. Louis American that Moon's bill is an attack on his constituents' autonomy.
"Black women have had very little reproductive choice, historically. During slavery, they [were forced] into childbirth. Then, they were forced into methods for sterilization. Since then, black women have had to bear the burden of the 'welfare mom' stereotype," Dreith wrote. "This bill continues the trend in Missouri, that women should not make their own decisions. Again, the lives of women—and especially black women—do not matter to this legislator."
The push for personhood legislation is far from the only anti-choice measure to be considered in the upcoming session. The past five years have seen the Republican-dominated Missouri state legislature propose more anti-choice bills than any other state.
Lawmakers introduced dozens of anti-choice bills during the 2014 legislative session, and introduced dozens more during the 2015 legislative session. Few anti-choice bills have been passed with a Democratic governor in Missouri, proving an obstacle for GOP-led attempts to end legal abortion. However, the vast number of anti-choice bills introduced for 2016 has caused concern for many advocates. 
The state legislature convened Wednesday, and lawmakers have already filed an assortment of anti-choice bills that restrict reproductive health care, including prohibiting physicians from using specific abortion procedures, restricting minors' access to abortion care, and appropriating the rhetoric of racial justice activists in the so-called All Lives Matter bill. 
Planned Parenthood has been embroiled in a controversy about the organization's fetal tissue donation policies and compensation, since an anti-choice front group known as the Center for Medical Progress (CMP) published deceptively edited and surreptitiously recorded videos throughout the summer of 2015.
Republican lawmakers, some of whom coordinated with CMP officials, have used the discredited videos as an excuse to investigate Planned Parenthood and attack reproductive rights nationwide. Republicans in Missouri went further than perhaps any other state to use the controversy to further an anti-choice agenda that included establishing the Committee on the Sanctity of Life. 
Despite a state investigation that cleared Planned Parenthood of any wrongdoing, lawmakers have introduced a pair of bills that would change state law governing the donation of fetal tissue. These bills include several other targeted regulations of abortion providers (TRAP) laws, including the creation of reporting requirements and admitting privilege requirements for abortion providers, along with ambulatory surgical center (ASC) licensing and inspections.
HB 1953 and SB 644, sponsored by Rep. Kathryn Swan (R-Cape Girardeau) and Sen. Bob Onder (R-Lake Saint Louis), would prohibit families from donating fetal tissue for scientific research after an abortion and create redundant reporting requirements for abortion providers.
The bills also require all physicians who provide abortion services to have both surgical and admitting privileges at a hospital within 30 miles of the clinic in which they provide abortion care; impose licensure and renewal requirements on ASCs; and mandate annual inspections of abortion providers.
Laura McQuade, the president and CEO of Planned Parenthood of Kansas and Mid-Missouri, told Rewire that GOP legislators are using the CMP attack videos as a justification for making restrictions on abortion care unrelated to fetal tissue donation.
"There are many different moving parts in these bills all designed to make access to safe legal abortion even more difficult than it is already," McQuade said. "Lawmakers have gone into this through the fetal tissue conversation to make it seem more legitimate, but it is really the same kind of nonsense."
Neither of Planned Parenthood's Missouri clinics, located in Columbia and St. Louis, participate in fetal tissue donation programs, McQuade told Rewire. To date, no state or federal investigations have uncovered any evidence that Planned Parenthood affiliates have broken fetal tissue laws.
McQuade said that everything that's happened in Missouri politics since the release of the heavily doctored CMP videos has been used to "make access to safe legal abortion in this state history."
Rep. Tila Hubrecht (R-Dexter) has introduced a bill, identical to the one she introduced but failed to pass during the 2015 legislative session, that would ban a medical procedure used for second-trimester abortions and the management of miscarriage.
HB 1714, the so-called Unborn Child Protection from Dismemberment Abortion Act, is copycat legislation drafted by the anti-choice National Right to Life Committee (NRLC), a legislation mill. The bill bans dilation and evacuation (D and E) procedures used during many second-trimester abortions and miscarriages. The bill redefines the D and E procedure as "dismemberment" abortion, language that is key to NRLC's strategy as anti-choice advocates push similar bills in other Republican-majority state legislatures.
McQuade said HB 1714 is a "very, very dangerous" bill that is an "over overstep" by state lawmakers.
"D and E is [the] safest form of second-trimester abortion, according to the American Congress of Obstetricians and Gynecologists and the World Health Organization," McQuade said. "This ban is very dangerous because it basically give politicians the ability to make medical decisions rather than medical practitioners and patients."
There are two Missouri bills that would ban abortion because of the motivations of the pregnant person seeking to terminate the pregnancy.
HB 1815, sponsored by Rep. Andrew Koenig (R-Manchester), would prohibit an abortion solely due to the sex of the unborn child or a genetic abnormality diagnosis. SB 802, sponsored by state Sen. David Sater (R-Cassville), would prohibit abortions performed solely because of a prenatal diagnosis, test, or screening indicating Down syndrome or the potential of Down syndrome in an unborn child.
Various versions of bills to ban abortion based on sex, race, or genetic abnormalities have been introduced in several states in recent years. McQuade said these bills are used as "wedge issues" and that lawmakers use emotions rather than facts to justify these types of restrictions.
"Politicians should not be allowed to force a woman to carry to term a wanted or unwanted pregnancy that has a genetic abnormality," McQuade said. "It is not a politician's right to determine for a family what that family can or cannot take on."
HB 1370, sponsored by Rep. Rocky Miller (R-Lake Ozark), would require both parents of a minor seeking an abortion to receive notification prior to an abortion, in addition to current state law that requires a minor to obtain written informed consent of one parent or guardian prior to an abortion.
HB 1433 and SB 801 would also restrict minors' access to abortion care. The so-called Supporting and Strengthening Families Acts, sponsored by Koenig and Sater, would allow a parent or legal custodian to delegate to an attorney-in-fact any powers regarding the care and custody of the child. The bill would not allow the delegations of power to "consent to performance or inducement of an abortion on or for the child."
This bill could create further obstacles for minors seeking to terminate a pregnancy while under the care of an attorney-in-fact.
McQuade said that these types of restrictions make it more difficult for a young patient to receive abortion care. "We cannot legislate good family communication," McQuade said. "We cannot legislate that a 16-year-old young woman lives in a family where should could even have that conversation with her parents."
HB 1755, sponsored by Rep. Kurt Bahr (R-O'Fallon), states that the "liberty of a parent to direct the upbringing, education, and care of his or her child is a fundamental right." The bill would prohibit any state interference in a parent's ability to oversee the health care and education of their child, and could prohibit minors from consenting to abortion care as a de facto overwrite of the judicial bypass process.
The broad language of the bill could have significant ramifications beyond reproductive health care. The GOP bill could impact everything from laws governing the vaccination of minors to criminal prosecution of child abuse.
McQuade says that this bill could have a "chilling effect on teens seeking any type of health care."
It's unclear which bills will gain traction during the 2016 legislative session, and the politics of the presidential election may change the dynamics of what Republicans determine to be legislative priorities. With Republicans holding significant majorities in both legislative chambers, maintaining a 117-45 majority in the house and a 24-8 majority in the state senate, the only roadblock for anti-choice bills may be Democratic Gov. Jay Nixon.
While reproductive rights have been attacked in several Republican-controlled state legislatures, none could match the Show Me State's record of producing unprecedented amounts of anti-choice legislation.
"Missouri has always been at the forefront of imposing restriction on abortion," McQuade said.