Victims of Rape and Sexual Assault, Failed by Criminal Justice System, Increasingly Seek Civil Remedies
Unlike criminal trials, which require the prosecution to prove the defendant's guilt "beyond a reasonable doubt," civil trials have a much lower bar, requiring only that a plaintiff persuade a judge or jury that it is more likely than not that the events occurred.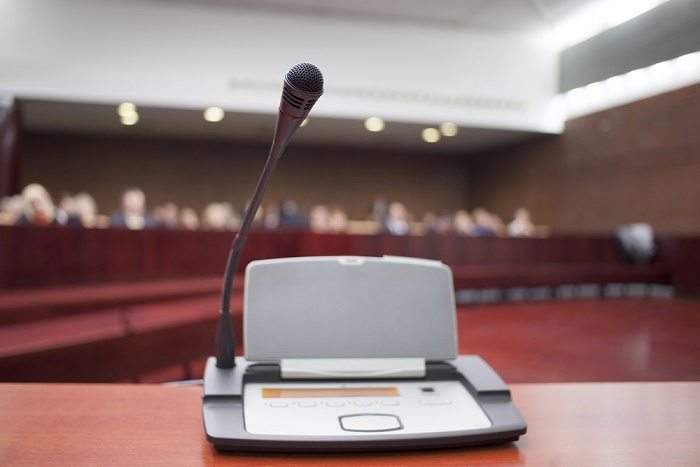 Unlike criminal trials, which require the prosecution to prove the defendant's guilt "beyond a reasonable doubt," civil trials have a much lower bar, requiring only that a plaintiff persuade a judge or jury that it is more likely than not that the events occurred. Shutterstock
This article contains graphic descriptions of sexual assault.
Alfredo Simón, a former pitcher for the Detroit Tigers who is now a free agent, is big for a baseball player.
The 34-year-old stands 6 feet 6 inches tall and weighs 265 pounds, according to his official stats. Simón's stature may be imposing on the field, but it seems even more so when reading through a civil complaint lodged in 2014 that accuses him of rape.
According to his accuser, the assault occurred when Simón was in Washington, D.C., playing with his old team, the Cincinnati Reds, in a game against the Washington Nationals. The 29-year-old woman, who in court documents is named Jane Doe, says she met Simón at a club, where she consumed several drinks and became intoxicated. Doe left with Simón in the early morning hours of April 28, 2013, and they started making out in his hotel room.
But then things turned.
Simón, she says, held her down despite her resistance, and anally raped her. Each time she tried to flee, she says, he would push her back onto the bed. Doe says he eventually yanked her by her hair and ejaculated in her face.
A forensic nurse examiner recorded Doe's injuries in the sexual assault exam she took at the hospital later that day. Four days later, Doe reported the assault to police. According to the court documents, the rape kit detailed vaginal and anal abrasions and anal tears—injuries that, forensic medical experts would later testify in the civil case, corroborated her story. These injuries were not, however, recorded in photographs. Doe declined the nurse's offer to snap images of her injuries, perhaps not understanding their potential value in bolstering her version of events.
Instead, an image that did make it into Doe's police file was a photocopy of her cell phone exchange with the friend she had gone out with that night. Doe told her friend she was leaving the club to go "fuck the baseball player." In her initial interview with police, Doe explained that she had intended to have sex with Simón. But, as noted in her civil complaint, she withdrew her consent once Simón "started to get rough with her."
Police did not interview Simón, according to court records.
Ultimately, the evidence gathered wasn't enough for the U.S. Attorney's Office for the District of Columbia, which prosecutes crimes that occur in D.C. The prosecutors presented this case to a grand jury, but notes from Doe's police file indicate it was the U.S. Attorney's Office that made the decision not to file charges against Simón, citing "insufficient evidence" and "good defense."
Historically, that would have been the end of the matter, at least from the defendant's perspective.
But Doe did not accept the state's view as the final say on her case. Instead, she filed a civil lawsuit against Simón, claiming $10 million in punitive damages for assault, battery, and intentional infliction of emotional distress, and $5 million to compensate her for medical expenses and lost wages. The case ultimately settled for a fraction of that amount—$150,000, Simón's attorneys told USA Today—and Simón did not admit any wrongdoing.
William Miller, a spokesperson for the U.S. Attorney's Office for D.C., would not comment on Doe's case. "We are legally barred from providing information about confidential grand jury proceedings," he said in an email.
Legal experts told Rewire that by suing her alleged attacker in civil court, Jane Doe joined the ranks of a growing movement in the field of sexual assault.
Though there is no comprehensive national database that tracks the number of civil cases brought against alleged perpetrators of sexual assault, anecdotal evidence suggests a trend in the United States for victims to seek civil redress.
Every year, thousands of cases involving allegations of sexual assault are abandoned in the United States due to a range of reasons. These include lackluster police investigations, lack of forensic evidence, a victim's unwillingness to testify, and, according to a recent White House report, because "law enforcement officers and prosecutors are not fully trained on the nature of these crimes or how best to investigate and prosecute them."
Indeed, rape is notoriously difficult to prosecute and harder to prove. Even after decades of criminal justice reform and dedicated efforts from survivors and advocates, prosecutors are generally reluctant to go after alleged persecutors aggressively, often fearing they won't win a conviction. Trials can also be traumatic for victims, who frequently face juries biased by cultural assumptions about rape.
"We [in society] generally don't second-guess people who say that they were burglarized or say that their car was stolen or who say that they were assaulted, but we absolutely second-guess people that claim that they were sexually assaulted," former special victims prosecutor Roger Canaff told Rewire in a phone interview. "We either are skeptical of the truth of the allegation or we look to blame that person."
Unlike criminal trials, which require the prosecution to prove the defendant's guilt "beyond a reasonable doubt," civil trials have a much lower bar, requiring only that a plaintiff persuade a judge or jury that it is more likely than not that the events occurred.
For many victims, it is easy to see the appeal of choosing a venue where they are at least held to a more attainable burden of proof than in a criminal court. Sometimes they file a civil suit in addition to pursuing criminal charges, or they only make a civil complaint.
Civil rights attorney Gloria Allred, whose Los Angeles-based firm has specialized in representing women who have been victims of various types of sexual abuse and harassment, says she is seeing increasing numbers of women consider civil remedies as a form of justice after they have been sexually attacked.
"More and more, I think victims are very seriously considering the civil option, because it's empowering," Allred told Rewire in a phone interview. "You're moving from being a victim to a survivor to a fighter for change."
This shift in mentality is especially apparent in the civil claims against Bill Cosby, who has become the face of one of the most high-profile cases of sexual assault allegations in the past decade. Allred's firm—Allred, Maroko & Goldberg—represents about half of the nearly 60 women who have so far come forward with claims, reaching as far back as the '60s, against the man formerly known as "America's Dad." Coverage of the claims against Cosby has intensified over the past two years, but the fact remains that the fallen Hollywood star has yet to serve time for any of the allegations against him. Cosby faced his first criminal charges in one of these cases only very recently. Prosecutors in Pennsylvania charged him with sexual assault in late December for allegedly drugging and sexually assaulting a woman in 2004.
For his accusers, Allred says civil court offers women another opportunity for justice. And she says the civil route is empowering because, unlike criminal prosecutions where the state is in charge, civil cases enable victims to decide whether and how to proceed in their case.
"It's the case of the victim, not the case of the people of that state," Allred said. "As [people] see women standing up and not being afraid to fight back, it does have a ripple effect, and it does inspire other survivors to think, 'Well, if she can do it, maybe I can do it, too.'"
Suing to Change the System
The trend of rape-related civil lawsuits has been building over time, as University of Arizona law professor Ellen Bublick documented in 2006. In recent years, increased recoveries from plaintiffs have stemmed from sexual abuse lawsuits against Catholic priests and on college campuses, with settlements for rape-related lawsuits often averaging half a million dollars.
Rewire's review of dozens of federal civil lawsuits involving sexual assault filed since 2012—available in public court databases and the National Crime Victim Bar Association's civil case database—indicate that outside of a handful of deep-pocketed athletes and celebrities, most sexual assault survivors are seeking damages from third parties. The trend appears to be especially apparent with complainants at schools and in institutions, particularly correctional facilities, where prisoners are vulnerable to sexual assaults at the hands of prison guards and fellow inmates, and often have little recourse outside of civil redress.
Perhaps the most prominent use of civil laws to win justice for sexual assault victims has been by college students, who have forced universities to take campus sexual assault more seriously via cases filed under a 1972 civil rights law known as Title IX. The law requires educational institutions to take proactive action to ensure that students are not subject to sexual discrimination, including rape or other forms of sexual assault, such as harassment and sexual touching—or groping—that falls short of penetration.
Over the past few decades, survivors and advocates have leveraged the law's requirements in order to build awareness of the problem of assaults on college campuses and in public high schools. A glowing reception at the Sundance Film Festival of the documentary The Hunting Ground, about on-campus rape, has only propelled momentum for solutions to combat attacks at universities.
And student advocates are explicit about the advantages that Title IX can have over criminal prosecutions.
The group Know Your IX, started in 2013 by a group of sexual assault survivors and their supporters, explains on its website that "many victims of sexual violence don't want to turn to the criminal justice system."
The group states: "[Victims] may fear skepticism and abuse from police, prosecutors, or juries; they may not want to go through the ordeal of a long trial; they may fear retaliation from their assailant, who will most likely not end up prosecuted, let alone convicted; and they may be hesitant to send their assailants to prison. But even survivors who do report to the police are often abandoned by the system."
By contrast, Title IX requires schools to investigate every report of sexual assault. And as with all other civil claims, the victim must prove that it is more likely than not that the alleged assault occurred, rather than that the crime occurred "beyond a reasonable doubt."
Like Title IX activists seeking cultural change in the way institutions manage sexual assault cases, some victims have used a similar approach to spur action on the processing of rape kits.
Between 2012 and 2014, seven anonymous women from Harvey, Illinois, sued the Chicago suburb for the county's failure to process and test rape kits that had been collected after they reported rapes between 1999 and 2008.
Like many jurisdictions in the United States, Harvey's police had not begun testing the kits, even though they contained evidence collected from victims who had endured forensic exams that often last hours and can be invasive and distressing.
One of the victims, known as Jane Doe I, first reported being raped by her stepfather in 1997, when she was 11 years old. She submitted to a rape kit exam, which found semen in her vagina.
According to court records, Doe I's mother reunited with the stepfather, Robert Buchanan, early into the police investigation, and asked her daughter to blame the assault on a schoolmate. Doe I recanted, as is common in sexual assault cases involving minors and family members, and police closed the investigation without attempting to match the DNA sample to Buchanan or to conduct further investigation, according to the complaint and subsequent court records.
In the civil case, Doe I testified that Buchanan went on to assault her for several years. She estimated that he raped her more than 100 times between 1998 and 2004, but her previous experience deterred her from reporting the crimes to police. Police tested her rape kit in 2007 and found a match to Buchanan's DNA. City attorneys finally convicted Buchanan of sexually assaulting a minor in 2012 and sentenced him to six years in prison.
The City of Harvey awarded Jane Doe I $1.2 million and awarded the remaining six plaintiffs a combined $241,250, according to the Chicago Tribune. Together, these women, many of whom were minors at the time of their assaults, filed a total of three class action lawsuits that centered in part on the county's failing to process or preserve more than 200 rape kits. Cook County prosecutors discovered these abandoned kits after raiding Harvey Police Department headquarters. Of these kits, only 50 were deemed viable for testing—including those of the anonymous plaintiffs in these cases—and led to charges against 14 individuals.
Monetary Justice
Toward the end of 2014, Mattie Bright desperately searched for a new high school for her daughter.
In November 2014, Bright's then-15-year-old said three boys raped her in the middle of the school day in an abandoned classroom at Rosa Fort High School, in rural Tunica, Mississippi. Though police apprehended the alleged perpetrators, they returned to school two days later. One of the boys continued to ride the same bus as Bright's daughter for months.
The criminal case is still pending, but last summer Bright sued the Tunica County School District in civil court, seeking damages to compensate her daughter's psychological and emotional distress. Tunica is a rural town, and Bright cannot afford the hefty tuition of an all-girls private school, one of the closer options, said Stephanie Morris, the civil attorney representing Bright and her daughter.
The costs associated with this traumatic event continue to swell, Morris told Rewire.
"She has been severely depressed and having chest pains," she said, of Bright's daughter. "She needs counseling, extensive counseling. Quite naturally, this is something that affects women for years and years to come. Some people need counseling for the rest of their lives."
While many states do offer some form of compensation to victims of violent crimes following a criminal conviction, they tend to only cover a limited range of expenses.
However, civil lawsuits allow victims to fight for compensation for the full range of their injuries—medical and psychological—and in that way, these suits can better reflect the true damage inflicted by rape and sexual assault.
According to the complaint Bright filed in August, she is suing the Tunica County School District and school officials for not taking proper action after the alleged rape occurred and for acting indifferently to the verbal and online sexual harassment her daughter allegedly experienced following the assault. The complaint claims that only when local media began reporting on the alleged attack four months later did the school take any independent action, firing two teachers and expelling the students implicated in the attack.
Katherine Kerby, the attorney representing the Tunica County School District and other school officials, declined to comment on the case.
Bright is also seeking punitive damages, as well as a requirement that the school district implement steps to prevent sex-based discrimination and harassment and to fully investigate these incidents as they occur. The amount of damages sought is unspecified.
"The school district was so indifferent to what had happened to this child," Morris said. "So, punitive damages would be appropriate just to deter them from this type of response, or non-response, in the future."
Entrenching Inequalities
While the civil route offers some advantages, legal experts warn that it cannot take the place of robust criminal prosecution. Not only does it fail to remove dangerous individuals from society, but it also only works against defendants or institutions with deep pockets, a reality that excludes the majority of sexual assault cases.
After all, civil lawsuits are only an option for those whose perpetrators happen to have enough money to make them worth suing, a glaring inequality that lawyers and experts say will limit the extent to which civil action can be used to combat sexual assault.
University of Oregon law professor Tom Lininger in his 2008 Duke Law Journal article "Is It Wrong to Sue for Rape?" argues that lower-income defendants are more likely to serve time than rich defendants, who are more likely to pay for their crimes in civil courts.
Allred says that inequality is simply an unfortunate reality of an imperfect system.
"As the old saying goes, 'You can't get blood out of a stone,'" she said. "You know, is it worth it to spend hundreds of hours in a civil lawsuit against a perpetrator who has no assets? Where is the justice in the end?"
For LW, a resident of Washington, D.C., the fact that her alleged attacker did not have substantial assets was just one of the factors that ruled out civil proceedings in her case.
In an interview with Rewire, LW, who asked to be identified by her initials, said she was drugged and raped by a man she met at a concert in October 2012. She said the man, a friend of a friend, offered her a vodka and Red Bull, which, she said, knocked her out almost immediately.
LW said she awoke the next morning to a bed covered in vomit and blood, faded memories, and the realization that she was no longer a virgin. LW was convinced she had a solid case, a prime piece of evidence being that her rape kit matched the offender's semen.
LW's victims' rights attorney, Bridgette Stumpf, confirmed the facts LW laid out about her case with Rewire but said she could not reveal any privileged information about her client's case. Stumpf is the co-founder and co-executive director of the Network for Victim Recovery of DC, a nonprofit that since 2012 has offered free legal, case-management, and advocacy services to all victims of crimes in the District.
LW said the U.S. Attorney's Office told her in July 2014 that her case was not strong enough to go trial. Months later, after filing a Freedom of Information Act request for LW's police file, Stumpf and LW learned that her alleged rapist had changed his story. Initially, he denied raping LW and claimed he had simply brought her home. But when told his semen was found in a rape kit, LW said, he shifted his story, claiming they had had consensual sex. The U.S. Attorney's Office declined to comment on LW's case.
LW seriously considered filing a civil lawsuit against the alleged attacker but ultimately decided against it.
"I decided it wasn't for me," LW said in a recent email. "It may seem that civil suits are 'easier' to win and are better at getting justice, but that comes with a price tag. The cases can be dragged out for a long time, the victim is put through intense questioning, sometimes even psych evals, and you have to re-live the whole experience. Plus, in a civil case, it is all about punitive damages. Most perpetrators don't have money to pay to the victim, let alone anything else that you could sue for."
And on top of that, even a successful civil suit would have failed to deliver the results LW said she most wanted. LW, like other rape survivors who spoke to Rewire, believes her alleged attacker has likely assaulted other women, or will again. LW is not alone in this thinking. Sexual assault researchers have found that many rapists, including so-called date or acquaintance rapists, are repeat offenders.
"For me, I realized that what I wanted most was for my perpetrator to face criminal charges," she said. "I wanted him to get jail time and be registered as a sex offender, and have his DNA in CODIS [the FBI's national criminal database]. The statute in DC for criminal charges in rape cases is 15 years. I have hope that one day, my perpetrator will face criminal charges for the rapes he has committed, but civil charges wouldn't help me sleep at night."