It Shouldn't Take a Superhero to Access Abortion Care in Prison, but in 'Jessica Jones,' It Does
Critics have hailed the show for its realistic feminist-leaning plot lines and discussions of sexual consent, rape, and addiction. But while the show offers a depiction of a confident abortion decision, the reality of the situation is pure fiction.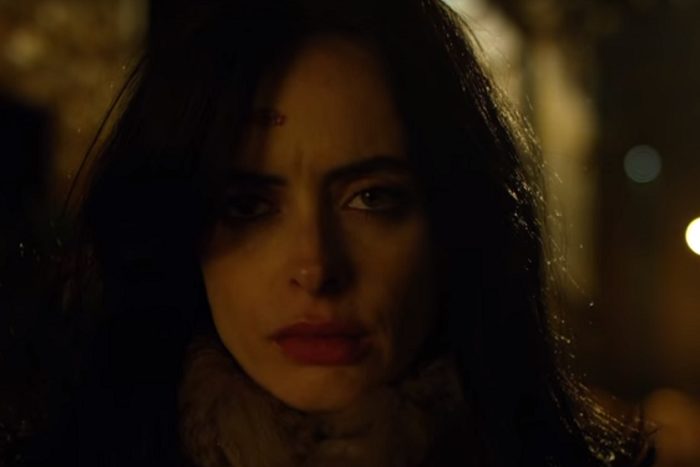 Critics have hailed the show for its realistic feminist-leaning plot lines and discussions of sexual consent, rape, and addiction. But while the show offers a depiction of a confident abortion decision, the reality of the situation is pure fiction. Netflix US & Canada / YouTube
This piece is published in collaboration with Echoing Ida, a Forward Together project.
The protagonist of Netflix's Jessica Jones series is a former superhero with extreme strength who is trying to make it as a freelance private investigator in New York City. Played by Krysten Ritter, Jones is a cynical and whip-smart character who self-medicates with alcohol as she attempts to destroy her mind-controlling arch nemesis, Kilgrave (David Tennant).
Critics have hailed the show for its realistic feminist-leaning plot lines and discussions of sexual consent, rape, and addiction. But while the show depicts a confident abortion decision, the reality of the situation is pure fiction.
In the sixth episode, titled "AKA You're A Winner!" Jones is called to a local jail after hearing that a young woman she rescued from Kilgrave, Hope Schlottman, was beaten by another incarcerated woman. Jones learns Schlottman paid the woman "$50 and a pack of smokes" in hopes of forcing a miscarriage because she was pregnant by Kilgrave. (Viewers learned in earlier episodes Kilgrave had taken Schlottman under his control—along with other women, including Jones—forcing her into sexual acts and to murder her parents, for which she was in jail.)
"I'm pregnant … still," she tells Jones. "I can feel it growing in me, like a tumor." Schlottman says she wants an abortion but a provider cannot see her for at least two months. She tells Jones that she will pay for additional beatings until she terminates the pregnancy.
"Every second it's there, I get raped again and again," Schlottman says, adding, "I wanna live. I wanna have children, but I won't give life to this thing. I won't do it."
Jones works with Schlottman's lawyer to obtain an abortion pill. When presenting Schlottman with the pill, Jones tells her, "Once you take this there's no do-overs. You'll be sick as shit for about eight hours so I need you to be 1,000 percent sure." Schlottman grabs and swallows the pill before Jones can finish her statement to show how sure she is, muttering, "Please work fast. Please work fast." The show later depicts Schlottman cramping in her hospital bed as the abortion completes.
While the show does depict a young woman who is confident and determined to end her pregnancy, and who is able to access a medication abortion with the assistance of a superhero, for incarcerated people, this is not nearly the case.
One in 25 women at state prisons and one in 33 women in federal prisons are pregnant at the time they are admitted, according to the Sentencing Project. Like Schlottman, some will seek an abortion. While a set of court cases show how the constitutional right to abortion in the United States applies to people incarcerated, that hasn't ended the barriers to accessing care. Many barriers are similar to the ones people outside prison face when seeking care, such as mandatory delays, financial hurdles, and transportation challenges, especially when multiple trips to a clinic are mandated under state law, Dr. Carolyn Sufrin, an OB-GYN who works with incarcerated women, told Rewire in an email.
But other barriers, she continued, are manufactured by local sheriffs and administrators, including requiring the cost of transportation and security to be paid up front, demanding additional administrative bureaucracy and court orders, and having incarcerated women cover the cost of the procedure due to the Hyde Amendment and the burden of Medicaid health-care costs shifting to the correctional facility. Women in prison also are more likely to experience unexpected delays and costs, as well as an overall loss of privacy during their decision.
Because courts and prison administrators view abortion as an elective medical care, it is subject to stigmatizing rules, which delay access and increase costs. Some incarcerated people call the American Civil Liberties Union to help expedite the legal process, or the National Network of Abortion Funds, where I work, for funding assistance, but only if they know that's an option.
But back to Jessica Jones: At the end of the first season, the writers elevate one of the many false tropes about women seeking abortions in media when Schlottman dies by suicide.
More than 15 percent of women depicted in abortion story lines die after choosing to terminate, and 11 percent of those die by suicide, according to a study by the University of California, which looked at film and television from 1916 to 2013. Even when the deaths are not explicitly tied to the characters' abortion decisions, this pattern reinforces the false narrative that people choosing the procedure experience negative mental health outcomes related to those decisions—rather than, for example, negative outcomes because of their circumstances created by unjust systems and anti-choice legislation—and deserve violence.
All of these circumstances make the depiction of abortion on Jessica Jones implausible. In reality, incarcerated people have a very difficult time accessing abortion care, particularly medication abortions.
Dr. Sufrin explained that the experience of a medication abortion in prison wouldn't be as pleasant in real life as it is depicted in Jessica Jones.
"[I]t is highly unlikely that a prison or jail will have a provider who is certified to dispense mifepristone, which requires a special dispensing agreement with the manufacturer, and even more unlikely that the facility would stock the medications for medical abortion on site," said Dr. Sufrin. "What's more, medical abortion requires at least two visits to a clinic, the first to take the medications and the second for follow-up to confirm the pregnancy has passed. Each trip off-site to a clinic involves extra logistics and staff to transport the woman."
Dr. Sufrin added that many prisons ration pads, tampons, and pain medication an incarcerated person can have, thus the pregnant person might not receive enough for the bleeding and cramping they'd experience during an abortion. Additionally, incarcerated people seeking a medication abortion are often afforded less privacy because there is no space for them to complete the abortion within the prison, unlike in a clinic for a surgical abortion, Dr. Monica McLemore, assistant professor at the University of California San Francisco School of Nursing, told Rewire.
"[M]edication abortion isn't really offered as an option because of logistical space issues and ability for pain management, comfort care, and sanitary supplies in the jail," she said.
"Medical abortion is practically just not a great option for incarcerated women," said Dr. Sufrin.
The type of correctional facility in which an incarcerated person is held also makes a difference in the care they are able to receive, said Dr. McLemore. She explained that in California, access to an abortion while incarcerated is dependent on whether someone is housed in a public facility where the health services are run by the state health department, or a private facility where the services are privately contracted out.
"In our experience, getting women second-trimester abortions is very difficult at Santa Rita [a private prison] because of delays related to dealing with Corizon [the company with whom the health-care services are contracted]," said Dr. McLemore.
She recently supported a patient who wanted to terminate her pregnancy when she was around 18 weeks, Dr. McLemore said, but was forced to wait until her release over a month later to actually have her abortion.
Being forced to carry an unwanted pregnancy longer than one wants, or to term, can have negative impacts on mental health for anyone, especially an incarcerated person without adequate access to health care and mental health services. Unsurprisingly, a recently released report, called Who Pays? The True Cost of Incarceration on Families, found a majority of the incarcerated people surveyed experienced negative health impacts associated with being in prison. This can be compounded by the experience of not receiving urgent medical care there. Even in cases where the incarcerated person wants to carry the pregnancy to term, they are often denied basic prenatal care to ensure a healthy pregnancy and child.
Serious changes are needed to ensure all incarcerated people receive comprehensive and compassionate health care while in prison, including abortion care. Dr. McLemore said she'd like to see more sheriffs trained on reproductive and gynecological care and the role staff plays in patients receiving it while in custody. Health care should not be dependent on whether a correctional facility's health system is privately contracted or not, she added.
Similarly, Dr. Sufrin would like to challenge the notion of "elective" and "medically indicated" abortions within the prison system. "An elective procedure is one that can be delayed indefinitely without a significant impact on someone's life or health—which is clearly not the case for pregnancy," she said. "And when you have women who are not able to access abortions by virtue of being incarcerated, then they are forced to carry unwanted pregnancies as part of their punishment."
Simply put: It shouldn't take a superhero to get an abortion in prison.
CORRECTION: A previous version of this article incorrectly stated the U.S. Supreme Court has taken up this issue. In fact, a set of lower court cases show the constitutional right to abortion in the United States applies to people incarcerated. We regret the error.