Alabama Detention Center Receives Authorization to Force-Feed Hunger Striker, Ending #FreedomGiving Protest
"Force-feeding is a legal form of retaliation and torture and ICE is tormenting these immigrants in detention instead of granting them their freedom," an advocate, Sasha W., told Rewire.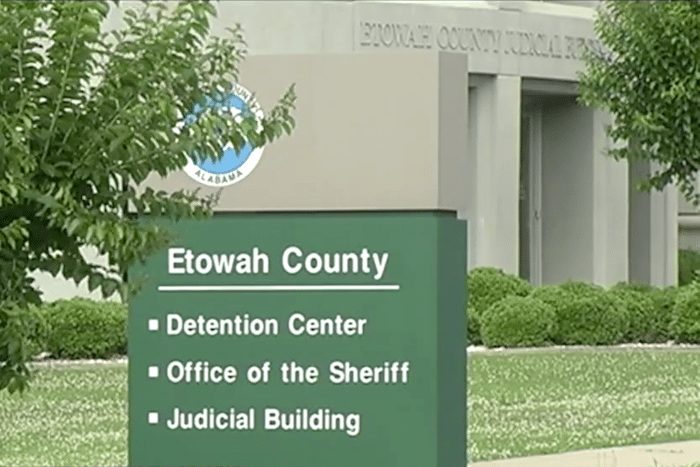 "Force-feeding is a legal form of retaliation and torture and ICE is tormenting these immigrants in detention instead of granting them their freedom," an advocate, Sasha W., told Rewire. WIAT42 via YouTube
Detainees at the Etowah County Detention Center in Gadsden, Alabama, ended a 14-day hunger strike on Wednesday after hearing that last week Chief U.S District Judge Karon O. Bowdre authorized officials to force-feed one of the hunger strikers at Etowah. The detainee was in "deteriorating health" because of dehydration, according to reports.
Advocates said that force-feeding will be used as a form of retaliation.
"It is true that we obtained judicial feeding orders for two individuals," an Immigration and Customs Enforcement (ICE) official said to Rewire via email post-publication, "however, those two individuals [in ICE custody] resumed eating on their own and the order was never used."
The detainee at Etowah was one of more than 100 asylum-seeking men at three facilities in two states who participated in #FreedomGiving, a hunger strike that launched the day before Thanksgiving. The men are being held at the Theo Lacy Facility (Orange County, California), the Otay Detention Facility (San Diego, California), and Etowah, where advocates say more than 40 detainees participated in the strike at its peak. The strike has since spread to to the Aurora Detention Facility (in Colorado), the South Texas Detention Facility (in Pearsall, Texas), and the Krome Service Processing Center (in Miami, Florida).
The bulk of the initial #FreedomGiving participants are from Bangladesh. All of the initial 100 hunger strikers have been detained for at least two years and are demanding immediate release. The hunger strikers are also demanding that ICE end its detention bed quotas and practices of indefinite detention, as well as calling for improved conditions in its facilities and for the release, parole, or supervision of all asylum seekers held for more than six months.
Sasha W., organizing director at the National Queer Asian Pacific Islander Alliance, a member of the #FreedomGiving Hunger Strike Support Committee, told Rewire the authorization of force-feeding is just another tactic being utilized by ICE to break the hunger strikers, put a stop to discussions demanding their release, and stifle conversations about the well-being of the detainees and about the conditions in its federally sponsored facilities.
Lisa Moyer, an organizer with the group Shut Down Etowah, said detainees in Etowah reported to organizers that they were woken up every 15 minutes by guards asking if they were hungry. "It was clearly to keep them from sleeping," Moyer said. The organizer also told Rewire that a hunger striker was catheterized without explanation and hunger strikers reported that solitary confinement was often used as a retaliation tactic.
"These are the same conditions and abuse that these detainees and strikers fled their countries to avoid," Sasha said.
In a letter obtained by #Not1More, a collaboration between individuals, organizations, artists, and allies to expose, confront, and overcome unjust immigration laws, Mahbubur, an asylum seeker held in Etowah, wrote that some detainees have attempted suicide because of their treatment in custody:
Not only in Alabama, many Bangladeshis are also passing miserable days in other detention centers across America. They came to the United States with a hope to get asylum, but as their asylum applications have been denied and they are under order of deportation, in that case if they are deported to Bangladesh the present government will persecute them accusing them of creating unrest or vandalism by bringing false charges against them. Many of us even attempted to commit suicide for fearing of the government retribution if deported.
Sasha claimed that the authorization to force-feed the Etowah detainee had nothing to do with their health and well-being, and it also has bigger implications given the current political climate.
"We know that, especially in this particular moment, ICE is using hate-filled rhetoric in this Islamophobic climate we're in to be able to justify some of their practices. If ICE cared about the well-being of these detainees, their response would be freedom, not force-feeding. ICE is also threatening the Bangladeshi detainees with deportation and that's ICE operating as judge, jury, and executioner, because if these Bangladeshi detainees are sent back, they will be disappeared, tortured, and killed," Sasha told Rewire.
Referred to as "among the worst" immigration detention centers in the country, with numerous complaints of human rights abuses, Etowah is, according to Moyer, "like a warehouse for ICE" because it has one of the cheapest per diem rates for housing detainees in the country: just $35 a day per person. According to Detention Watch Network's report, Expose & Close: Etowah County Jail, immigrants held at Etowah experience among the worst detention center conditions in the country and detainees "suffer terribly" due to the remote location of the facility, poor phone and visitation access, lack of any outdoor recreation or access to fresh air or sunlight, inadequate medical and mental health care, meager and barely edible food, and minimal programming.
All of this is intentional, Moyer said.
"Detainees are purposefully sent to Etowah to be held long-term, break their resolve, and isolate them from social support services, family or community support, or legal counsel," the organizer said. "It's a detention center tucked away inside of a jail and people don't even know it's there. I talk to people all the time who live in Etowah County who have no idea there's a detention center there. The isolation is purposeful."
Advocates said the force-feeding authorization in Alabama has the ability to set a precedent at detention centers across the country, and it is a demeaning and degrading way to take over someone's bodily autonomy.
"People in detention don't have a lot of control. When they choose to hunger strike, they are using their bodies to assert they want freedom. The strikers have said that they are willing to put their lives and their bodies on the line, risking death, for their freedom," Sasha said. "A hunger strike is a way of asserting power, demanding release, and expressing that the conditions in detention are intolerable. Force-feeding is about torture, intimidation, and retaliation. Bottom line."
UPDATE: This piece has been updated to include remarks from an Immigration and Customs Enforcement representative.