The 'False Choices' of the Detention Center Debate
While Immigration and Customs Enforcement (ICE) has implemented policy changes to avoid detaining asylum seekers for long periods of time, immigrant rights advocates are raising concerns about their methods and the "false choices" the government has forced itself into.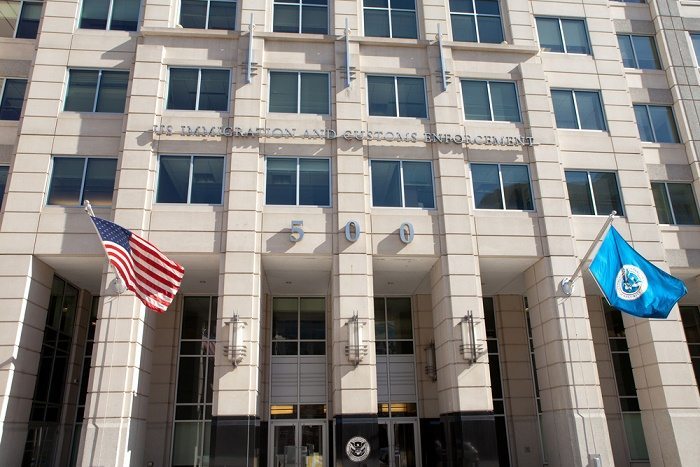 While Immigration and Customs Enforcement (ICE) has implemented policy changes to avoid detaining asylum seekers for long periods of time, immigrant rights advocates are raising concerns about their methods and the "false choices" the government has forced itself into. Mark Van Scyoc / Shutterstock.com
For months now, as part of a new policy aimed at providing alternatives to detention, Immigration and Customs Enforcement (ICE) has released hundreds of undocumented mothers and their children from federal detention centers. Included as a condition of their release: The adult asylum seekers must wear an electronic monitor on their ankle 24 hours a day.
"[G]oing forward, ICE will generally not detain mothers with children with a credible fear of persecution in their home countries, so long as they can provide an address and are not deemed a national security or flight risk," ICE spokesman Richard Rocha said in July after the policy changes kicked in.
For some, this move represents a step in the right direction. But advocates are raising concerns about the apparent conflict of interest associated with the company hired to check in with the released women, which has seen a number of sexual assault allegations at its detention centers—such as Karnes County Residential Center in Texas—housing the same group of women, according to an NPR report. Furthermore, immigrant rights organizations say there are other options, such as community-based alternatives, available beyond electronic ankle monitors to avoid detaining asylum seekers for long periods of time, a "highly damaging" method to their mental and physical health.
Mary Small, the policy director of Detention Watch Network, a national coalition working to expose and challenge the injustices of the U.S. immigration detention and deportation system, told Rewire that it's important for the government not to force itself into "false choices."
"The choice between incarcerating asylum-seeking women or releasing asylum-seeking women in ankle shackles or with incredibly high bonds—this is not a choice the U.S. government is backed into," Small said. "There are other options available to [the U.S. government]. We need to keep our eye on the bigger picture and not get sucked into debating whether these tiny, incremental changes are improvements. We need to focus on whether or not the government is acting appropriately in terms of its obligations to asylum seekers."
Months before ICE's policy change announcement, a privately run, for-profit detention facility opened in Dilley, Texas, for the express purpose of detaining 2,400 mothers and children. Allegations of medical neglect there have already surfaced.
Opening new family detention centers while purporting to no longer detain mothers and children is one of the many reasons advocates are skeptical of ICE's new initiative.
The Dilley facility was part of Department of Homeland Security (DHS)'s expanded detention of mothers and children by more than 4,000 percent, from approximately 85 detention beds to nearly 3,800 beds. This was in response to the latest surge of Central American asylum seekers, according to the National Immigrant Justice Center. The organization reports that mothers and children fleeing extreme violence in El Salvador, Guatemala, and Honduras will fill most of these beds. Among those who entered family detention in 2014, more than half of all children were age 6 or younger.
DHS Secretary Jeh Johnson has said that new detention facilities were built to quickly deport people and deter future migrants. Now under an injunction that prohibits DHS from detaining for deterrence, the National Immigrant Justice Center reports that DHS has begun to justify family detention as a means of keeping families together, falsely implying that DHS would otherwise have no choice but to separate mothers and children.
Neither detention nor monitoring is needed, advocates say. There is a third, community-based option that has already "proven to be cost-effective and successful in ensuring participants appear for scheduled court hearings."
For years, advocates have been asking ICE to pilot a community-based alternative to detention that would help undocumented people not only make sense of the very complicated immigration process they're going through, but avoid ever having to see the inside of a detention center. Some of the things advocates are asking for include information about the U.S. citizenship process in different languages, resources to find an attorney, and help knowing where and when to show up for legal proceedings. Earlier this year, ICE agreed to shift its policies following findings from the Lutheran Immigration and Refugee Service and the United States Conference of Catholic Bishops, both of which paid for programs to show ICE a community-based approach could work.
In its report Locking Up Family Values, Again: The Continued Failure of Immigration Family Detention, which was written in conjunction with the Women's Refugee Commission, the Lutheran Immigration and Refugee Service found that family detention cannot be carried out humanely; conditions at detention centers are entirely inappropriate for mothers and children; detention traumatizes families, undermines the basic family structure, and has a devastating psycho-social impact; families are detained arbitrarily, without an individualized assessment of flight or security risk and without due consideration for placement into alternatives to detention; and family detention inherently denies due process and impedes migrants' ability to access the immigration legal system.
ICE heeded advocates' call to fully implement and expand alternatives to detention earlier this year. But it did so by putting out a proposal request for a company to manage the cases of the asylum seekers and oversee electronic ankle monitors, a solution that does take many families out of detention but is also raising many concerns for advocates.
In September, ICE announced the $11 million contract would be awarded to GEO Care, a subsidiary of GEO Group, which calls itself a private, correctional, detention management, and community residential re-entry services company. GEO runs 15 detention centers in six states, including the Karnes County Residential Center, created to detain the "overflow" of Central American mothers and children. The GEO contract with ICE for Karnes alone is worth $26 million annually, and as NPR reported, the government will pay GEO $56 million this year to manage ankle monitors for 10,000 immigrants, and to run telephone check-ins for 20,000 immigrants.
Last year GEO Care earned $330 million of the corporation's $1.7 billion in revenue.
Small told Rewire that she and many other advocacy organizations have "extreme concern and skepticism" over GEO presiding over so much of ICE's dealings and profiting so heavily from the detention system.
"When it comes to the way GEO makes profit, there are at least three layers to it. In addition to running detention facilities like Karnes and being awarded oversight over this new program, which includes management of the ankle monitors, GEO will now also run the case management services, ostensibly making them social workers. Every time the scope of surveillance has expanded for migrant communities, GEO has been by ICE's side ready to make it happen and ready to make significant profit off of it."
The fact that GEO employees will be operating as social workers is a major concern, advocates say, because the company has a long history of alleged abuse as it relates to inmates and detainees, including accusations of sexual abuse at Karnes and detainee deaths at the Adelanto detention center in California and the Aurora detention center in Colorado, both of which were found to be the result of medical negligence.
"According to ICE's own rules, the contractor must have demonstrated experience doing this work. We haven't seen proof that GEO has any experience doing social work and given GEO's track record of abuse in its detention facilities, how does that make them an appropriate contractor for this particular contract?" Small asked.
(GEO representatives referred Rewire to ICE for comment; ICE did not respond to requests by publication.)
"Dr. Olivia Lopez, the former social worker at Karnes, resigned because she was being asked to do things that were unethical and she didn't want to put her license at risk," Small added, alluding to Lopez's testimony. "In this particular instance, this is GEO doing social work and doing it so poorly a social worker felt ethically compelled to resign."
Lopez resigned in April 2015 and in July, testified at a forum on family detention hosted by the Congressional Progressive Caucus and Democrats from the House Judiciary Committee that she had been repeatedly asked to omit information from written documents, lie to federal immigration officials, and withhold information from residents about their right to grievance. Lopez said, "These institutional practices are unethical, incongruent with professional ethics, and abusive to children and their mothers."
According to Small, ICE's new GEO-run initiative that includes ankle monitors is being rolled out in the Washington, D.C.-Baltimore region, the New York City-Newark area, Miami, Chicago, and Los Angeles at the end of December. Small said GEO will sub-contract with different providers, but will be the face of the program. Whether culturally competent care, including case workers able to communicate in the asylum seekers' language, will be taken into account is unknown. Small said this is just another of many concerns.
"All of this has to be considered if this is going to be anything other than a complete disaster," she said. "Not that long ago, it was practice to parole asylum seekers without these conditions [ankle monitors] of their release. We are merely asking for the government to return to that practice. It's not out of the realm of possibility, but what we're seeing is an overreaction from the government. The government needs to take a deep breath and respond in a more measured and compassionate way."