Colorado GOP Legislator Implies Gay Boy Scout Leaders Should Be Drowned
Colorado State Rep. Gordon Klingenschmitt's latest anti-LGBTQ comments were roundly condemned this week, both by progressives and conservatives.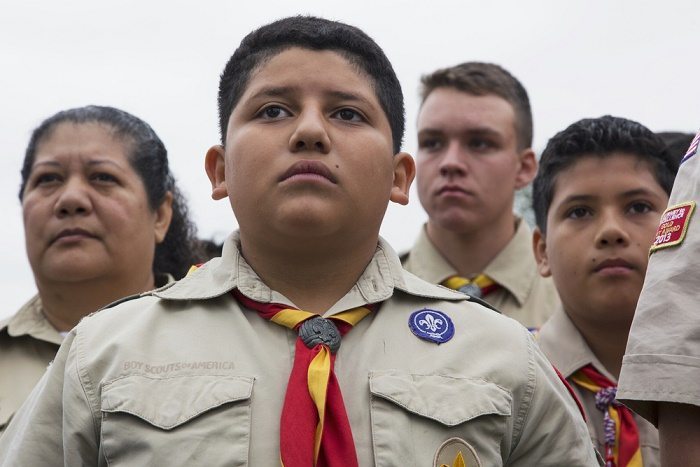 Colorado State Rep. Gordon Klingenschmitt's latest anti-LGBTQ comments were roundly condemned this week, both by progressives and conservatives. Joseph Sohm / Shutterstock.com
Colorado State Rep. Gordon Klingenschmitt (R-Colorado Springs), in Monday's edition of his online video series called "Pray in Jesus' Name," urged his viewers to pull their children out of the Boy Scouts because "homosexual men mentoring and camping" with boys "will lead to child abuse."
"The children are in danger," said Klingenschmitt, a first-term Republican. "It's not about the sexual pleasure of the adults. It should be about protecting innocent children."
Klingenschmitt implied that gay scout leaders should be drowned because they would abuse children. Quoting the Bible, he said, "Whoever caused one of these little ones who believes in me to sin, it would be better for him if a millstone were hung around his neck, and he were drowned in the depths of the sea."
"If your boy is in one of those organizations, you need to get him out of there, because what they are going to do is promote homosexual men to mentoring and camping with your boys in the woods, and it will lead to child abuse," Klingenschmitt said.
Progressives and conservatives alike condemned the comment, with the Colorado State Republican Party issuing a statement Wednesday. "We strongly condemn Gordon Klingenschmitt's highly offensive comments. As we've said in the past, Gordon does not speak on behalf of the Party, nor do his words reflect our Party's values."
"These comments are reprehensible—and he should be ashamed of himself for making them," Dave Montez, director of One Colorado, an LGBT advocacy group, said in a statement. "Gay adults are involved in scouting for the same reasons everyone else is; to serve youth, and to help them grow into good, strong citizens."
Klingenschmitt, who represents a staunchly conservative area near Colorado Springs, has developed a national reputation for making controversial comments, including his praise in March for a South Dakota legislator who compared Planned Parenthood to ISIS.
He claims to have performed an exorcism on a lesbian service member and has compared President Obama to the devil.
During a podcast prayer on March 25, Klingenschmitt called a brutal attack on a pregnant woman a "curse of God upon America for our sin of not protecting innocent children in the womb."
Klingenschmitt was a Navy Chaplain, and he goes by the name of "Dr. Chaps."
He plans to give up his house seat and run for state senate next year in a Colorado Springs district currently represented by Senate President Bill Cadman, who is term-limited. Klingenschmitt came to this decision after fasting for 72 hours and seeking guidance from god, he told a folks gathered at a restaurant in April.
Democrats control Colorado's state house, and the GOP holds a one-seat majority in the senate.
The senate seat eyed by Klingenschmitt is known to be conservative and a safe seat for Republicans. But state observers say he'll face stiff competition by fellow Republicans, as well as behind-the-scenes opposition from Republican leaders across Colorado, who see the lawmaker as sullying the image of the Republican Party in a critical swing state.