GOP Presidential Hopefuls Compete Over Anti-Choice Credentials
Republican presidential candidates spoke last week at the National Right to Life Convention in New Orleans, each making the case as to why they will be the best candidate to fight abortion access if they win the White House.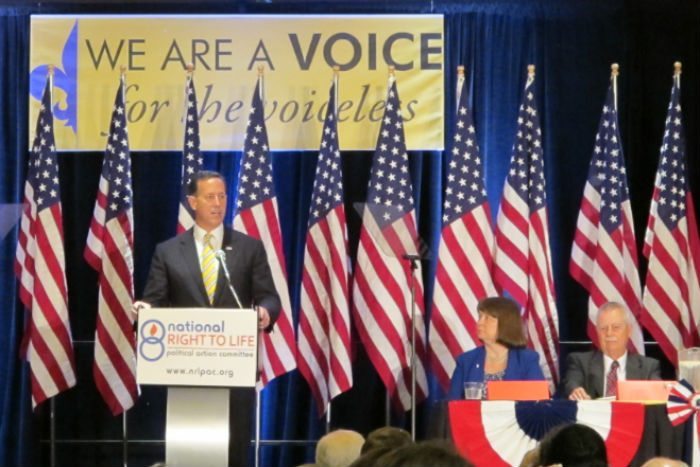 Republican presidential candidates spoke last week at the National Right to Life Convention in New Orleans, each making the case as to why they will be the best candidate to fight abortion access if they win the White House. Sofia Resnick / RH Reality Check
A small swath of the crowded conveyor belt of Republican presidential candidates spoke last week at the 45th annual National Right to Life Convention in New Orleans, each making the case as to why they will be the best candidate to fight abortion access if they win the White House.
"Go ahead and nominate somebody that's just going to go along, that's going to give you the lip service and stand up here and say all the right things and never talk about these issues and never work on them, because they're just too high-risk," second-time presidential candidate and former U.S. Senator Rick Santorum said during the convention's presidential candidate forum on Friday. "Then try to convince yourself that you're trying to make a difference."
Santorum spoke angrily as he condemned recent U.S. Supreme Court decisions, particularly the high court's ruling legalizing same-sex marriage throughout the United States. He called the Supreme Court's 1973 decision in Roe v. Wade "the cancer that is infecting the body of America."
"You saw Roe and its subsequent decisions bare its ugly head in the case of the gay marriage decision just a few days ago," he said.
Presidential candidates Dr. Ben Carson, Gov. Rick Perry (R-TX), and Sen. Marco Rubio (R-FL) also spoke during the forum, each weaving abortion issues into their broader campaign messages.
Rubio discussed the importance of restricting abortion within the context of the "American Dream," a hallmark of his presidential campaign. He argued that abortion curtails unborn Americans' potential "to fulfill God's plan for their lives" if women have access to abortion care.
"Inseparable from the effort to reclaim the American Dream are the efforts of those of you who are in this room today," Rubio said to the hundreds of advocates in the room, many of whom head or belong to local Right to Life chapters. "It is fundamentally impossible for America to reach her destiny as a nation founded on the equal rights for all if our government believes that an entire segment of our population doesn't have a right to exist."
Perry asserted that he is the best presidential candidate to erode abortion rights, based on his enactment of a multitude of controversial abortion restrictions during his more than a decade as Texas's governor.
"No candidate on this stage has done more to protect the unborn than I have," Perry said. "And that's a fact."
Perry promised that if elected he would appoint "credentialed conservatives" to the U.S. Supreme Court, whom he referred to as an "oligarchy of nine lawyers," referring to the recent decisions upholding Obamacare and same-sex marriage that were authored by Republican-appointed justices.
Perry has another reason to be upset with the Roberts Court, which also recently ruled that Texas' abortion facilities can stay open while the Court considers hearing an appeal of Perry's 2013 omnibus anti-choice law forcing all abortion providers to operate as ambulatory surgical centers.
The anti-choice measure has already resulted in the closure of dozens of abortion clinics in the state.
Perry, like Rubio, exalted the value of life while sympathizing with unhappily pregnant women facing financial hardship and promising to make their lives better through conservative policies. Perry's proposed solution to ensure that expectant parents have access to quality affordable health-care coverage is to repeal Obamacare and allow states to enact their own health-care laws.
Carson, a retired neurosurgeon, tried to overcome his lack of political credentials by discussing how his medical career has informed his opposition to abortion.
Presidential candidates Sen. Ted Cruz (R-Texas) and former Florida Gov. Jeb Bush declined the National Right to Life's invitation to speak at the conference, citing prior obligations, but sent videos.
In his video, Cruz directly addressed convention attendees and spoke passionately about his opposition to abortion access. He also urged the U.S. Senate to take up and pass the federal bill to ban abortion at 20 weeks, which passed the House this year. Bush, on the other hand, sent in one of his campaign videos, which received tepid applause from conference goers.
Louisiana Gov. Bobby Jindal, himself a presidential candidate, spoke at the convention during a Mardi Gras-themed opening-night reception on Thursday, during which he touted his staunch anti-choice legislative record.
Despite Republican presidential hopefuls' attempt to out-anti-choice each other, National Right to Life leaders shared a decidedly different message: They encouraged conference attendees to eventually support the candidate with the best chance of winning the nomination even if opposing abortion is not central to his campaign or if he does not appear to be as conservative as other candidates.
Santorum and Jindal, for example, are trailing in public opinion polls and not expected to secure the nomination.
The National Right to Life has yet to support a single presidential candidate; its executive director, David O'Steen, said during a breakout session on election issues that the group will remain neutral until the GOP backs a candidate.
Leaders extended this appeal to encompass congressional and state legislative candidates too, cautioning advocates to campaign and vote for anti-choice candidates with the strongest chances of winning, particularly those in tight races.
During the presidential candidate forum, National Right to Life Committee political director Karen Cross told convention attendees that they will have "the blood of the children who could have been saved on their hands" if they vote for third-party candidates at the state or federal level in 2016.