The Damaging Effects of This Year's Texas Legislative Session Must Not Be Underestimated
It would be difficult to imagine a 2015 session that could have rivaled the 2013 special summer session in terms of restrictions. But dangerous bills did get traction this year—and some made their way into law.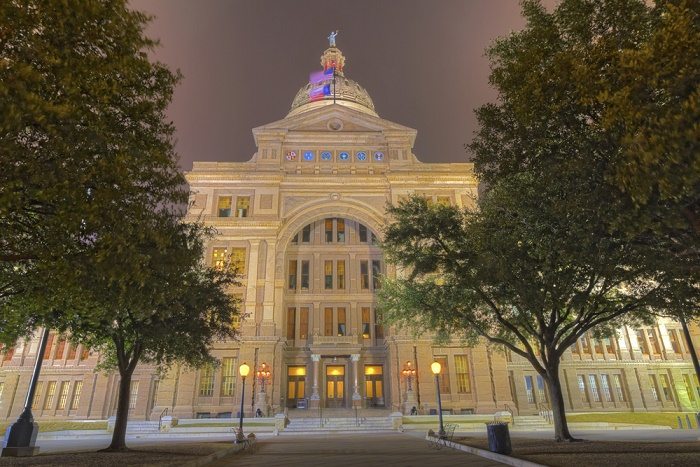 It would be difficult to imagine a 2015 session that could have rivaled the 2013 special summer session in terms of restrictions. But dangerous bills did get traction this year—and some made their way into law. Shutterstock
Texas lawmakers sent two explicitly abortion-related bills to the governor's desk this legislative session; reduced access to the state's Breast and Cervical Cancer Screenings program by kicking Planned Parenthood out of its provider base; and once again funded only a fraction of the family planning infrastructure needed across the state.
But post-session media coverage of the 84th Texas legislature has largely focused on the fact that anti-choice lawmakers failed to pass many other proposed new restrictions on legal abortion care, neglecting to note that the bills that did pass contain elements of a number of other individual proposals and downplaying their impact on some of the most marginalized Texans: abused, neglected, and orphaned minors. While the state capitol may have been full of fireworks during state Sen. Wendy Davis' filibuster and the subsequent passage of HB 2 two years ago, activists told me, the damaging implications of this year's session should not be underestimated.
Short of a governor-endorsed "personhood" law or outright abortion ban, it would be difficult to imagine a 2015 session that could have rivaled the 2013 special summer session in terms of restrictions. That's when lawmakers passed the omnibus anti-abortion bill HB 2, which brought thousands of orange-clad Texans to the state capitol in protest. No legislation so far has been able to compare to HB 2's widespread damage to reproductive freedom and access to legal abortion care in the state. 
But dangerous bills did get traction this year: a bill that would have banned insurance coverage for abortion care, and two attempts to ban abortion in cases of fetal anomaly incompatible with life outside the womb made it to tense floor debates in the capitol. Others made it into law. Planned Parenthood was ousted, yet again, from providing cancer screenings to low-income Texans. HB 416 requires abortion providers (and no other medical professionals) to take state-mandated training on human trafficking.
And HB 3994, an omnibus bill that severely restricts the "judicial bypass" process by which abused, neglected, or orphaned minors can ask a judge to stand in for a parent and grant consent for the minor's legal abortion care, was signed by Gov. Abbott last weekend. HB 3994 also requires Texans seeking abortion care to provide government-issued identification to their doctors to prove that they are older than 18 or be reported to the state health department if their doctor provides care without a patient's proof of age.
Still, reporters turned to Texas reproductive rights activists not to gauge their reactions to the dangerous laws that did pass, but to find out how grateful they were that more harm wasn't done.
Texas activists told me that this premise—that any time Texas doesn't actually regress in terms of reproductive freedom, it's a success story for the political left—gets more than a little old after a while and fails to address the totality of the new challenges that Texans are facing this year.
"It's sad that we live in a state where this session would be seen as a victory," said Nan Little Kirkpatrick, executive director of the Texas Equal Access Fund, a nonprofit that helps people traveling within and to North Texas for legal abortion care. While neither the abortion insurance ban nor the fetal anomaly abortion ban passed, she said that "the fact that these measures were even introduced shows that there are people in our legislature who are interested in continuing to chip away at all avenues of abortion access in Texas," adding that the proposals "show contempt for people who have decided that abortion is the best option for themselves and their families."
Take HB 416, the mandated human trafficking training bill that expressly targets abortion providers, and those who volunteer and work for them, as somehow uniquely responsible for addressing the issue of human trafficking in Texas. Democrats tried to amend HB 416 to include dentists, general practitioners, or emergency room doctors, all of whom might encounter survivors of sex trafficking, but those suggestions were, as they say in lege-speak, "not acceptable to the authors."
Noted Kirkpatrick about HB 416, anti-choice lawmakers placed "restrictive requirements for abortion providers in an anti-sex trafficking bill, showing their interest in singling out abortion providers and displaying their lack of concern for what is truly best for sex trafficking survivors."
Meanwhile, 2015's banner anti-abortion legislation, HB 3994, will affect hundreds, rather than the millions, of Texans affected by HB 2. But the Texans it does target—abused, neglected, and orphaned minors—are among those with the least resources, and who by virtue of their age have no political recourse. It goes into effect in January, changes fundamental tenets of the state's judicial bypass process, and implements the pre-abortion ID requirement.
Even when HB 3994 was proposed, Republican leaders questioned the bill's fitness for actual implementation, citing its messy legal language and potentially unconstitutional provision that allows judges to automatically deny a minor's petition for a legal abortion simply by failing to rule on their case. Current judicial bypass statute automatically grants those petitions. And while a minor could appeal a judge's failure-to-rule, the process is especially difficult and lengthy for a teenager, or perhaps even a child, to navigate in a situation where time is of the essence: The minor must appeal directly back to the court that denied the original petition and only "if the minor shows that there has been a material change in circumstances since the time the court denied the application."
At Jane's Due Process, a nonprofit that assists minors throughout the judicial bypass process, executive director Tina Hester told Rewire that while the actual number of Texans affected by HB 3994 will be fewer than those affected by HB 2, "the young women I serve would take little comfort in that argument."
HB 3994 forces most teens who are seeking a judicial bypass to file their petitions in their home counties, potentially putting the privacy of rural teens at risk, and requires teens to give their home phone number and address directly to a judge.
Said Hester: "From my vantage point of working with clients, the venue restrictions and the requirement that a minor must give a judge her home phone number and address is creepy. The whole reason she turns to the courts is because she doesn't feel safe involving a parent."
"These lawmakers think we live in a perfect world," said Hester: one in which teens always have parents available who can help them make decisions about their unplanned pregnancies. During testimony on HB 3994, anti-abortion lawmakers and lobbyists repeatedly implied that teens who go through the judicial bypass process are deliberately deceptive kids trying to pull one over on their otherwise loving parents, necessitating a rewrite of the process. 
But in the past week, she said Jane's Due Process has already assisted a 12-year-old rape victim and two unaccompanied minors who were assaulted on their way into the United States. An already intimidating process (to hear more about how it works, you can join a Texas teen on part of her judicial bypass journey in this Rewire report from 2013) will become nearly impossible to navigate for teens who are facing an unplanned pregnancy and whose parents might be abusive, incarcerated, or deceased. Already, those teens must appear before judges, in court, and share potentially scary or embarrassing parts of their life stories with a stranger who holds their future in their hands. Now, judges have longer to rule on their cases and must demand a higher standard of evidence—a higher standard of evidence from, say, a 13-year-old incest survivor—than current law requires. 
HB 3994 also requires a judge to swiftly involve law enforcement and the Department of Family and Protective Services in cases where a minor demonstrates that they're being abused by a parent, effectively ensuring that an abusive parent will be notified that their teen, or perhaps even their child, has sought legal abortion care.
But a law doesn't need to be explicitly related to abortion or reproductive health care to have the effect of limiting access to that care, noted Ana Rodriguez DeFrates, the Texas policy director for the National Latina Institute for Reproductive Health, which brought a number of Latinas to the capitol during the 84th legislative session so that they could, many for the first time, testify about legislation that would directly affect them.
"A lot of bad bills failed to pass related to abortion care, and I guess part of redefining success is celebrating a crisis averted, but I think that's the type of outlook some folks have based on such a grim political reality," said DeFrates. She noted that other legislation did make it through—bills that could very well have indirectly devastating consequences for many vulnerable Texans.
DeFrates told Rewire that not only is she concerned about the ID requirement in HB 3994 preventing immigrant Texans and Texans living in poverty from accessing legal abortion care, but she also sees other bills that have no explicit connection to abortion as detrimental to reproductive health-care access. HB 11, for example, is a sweeping $800 million border-related bill that expands the federal, state, and local law enforcement presence along the U.S.-Mexico border and will place southbound immigration checkpoints across the southern half of the state, further limiting travel options between the Rio Grande Valley and San Antonio, where the nearest abortion-providing ambulatory surgical centers (ASCs) are located. If HB 2 goes into effect, Texans from the Valley will lose the last remaining abortion provider—the Whole Woman's Health of McAllen, which is a licensed clinic but not an ASC—and be forced to travel north for care.
"If you're undocumented, you can't get past [the checkpoints] and if the health care you need is on the other side of that checkpoint, then you get no health care," said DeFrates. She also said that a smuggling provision in the new border law "will encourage local law enforcement to essentially racially profile," if they see groups of Latinas traveling together. 
"We know that a lot of Latinas have to carpool and get together and ride share and make their [doctor] appointments on the same day," said DeFrates. "What happens if that raises a red flag for local law enforcement who now have the authority to act in some federal capacity? It's concerning."
Lenzi Sheible, the founder of Fund Texas Choice, a nonprofit that helps Texans with the logistics of traveling long distances for legal abortion care, said that she found nothing to "celebrate" about the 84th legislature.
For one thing, she noted, it was disappointing to, once again, see affirmative measures to increase access to abortion care fail.
"Nothing that affirmatively improved abortion access was accomplished, of course," wrote Sheible in an email interview. "Texans really needed some helpful legislation to be passed, and it wasn't. Since the legislature has missed that opportunity, Texans seeking abortions will continue to face enormously difficult barriers."
She predicted that bills that didn't make it to the governor's desk this year could easily see passage in the next session.
"The political will for their passage was there," said Sheible in an email interview. "The bills were defeated by some procedural issues, that's all."
Sheible said she sees the failure of some anti-choice legislation as a logistical, rather than a political, issue: "This session, I learned that pretty much the only thing protecting my body from the full force of anti-choice wrath is the fact that the Texas legislature was a bit pressed for time this year."
And as lawmakers continue to whittle away at what little is left to restrict when it comes to access to comprehensive reproductive health care, those time constraints will become less and less imperative. There simply will be less damage to do because so much has already been done. But Heather Busby, the executive director of NARAL Pro-Choice Texas, said that she's fully prepared for the fight.
"The bright side of this session is that many champions for reproductive health care in the Texas legislature continued to fight for Texas families, and new champions emerged," she told Rewire. "Although they're outnumbered, many lawmakers haven't given up on fighting for access to health care, so we cannot give up on them."