California Assemblywoman: Drought Represents God's Wrath Over Abortion
At the California ProLife Legislative Banquet last week, Assemblywoman Shannon Grove told a roomful of advocates, activists, and clergy that "God has His hold on California."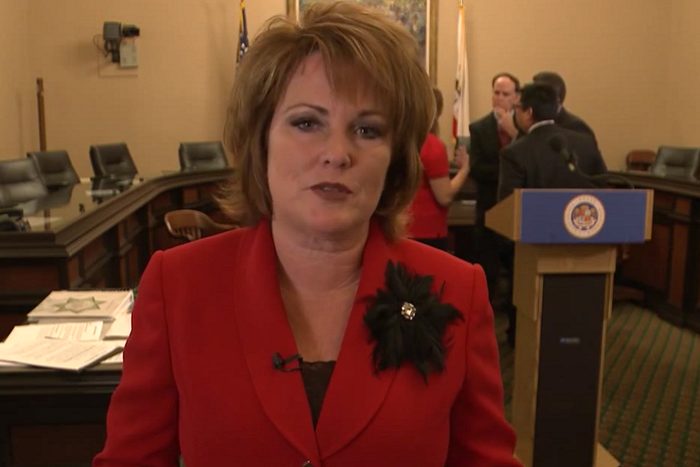 At the California ProLife Legislative Banquet last week, Assemblywoman Shannon Grove told a roomful of advocates, activists, and clergy that "God has His hold on California." Shannon Grove/ YouTube
At the California ProLife Legislative Banquet last week, Assemblywoman Shannon Grove brought a bible to the podium.
"This is the infallible word of God," Grove said, holding the Bible above her head as attendees clapped. "I fear Him more than I fear anyone."
Grove was speaking to a roomful of advocates, activists, and clergy who had gathered at the Grand Hotel in Sacramento to celebrate the (relatively few) California legislators who oppose abortion. Many of the state's anti-choice groups were in attendance, including Catholic Bishops for Life, Pray California, Californians for Life, and the California Republican Assembly. In addition to Assemblywoman Grove, state Sens. Mike Morrell and Joel Anderson spoke.
The California ProLife Council is the California affiliate of the National Right to Life Committee, one of the most powerful anti-choice groups in the country. National Right to Life has received funding from top conservative donors, including nearly $5 million from Karl Rove's Crossroads GPS, and more than $200,000 from the Koch-affiliated Donors Trust. On the national stage, the California ProLife Council, nestled in a deep-blue state, doesn't command much money or attention. The group reported just a little over $100,000 in total revenue for 2013, according to its federal tax filings. Because it is a nonprofit, it is not required to disclose its donors.
Assemblywoman Grove was the final elected official to speak, and she was full of fire. A charismatic speaker who represents the majority of Kern County in the Central Valley, Grove has enjoyed support from some of the most prominent Republicans in the country, including Rick Perry and Mike Huckabee. But she had come to talk about an even more powerful figure.
"Texas was in a long period of drought until Governor Perry signed the fetal pain bill," she told the audience, presumably referring to HB 2, the omnibus Texas abortion bill that included a 20-week ban based on junk science. "It rained that night. Now God has His hold on California."
The assemblywoman did not respond to Rewire's request for further comment.
California is currently in its fourth year of unprecedented drought. In April of this year, Gov. Jerry Brown imposed mandatory water restrictions on the state, requiring all cities and towns to cut their water use by 25 percent. The state has only about one year of water left in its reservoirs. January was the driest month in California's history since record-keeping began in 1895.
Across the country writers, activists, and policymakers have weighed in on the true cause of California's exceptional drought. Some say we should beware the menace of almonds. Others point to the arrogance of green lawns blooming in the desert. Regardless of what anyone says, it's quite clear that California is facing a water crisis.
Assemblywoman Grove knows the facts of this crisis intimately, because she serves on the Agriculture Committee in the California State Assembly. The committee is in charge of legislation related to growing crops, regulating pesticides, and raising cattle and poultry in California. Water is a key issue for Grove's constituents, and central to her work in the legislature. Grove's background is not in agriculture, though she was born and raised in Kern County, the area of California that she now represents. After graduating from high school, she joined the Army and served overseas in Germany. In 1993 she co-founded Continental Labor and Staffing Resources, a company of which she is now the CEO.
In her time as an assembly member, Grove has come up with a variety of explanations, both political and divine, for the drought. In September 2014, she wrote an op-ed in the Bakersfield Californian, calling on the federal government to temporarily suspend the Endangered Species Act as it applies to the Sacramento-San Joaquin River Delta. She argued that this would free up water for irrigation that is currently used to protect endangered fish.
"Political leaders refuse to face the problem with the seriousness it deserves," she wrote, although the Congressional Research Office specifically addressed this proposal in a 2009 report, concluding that federal and state regulations have a much lower impact on water resources than lack of runoff (i.e. drought itself). In other words, endangered fish aren't really the problem. Still five years later, Grove asked Breitbart, "What civilized society destroys its own food source for a three-inch fish?"
But last week, Grove stressed that God, even more than problematic federal policy, has caused California's drought.
Brian Johnston, the chairman of the California ProLife Council, spoke with Rewire by phone about Grove's comments at the legislative banquet hosted by his organization.
"That was never said by me or the California ProLife Council," he said, referring to Grove's claims about God's parched-earth strategies.
Grove is not alone in her belief about why the reservoirs are drying up in California. Earlier this year, Bill Koenig, the conservative editor of World Watch Daily, also linked California's drought to the state's acceptance of same-sex marriage and abortion.
"We've got a state that over and over again will go against the word of God, that will continually take positions on marriage and abortion and on a lot of things that are just completely opposed to the scriptures… So there very likely could be a drought component to this judgment," Koenig told Understanding The Times.
There's a long history of religious and political leaders attributing catastrophic events to divine retribution, particularly over the issue of abortion. Soon after Hurricane Katrina, which killed 1,833 people, evangelical preacher Pat Robertson said that the hurricane was God's punishment for abortion. (Robertson later blamed Haiti's earthquake on the Haitian people's "pact to the devil.") Steve Lefamine, the director of Columbia Christians for Life in South Carolina, agreed with Robertson about the causes of Hurricane Katrina. He told the Washington Post that when he viewed the full-color satellite map of the hurricane, he saw an 8-week-old fetus in the image.
"In my belief, God judged New Orleans for the sin of shedding innocent blood through abortion," Lefamine told the Washington Post.
Assemblywoman Grove has been an uncompromising advocate for anti-choice legislation since she was elected to the California State Assembly in November 2010. In 2014, she introduced a ban on sex-selective abortion, with a fine of up to $10,000 on doctors who performed such a procedure (it died in committee). Earlier this year, she introduced a bill allowing insurance companies to exclude abortion coverage for any reason, without penalty. It too, failed to pass committee.
In general, anti-choice activists and politicians in liberal California fight an uphill battle, considering that California is one of the only states where the legislature has passed bills actually aimed at expanding reproductive freedom in recent years. California currently doesn't have any of the major restrictions on abortion that have been imposed in other states, such as waiting periods, mandated parental involvement, or limitations on public funds for abortions.
Last month, the California Assembly passed a bill that would even regulate crisis pregnancy centers, requiring them to provide women with information about all their reproductive options, including abortion. Grove expressed opposition to the bill in her speech.
"The last time the government made people carry a government message, it was World War II and they made people wear Jewish stars," Grove said.
When Grove was finished, she left the stage to a standing ovation.