This Week in Sex: At-Home STI Tests, New Virus-Killing Condom, and More
This week, LA County is reviving an at-home STI testing service, a new study shows that male circumcision can reduce rates of HIV among women as well as men, and an Australian company gets approval to produce a microbicide condom.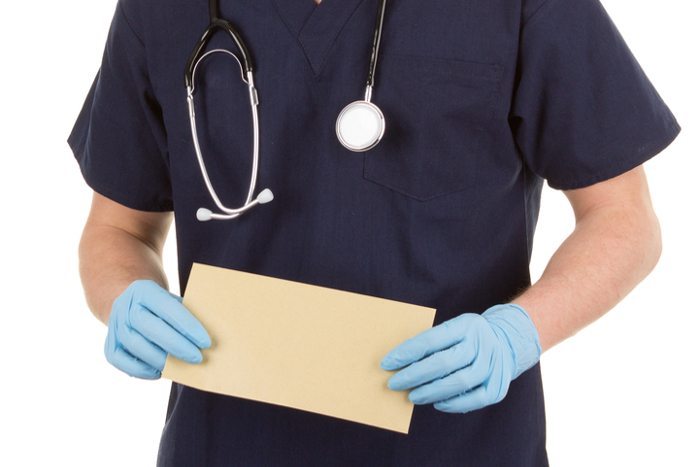 This week, LA County is reviving an at-home STI testing service, a new study shows that male circumcision can reduce rates of HIV among women as well as men, and an Australian company gets approval to produce a microbicide condom. Doctor mail via Shutterstock
This Week in Sex is a weekly summary of news and research related to sexual behavior, sexuality education, contraception, STIs, and more.
LA Considers Bringing Back At-Home STI Tests
With both chlamydia and gonorrhea rates on the rise, the Los Angeles County Health Department is once again trying to promote the availability of at-home testing for sexually transmitted infections (STIs). The program began in 2009 when the department bought 10,000 kits for about $450,000 and advertised their availability to women ages 12 to 25. The goal was to increase testing and treatment among young women who did not have easy access to clinics or other health-care providers. About 9,000 kits were distributed. Most were sent back to the department for testing, and of those sent back about 10 percent tested positive for chlamydia and 3 percent for gonorrhea. But a health department official told the Los Angeles Daily News that after the first few years, interest in the program waned.
Since that time, rates of both STIs have increased in the county. Between 2009 and 2013, cases of chlamydia rose by 8 percent, while gonorrhea rose by 45 percent. These changes show that the STI epidemic in the county is worse than in California as a whole; during the same time period statewide, cases of chlamydia actual fell slightly and rates of gonorrhea rose by 13 percent.
Both chlamydia and gonorrhea are bacterial infections that are spread through genital secretions during oral, anal, or vaginal sex. They often have no symptoms, though they can cause some discharge and/or burning during urination in both men and women. Both can also be treated with antibiotics but if left untreated can cause pelvic inflammatory disease (PID), which in turn can cause scarring in the reproductive tract and infertility, mostly in women. An estimated 2.86 million cases of chlamydia and 820,000 cases of gonorrhea occur each year in the United States. Between 10 and 15 percent of chlamydia cases in women cause PID. Because most cases are asymptomatic, the Centers for Disease Control and Prevention (CDC) recommends annual chlamydia screening for all sexually active females 25 and under and for women older than 25 with risk factors such as a new sex partner or multiple partners.
At-home testing can be done by collecting a urine sample or using a cotton swab to collect secretions from the upper vagina. The sample is then sent to a lab. In the LA County program, women get their test results either through a website or via text message. Those who test positive are then told where they can go to get the antibiotics they need. Dr. Jonathan Fielding, director for the LA County Department of Public Health, told the LA Daily News, "This is a good approach for those who don't feel comfortable going into a facility."
For now the program remains limited to women because the county has not found a good home test for men, but Fielding did say they would look at that in the future.
Study: Male Circumcision Can Prevent HIV in Women
The results of a new study presented last week at the International AIDS Conference show that male circumcision can help reduce the spread of HIV among women as well as men. There have already been a number of studies that have shown that men who have been circumcised are at lower risk of contracting HIV. These results have led to interventions designed to increase the number of circumcised men in areas of Africa with a high prevalence of HIV. But until now, researchers were not sure whether such interventions also affected HIV rates in women.
This new study looked at women in Orange Farm, a town of 110,000 people outside of Johannesburg, South Africa. (One of the studies on male circumcision had taken place there as well.) Researchers surveyed 4,538 sexually active women ages 15 to 49 in three waves, in 2007, 2010, and 2012.
Participants were asked a number of questions about their sex lives, including the age at which they'd first had sexual intercourse, the number of lifetime partners they'd had, whether they'd always used condoms, and whether their partners were circumcised. Researchers also took blood to test the women for HIV. Among the 1,363 women who reported only having had circumcised partners, the HIV prevalence was 22.4 percent, compared with 36.6 percent among the remaining 3,175. According to analyses conducted by the researchers, this means that having only circumcised partners reduced these women's risk of contracting HIV by 16.9 percent. Moreover, when researcher looked only at women under 29, they found a risk reduction of 20.3 percent.
Kevin Jean of the French National Institute for Health and Medical Research conducted the study and presented the results at the conference. He told the audience that the results provide a "compelling argument" to speed up interventions that provide voluntary male circumcision in areas with high rates of HIV.
Australia Approves Condom With STI-Killing Microbicide

Australian condom manufacturer Ansell, which makes LifeStyles brand condoms, has just won approval to start mass production in its home country on a condom lubricated with a microbicide that inactivates sexually transmitted viruses. Called Viva-Gel, the microbicide binds to viruses, preventing them from interacting with human cells. Viva-Gel has been shown to disable 99.9 percent of herpes, HIV, and human papillomavirus (HPV) cells on contact.
While this the gel should add extra protection for couples using condoms, many are still hoping that something will be released as a vaginal gel to help women—especially those whose partners refuse to wear condoms—protect themselves from STIs. It is not yet clear when such a product would be available, but Viva-Gel is in phase 3 clinical trials in the United States for use as a cure for bacterial vaginosis, a common infection caused by an imbalance of "good" and "bad" bacteria in a woman's vagina. Though not an STI on its own, there is some evidence that sex, new sex partners, and multiple sex partners can contribute to an imbalance of bacteria in the vagina. More importantly, however, bacterial vaginosis can leave women more vulnerable to infection with other STIs.
The condom will be sold in Australia under the name LifeStyles Dual Protect. A Japanese condom-maker has also been approved to begin adding this microbicide to its condoms.
HPV Vaccine Rates Still Too Low
New data on vaccines among adolescents shows that despite a modest increase in overall vaccination coverage from 2012 to 2013, estimated coverage for the HPV vaccine remained low. In 2013, 57.3 percent of girls had received one dose of the HPV vaccine, compared to 53.8 percent the year before. More girls had received all three recommended doses in 2013 than in 2012 (37.6 percent, compared to 33.4 percent), but the CDC says this is still too low. In fact, the agency notes that if all pre-teen and teen girls got the HPV vaccine when they got other recommended vaccines for their age group (such as the vaccine for meningitis), 91.3 percent of all 13-year-old girls would have at least gotten the first dose. The actual numbers fall far short of that.
Vaccine coverage for young boys is even lower, but there was a bigger increase (13.8 percent) in the number of boys who got at least one dose of the HPV vaccine—it went from 20.8 percent in 2012 to 34.6 percent in 2013. There was also an increase in the percentage of boys ages 13 to 17 who had received all three doses (from 6.8 percent in 2012 to 13.9 percent in 2013).
The CDC pointed out that these data reflect great variation in vaccine rates between states. For example, only 39.9 percent of girls in Kansas received at least one dose, compared to 76.6 percent of those in Rhode Island. Similarly, only 11 percent of boys in Kansas received one dose, compared to 69.3 percent of boys in Rhode Island.
The slow uptake of the HPV vaccine is disappointing, as it has been shown to be very effective in preventing the strains of the virus that are most likely to lead to cervical cancer. A 2013 study, for example, found that the proportion of girls infected with the strains of the virus addressed by Gardasil (the first of the two HPV vaccines introduced) dropped from about 12 percent before the vaccine was available to 5 percent, which represents a drop of 56 percent. The drop applied to all teens, whether or not they were vaccinated. This may be a result of what public health experts refer to as "herd immunity"—if enough of the population is protected by a vaccine, that protection extends to the unvaccinated as well. Among girls who had gotten the vaccine, however, the drop in HPV infections was even higher, at 88 percent.
We can only imagine how far we could go in preventing HPV and cervical cancer if more young women and men were vaccinated. Unfortunately, some people still see the HPV vaccine as controversial since it protects against a disease that is sexually transmitted and because the recommendations suggest girls and boys get it as young as 9 to ensure that they've received all three doses before they become sexually active.