Texas Jailers Deny Pregnant Navy Vet Medication Needed to Continue Her Pregnancy
Advocates for 30-year-old Jessica De Samito, who is 24 weeks pregnant, say a Texas county jail is withholding the methadone treatment she needs to sustain her pregnancy.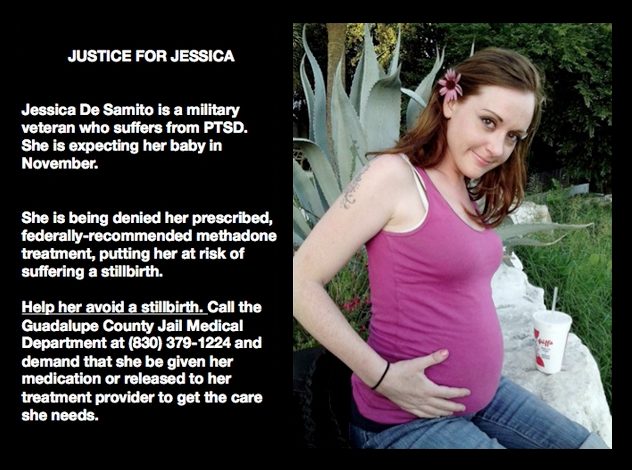 A graphic created by National Advocates for Pregnant Women to promote justice for Jessica De Samito, who says a Texas county jail is withholding the methadone treatment she needs to sustain her pregnancy. National Advocates for Pregnant Women
A San Antonio Navy veteran who is 24 weeks pregnant says she has been denied the medically necessary methadone treatment she needs to maintain a healthy pregnancy while she is incarcerated in Texas' Guadalupe County Jail due to a parole violation for past drug charges resulting from her attempts to self-medicate from heroin withdrawal.
According to legal documents provided to Rewire by the pregnancy rights watchdog group National Advocates for Pregnant Women (NAPW), 30-year-old Jessica De Samito suffers from post-traumatic stress disorder and an anxiety disorder. She was charged and convicted with possession of a controlled substance in May 2011 and was released on parole in February.
Shortly thereafter, De Samito became pregnant and began attempting to self-medicate with methadone and heroin to prevent withdrawal while trying to find and enroll in a nearby methadone maintenance treatment (MMT) program; as a result, she failed a drug test before she was able to enroll in an official methadone treatment program in mid-June. She once again faced incarceration, this time while six months pregnant.
At a parole revocation hearing on Monday, De Samito submitted evidence showing her need for continued MMT, but the parole board told her it would need to take two to three weeks to consider her plea.
Without the continuation of her MMT, De Samito's pregnancy is likely to end in stillbirth.
"No woman should be denied health care and she certainly shouldn't be threatened with stillbirth," Kylee Sunderlin, Soros Justice Fellow at NAPW, told Rewire. Sunderlin filed an affadavit on De Samito's behalf in advance of her re-incarceration, arguing that denying De Samito her MMT would violate De Samito's constitutional rights as well as the Texas Prenatal Protection Act, which mandates criminal charges for third parties that cause injury or death to an unborn child.
Guadalupe County Jail officials confirmed to Rewire that De Samito was being held in their facility, while Sunderlin said that the Guadalupe County Jail's nursing department told her it "requires detoxification" for inmates.
De Samito contacted NAPW asking for their assistance in the weeks before her parole revocation hearing on July 7, anticipating that Guadalupe County would deny her methadone therapy.
"[De Samito] was just doing everything she could to find help beforehand," said Sunderlin.
Medical experts agree that MMT is not only safe for pregnant people who face opioid addiction, but necessary to maintain healthy pregnancies. According to one methadone treatment expert who submitted an affidavit in support of De Samito during her parole revocation hearing, without MMT, "the survival of the fetus is at substantial risk," and "it is universally recognized that for the fetus, opioid withdrawal can cause death."
NAPW is asking people who'd like to help De Samito to tweet about her situation using the #JusticeForJessica hashtag, and to telephone the Guadalupe County Jail to demand De Samito get the treatment she needs to sustain her pregnancy. De Samito has now been incarcerated for 48 hours and is already seeing the initial signs of opioid withdrawal, according to NAPW. She has once received half of the normal dosage she needs to protect her baby.
De Samito's situation is not without precedent, according to Sunderlin.
"Prisons and jails deny people proper medical treatment all the time, especially women," she said, citing a 2009 case in Montana, where a jail refused to provide MMT, resulting in a settlement agreement ensuring that pregnant inmates with opioid dependency get the treatment they need.
While legal experts can debate whether or not Guadalupe County has the legal ability to withhold methadone treatment from De Samito without violating her constitutional rights or Texas law, the medical reality, according to expert testimony and decades of evidence-based research, is that without the methadone therapy, the baby De Samito is expecting—which she has named Alice—is at serious risk of not surviving.
Clarification: This article has been updated to reflect Kylee Sunderlin's full fellowship title. It also now clarifies that the baby De Samito is expecting is at serious risk of not surviving (rather than "will almost certainly not survive").