In Louisiana, a New Law, and a Worsening Reproductive Health-Care Crisis
Access to reproductive health-care services in Louisiana is limited. There are only five clinics that provide abortion care in the state—and that number is soon expected to fall to two once a new law signed by Republican Gov. Bobby Jindal goes into effect.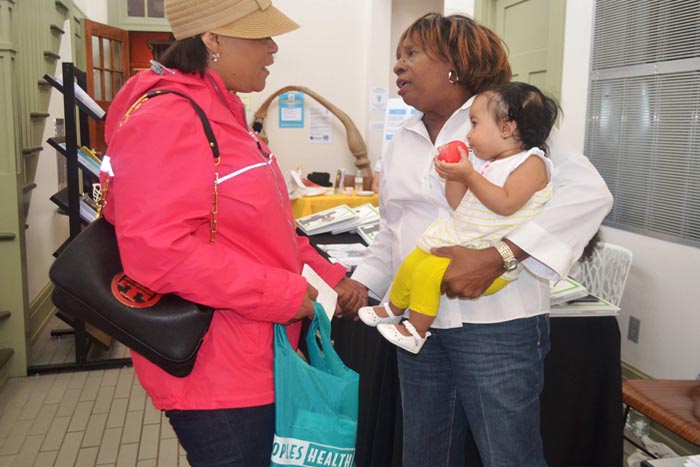 New Orleans City Council member LaToya Cantrell (left) speaks to a volunteer at the Rosa Keller Library and Community Center health-care fair in May. LaToya Cantrell / Facebook
Correction: A version of this article incorrectly noted that HB 388 will require the implementation of a forced 24-hour waiting period on surgical abortion in Louisiana. In fact, such a waiting period is already in place; HB 388 will require the implementation of a forced 24-hour waiting period on medication abortion. We regret the error.
It's a muggy late May morning in New Orleans' Broadmoor neighborhood, and dozens of area residents are lined up in the rain for a health-care fair at the Rosa Keller Library and Community Center. For many of the people who live in Broadmoor—a predominantly low-income community of color—this is their only access to health care.
LaToya Cantrell, who represents the residents of Broadmoor on the New Orleans City Council, walks through a crowded hallway, stopping every few feet to converse with constituents and say hello to neighbors. She also gets her blood sugar tested.
Cantrell explains to Rewire that the community center only exists today because of intense rebuilding efforts in the months and years after Hurricane Katrina. Broadmoor was one of the neighborhoods worst hit by flooding in the city, with waters reaching as high as ten feet throughout much of the area. In the districts that include Broadmoor, more than three out of every four homes were damaged or destroyed. Some city leaders wanted to turn the neighborhood into a green space rather than rebuild.
Then president of the Broadmoor Improvement Association, Cantrell helped organize the neighborhood rebuilding effort. Three years after the storm, 79 percent of all the homes in the neighborhood had been restored.
"I've been on the ground working as a community organizer long before I was on the city council," said Cantrell. "We worked as a community to make sure this community center was here for the neighborhood—a neighborhood the city wanted to turn into a park."
Still, nearly a decade after Katrina, signs of the storm and the subsequent breach of the city's levies remain in Broadmoor, in the form of abandoned homes and apartment buildings. These are signs that are largely absent from other, more affluent areas of the city.
Many residents see the inattention by lawmakers in Baton Rouge to rebuilding lower-income neighborhoods post-Katrina as one of a number of indications that political agendas in the state are often pursued without consideration for how they may affect low-income communities and communities of color.
The state's record on health care, and reproductive health care in particular, also illustrates this view.
Louisiana has some of the worst health-care outcomes of any state in the country, and these outcomes have remained steady for the last two decades. The state also has among the highest share of residents without health insurance.
The Louisiana legislature has on multiple occasions blocked the expansion of Medicaid that was made available to states under the Affordable Care Act. If enacted, Medicaid expansion in the state would be expected to cover 240,000 additional people, with all of the cost of expansion covered by the federal government for the first three years. (The federal government would pay 90 percent of the cost after that.)
In states that have expanded Medicaid under the health-care reform law, the rate of uninsured citizens has declined by an average of 2.5 percentage points between 2013 and the first quarter of 2014. Meanwhile, states like Louisiana that have not expanded Medicaid saw uninsured rates drop by an average of just 0.8 percent.
A December 2013 study by the Kaiser Family Foundation, which found that Medicaid expansion would significantly increase health coverage for low-income people of color across all states, also shows a significant racial disparity among the percentage of individuals in Louisiana who are uninsured. While 16 percent of white people in the state are uninsured, 25 percent of people of color are without health insurance. Racial disparities are also evident in the share of people at or below 138 percent of the federal poverty line ($15,856 for an individual in 2013)—the group of people who would eligible for Medicaid under the expansion—with 48 percent of white people who are uninsured being eligible, compared to 63 percent of people of color.
The state's reproductive and sexual health outcomes paint an even worse picture. According to data from the Guttmacher Institute, in 2008 there were 65,300 births in Louisiana and of those 36,400 were unintended. Among unintended births in Louisiana, 80.4 percent were paid for by public insurance programs. Only Mississippi, with 83.2 percent, had a higher percentage of unintended births paid for by the state.
A 2012 annual report by the Louisiana Department of Health and Hospitals found that from 2008 to 2012, the state ranked in the top five each year for cases of chlamydia, gonorrhea, and syphilis. One-third of sexually transmitted diseases in the state were reported among people ages 15 to 19.
Access to reproductive health-care services in Louisiana is limited. There are only five clinics that provide abortion care in the state—and that number is soon expected to fall to two once a new law signed by Republican Gov. Bobby Jindal goes into effect.
HB 388 requires abortion providers to obtain admitting privileges at a hospital within 30 miles of the clinic where they perform abortions. The law also requires the implementation of a forced 24-hour waiting period on medication abortions, and will greatly reduce the number of abortions a doctor must perform in a given year to be considered an abortion provider in the state.
The law is modeled after a Texas law that has forced several abortion clinics to close in the state—and is expected to close many more—contributing to a reproductive health-care access crisis in the Rio Grande Valley and East Texas. In response to the reduction in access to reproductive health care in Texas, activists have worked to provide funding for low-income women to access such services.
Similar efforts are already underway in Louisiana. The New Orleans Abortion Fund, which works with the Women's Healthcare Center in New Orleans, has so far helped more than 150 women pay for abortion care. The fund receives requests for help from women from all demographic and socioeconomic backgrounds, but most are younger, low-income women of color who already have families.
In interviews with Rewire, fund volunteers shared their experiences speaking with women looking for help to pay for abortion services. For most of these women, the fund is their last resort. Many had resorted to borrowing small sums of money from family and friends or selling household items.
The fund is gearing up for the fact that after September 1, when HB 388 goes into effect and the New Orleans clinic is expected to close, women in the area who may today be able to scrape together the $400 or $500 it can cost for an abortion procedure will be faced with the costs associated with traveling hundreds of miles away to Shreveport to receive abortion care at one of the two abortion clinics that is expected to remain open. This may put safe, legal abortion care out of reach for many women.
A new Planned Parenthood facility that intends to provide abortion care is being built in New Orleans, but whether or not it is able to provide abortions will depend on whether any of its doctors can get admitting privileges at a local hospital—not at all a sure bet in a state where admitting privileges are notoriously hard to secure for physicians who provide abortions.
"Affluent women are going to be able to travel the additional 300 miles to Shreveport, but poor women will not be able to make those long distances," Amy Irvin, a New Orleans Abortion Fund board member, told Rewire. She said she worries that women in the state will start resorting to potentially unsafe procedures as was common before Roe v. Wade legalized abortion in the United States in 1973.
"There's already anecdotal evidence here in New Orleans that the abortion pill is being sold on the street," said Irvin. "Women don't necessarily know who they're buying it from, and they're certainly not getting the information they need to use it properly and safely."
Sylvia Cochran, who operates the Women's Healthcare Center, told Rewire that she hears the same stories from her patients. "We are seeing women now who are buying medication off the street because they cannot afford an abortion," said Cochran. She shared a story about a patient who had bought cytotec off the street and took the pills thinking they would cause her to miscarry. The woman ended up in the emergency room, but the pregnancy was still intact. "She was then talking about buying more pills off the street," she said.
In addition to the Women's Healthcare Center, Cochran operates the Delta Center in Baton Rouge, which is also expected to have to close when HB 388 is implemented.
Kathaleen Pittman is the administrator of Hope Medical Group in Shreveport, which is expected to remain open after the new law takes effect. Originally Hope cared for women in what is known as the Ark-La-Tex—the region that includes northwestern Louisiana, northeastern Texas, and southwestern Arkansas. Because of anti-choice laws being passed in Louisiana and other states, the service area of the clinic has grown. "We're seeing more and more women from Texas, Mississippi, Arkansas, and south Louisiana," said Pittman.
Pittman said having clinics shut down in southern Louisiana would be "devastating" for women across the region. "My biggest concern would be for women who could not get to us, [who] would try and take matters into their own hands," she said. "I think more hospitals will be seeing cases or situations that were seen prior to Roe v. Wade."
"What we tell them is anything you do is probably going to harm you more than the pregnancy, and we do everything we can to get them here," said Pittman. "While we're not being overwhelmed with these stories, I expect it to increase."
Despite these warnings, Sylvia Cochran of the Women's Healthcare Center holds no hope that the current state of reproductive health care in the state and the coming crisis she foresees will change policymakers' minds. "They don't care," she said. "For them it's political."