'Obvious Child' Changes the Rom-Com Game
Obvious Child's treatment of abortion as an important moment in both the development of the main character and her romantic relationship is just one of the beautiful ways the film—a raunchy joke-fest with an undeniably humanistic heart—deals with women's choices and power.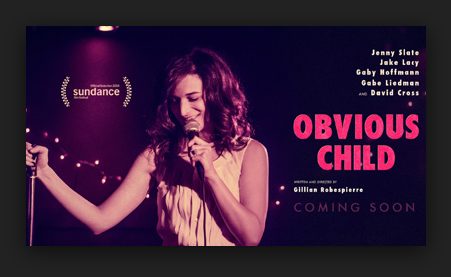 Obvious Child, written and directed by Gillian Robsepierre, opens in theaters Friday.
During one of several pivotal scenes in Obvious Child, the new indie romantic comedy written and directed by Gillian Robespierre, Donna (played by Jenny Slate) lies on the clinic exam table, under sedation, waiting for her abortion. Choosing the abortion itself has never been a question for Donna, but although her arrival here on the table was inevitable, to the audience it still feels like a turning point.
When Obvious Child came out as a short in 2009, I wrote a quick piece about it for Rewire, declaring it "the abortion rom-com we've been waiting for," as evidenced by much love for the short film from around the burgeoning feminist blogosphere. It was this online love that inspired Robespierre and Slate to turn the film into a feature, to all our benefits.
Obvious Child's treatment of abortion as an important moment in both the development of the main character and her romantic relationship is just one of the beautiful ways the film—a raunchy joke-fest with an undeniably humanistic heart—deals with women's choices and power. Obvious Child is an "abortion rom-com" the same way that Knocked Up, Juno, and Waitress are pregnancy rom-coms. An unplanned pregnancy is a plot catalyst, and the abortion, rather than a birth, is the denouement that brings all the characters together in a satisfying way. But it's not a film about abortion. Instead, it's a film that, as Slate has noted in several interviews, shows the process of a woman with a comically unruly "nature" learning to channel herself in a more positive direction by making smart choices—without in any way changing her essence.
While the abortion procedure occurs—the scene is filmed in an actual Planned Parenthood clinic—the wooziness overtaking Donna is milked for gentle laughter. Slate hams it up, lolling her head around. But a lovely undercurrent of poignancy is created when the lens zooms in to two small tears that slide down the protagonist's cheeks. Donna's not crying because she regrets her decision, but because she regrets a lot of things that led her here. Her sadness comes from conventional comedy tropes, broad and universal: a breakup, wherein her boyfriend has cheated on her with a friend, a lost job at a condemned leftist bookstore. But the film really digs around in Donna's pain and humiliation, making Drew Barrymore or Cameron Diaz's similar histrionics in a big-budget rom-com (no offense to the talents of either of those actress) feel shallow in comparison. What this lingering, or wallowing, subtly shows is that losing a relationship and a job means a loss of safety, an unmooring. Donna has to become her own safety net, and her abortion facilitates that journey.
There's so much more that feels quietly revolutionary in the film, despite its conventional structure. Of course I came close to tears during the scene staged in the clinic afterwards, with Donna sitting among other women in their gowns, all sipping juice, looking straight ahead and then exchanging a hesitant smile. Anyone who has thought or written about the way films portray abortion will be moved, I think, to see such a clinic scene be staged to create a sense of sisterhood rather than shame. But female solidarity is a clear theme of the film, as both the other female characters—Donna's best friend and her mother—speak of their own abortions as choices they too don't regret. Her best friend, played by Gaby Hoffman, sighs and says that the only regret she feels is pity for her teenage self.
For a movie called Obvious Child, there's refreshingly zero talk of the child that might be if Donna carried her pregnancy to term. No one shows up to lecture her about her responsibility to her future family, and during her climactic confessional standup routine, she explains why she's not ready to be a mom. At a screening of the film I attended earlier this week, Robespierre said of the scolding anti-choice voice, "We've already seen that character." Donna is learning to take responsibility for herself first, making her the child, as most comedy protagonists are.
As for romance, the male lead, a nice boy from Vermont somewhat lost in the concrete woods of New York, is almost too good to be true. If it feels unbelievable at times that he'd be enamored of Donna's juvenile humor and stick with her even after she pushes him away a few too many times and also be cool with her abortion at the end of the day, actor Jake Lacy's wide-eyed shtick sells the premise. Besides, it's not a cardinal sin to have a male lead who's less developed than the central leading lady, and who finds her as charming as we do. Just ask Jane Austen. Similarly, the film's lack of diversity would be more frustrating if there weren't only four or five characters, most of whom are in the same family. Still, I'm way past ready for our new era of wonderfully fallible and frustrating heroines—which now counts Donna among its ranks—to start including even more women of color, too.
In the golden era of the "pregnancy rom-coms" that inspired Obvious Child, directors were prone to justifying why characters in films and TV shows carry pregnancies to term. They'd say that getting an abortion ends a pregnancy plot before it started—if there's an abortion, nothing happens! But this film shows that excuse to be a cop-out. I always wondered why more filmmakers didn't use abortion as a plot point after seeing Fast Times at Ridgemont High. It seemed so clear then that a character's abortion isn't necessarily punishment, but it can easily be used as a teachable moment, ushering her into a new phase of life (and in that film's case, teaches her a lesson about which kind of men will be there for her and which won't).
The fact that abortion isn't just successful as a plot device, but can actually add dimension to female characters—maybe even leaving more room for nuance and exploration than a pregnancy does—shouldn't be a surprise to those of us who've seen it happen on Friday Night Lights, or in Greenberg. This is how abortion so often works in life, after all. It's not empowering in a rah-rah way. Rather, it's empowering in the sense that the very act of making a decision about our future, even if in desperation, gives us control. For Donna, making that choice and learning that the women around her, including her mom, who look like they have their lives together, have been in the same rock-bottom boat that she has, enables this obvious child to grow up.