Dallas Hospital Revokes Privileges, Tells Abortion Providers They Damage Its 'Reputation'
Two Texas doctors say a hospital caved to anti-choice activist "demands" when it revoked their privileges because they provide legal abortion care.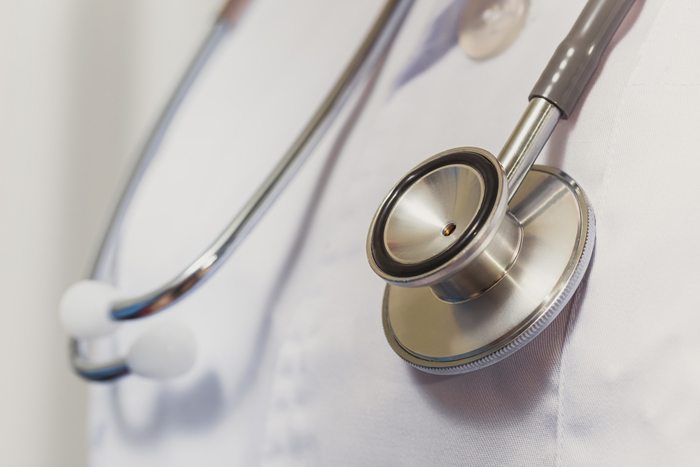 Two Texas doctors say a hospital caved to anti-choice activist "demands" when it revoked their privileges because they provide legal abortion care. Doctor via Shutterstock
Two North Texas doctors have filed suit against a Dallas hospital that told them it had revoked their admitting privileges because they provide legal abortion care.
Federal and state laws prevent hospitals from discriminating against doctors who perform abortions.
Doctors Lamar Robinson and Jasbir Ahluwalia received identical letters, dated March 31, from the CEO of the University General Hospital of Dallas (UGHD), who wrote that because the doctors performed legal abortion procedures at locations wholly separate from the hospital, the doctors were engaging in "disruptive behavior," in violation of the hospital's bylaws.
The two doctors' "practice of voluntary interruption of pregnancies," wrote hospital CEO Charles Schuetz, "creates significant exposure and damages to UGHD's reputation within the community."
For now, a Dallas County judge has temporarily granted a restraining order that forces the hospital to reinstate the doctors' privileges until the case can receive a full hearing, which has been scheduled for April 30.
Texas' new omnibus anti-abortion law, HB 2, requires doctors to have admitting privileges at hospitals within 30 miles of where they perform procedures, a mandate that went into effect last November and which has now ended legal abortion care at about a third of Texas' existing abortion clinics.
During debate over HB 2, reproductive rights supporters predicted that hospitals would refuse to grant privileges to abortion providers out of fear of retaliation from anti-choice protesters; in subsequent court challenges to the law, the State of Texas argued that because federal and state laws prevent hospitals from discriminating against abortion providers, doctors who provide abortions would have plenty of legal recourse in the unlikely event they were denied privileges.
Now, Robinson and Ahluwalia are suing on precisely those anti-discrimination statutes, alleging that UGHD revoked their privileges not only because they are abortion providers, but at the behest of anti-choice activists who threatened the hospital with negative publicity if it continued to employ the doctors.
Opponents of reproductive rights in Texas have been developing templates for anti-abortion activists to follow in hopes of convincing hospitals to revoke abortion providers' admitting privileges, including contacting hospital boards and advising those who seek to get doctors de-credentialed that "you will want to inform the CEO of your plans to hold a prayer vigil outside of their hospital."
In court documents, the doctors allege that anti-choice protesters had threatened to picket UGHD on April 1, leading to the hospital's decision to revoke the doctors' privileges:
On information and belief, activists opposed to abortion contacted the hospital and demanded that it revoke Dr. Robinson's admitting privileges and sever any relationship with physicians who provide abortion. On information and belief, the hospital was threatened with an April 1, 2014 protest outside its Dallas facility if it refused to give into the activists' demands. The day before the threatened protest, March 31, 2014, UGHD did exactly what the protestors had demanded.
UGHD's Schuetz, a Republican political donor who lives in Houston, claims in his March 31 letter that the hospital does not provide gynecology services and "does not have the capacity to treat complications that may arise from voluntary interruption of pregnancies."
Calls and emails to UGHD were not immediately returned, but the hospital's website says it provides a "full array of services" and "the ultimate in modern medical treatment." Both Robinson and Ahluwalia say they were admitted specifically to provide gynecological services such as the "identification and treatment of abscesses, cysts and cancers."
In the March 31 letter, Schuetz also writes that "it has come to [UGHD's] attention" that doctors Robinson and Ahluwalia perform legal abortion procedures, implying that the hospital was previously unaware it had granted privileges to two abortion providers.
Both Robinson and Ahluwalia say they were clear about their off-site abortion services when UGHD granted their admitting privileges in December and January, respectively. Dr. Robinson even says in court documents that he applied directly to perform "certain second-trimester surgical abortion procedures."
Doctors Robinson and Ahluwalia were not the only abortion providers who went to court this week to fight for revoked admitting privileges. Lawyers for an El Paso abortion provider appeared in federal court in Austin on Wednesday after their client found that her hospital admitting privileges had been revoked without warning or explanation, causing the city's Reproductive Services clinic to stop seeing patients on April 11, canceling 30 appointments.
Below, read the March 31 letter that UGHD sent to Robinson and Ahluwalia, calling their abortion practices damaging to the hospital's "reputation."